Buccaneers QB Tom Brady Breaks Drew Brees Record and Then Has Heart Broken by Sean Payton and the Saints Once Again
The Tampa Bay Buccaneers seem to be on a crash course for another trip to the Super Bowl — or at least the NFC title game. Tom Brady is still playing at a high level somehow, and the weapons around him are flourishing.
Unfortunately, the New Orleans Saints got the best of Brady on Sunday despite the Bucs quarterback breaking yet another record previously owned by Drew Brees.
But, once again, Sean Payton's team got the better of Brady in a weird trend that doesn't appear to be going away anytime soon.
Tom Brady passes Drew Brees in the record books again
Brady owns a ton of records and will continue to set them as long as he plays. Even at 44 years old, the debated GOAT keeps moving up the charts and doesn't appear to be slowing down.
On Sunday, he passed Brees for most career games with three or more touchdown scores. Oh, and he didn't stop there, either.
At this point, it just doesn't make sense how Brady can continue to put up performances such as this one. He is breaking every record owned by quarterbacks and keeps pumping out legendary statistics.
Brady finished the game with a 28-of-40 line for 375 yards with four scores and two interceptions. Unfortunately, that second interception proved costly as PJ Williams returned it for a touchdown to extend the Saints' lead to two possessions in the game's final minutes.
Still, chalk up another record for Brady, although he would more likely take the win over New Orleans.
Sean Payton and the Saints defense is apparently Brady's kryptonite
Has anybody been able to figure out a way to stop Brady?
The Saints have. In Brady's year-plus with Tampa Bay, he has struggled immensely against New Orleans. Payton and the defense have a recipe for stopping Brady, and it works.
After another loss to the Saints, Brady was asked what Payton and company do to give him a hard time (h/t Jarrett Bell of USA Today).
"Bad throws."

Tom Brady on struggles vs. Saints
Well, that's one way to put it. However, there is more to it than just bad throws, and Brady knows that more than anybody. Things have been rough against New Orleans since he joined Tampa Bay, and perhaps their next matchup will be different.
The Saints and Bucs meet again on Sunday Night Football on December 19, so circle that game on your calendars as appointment television.
The NFC South race is tightening up between the Saints and Buccaneers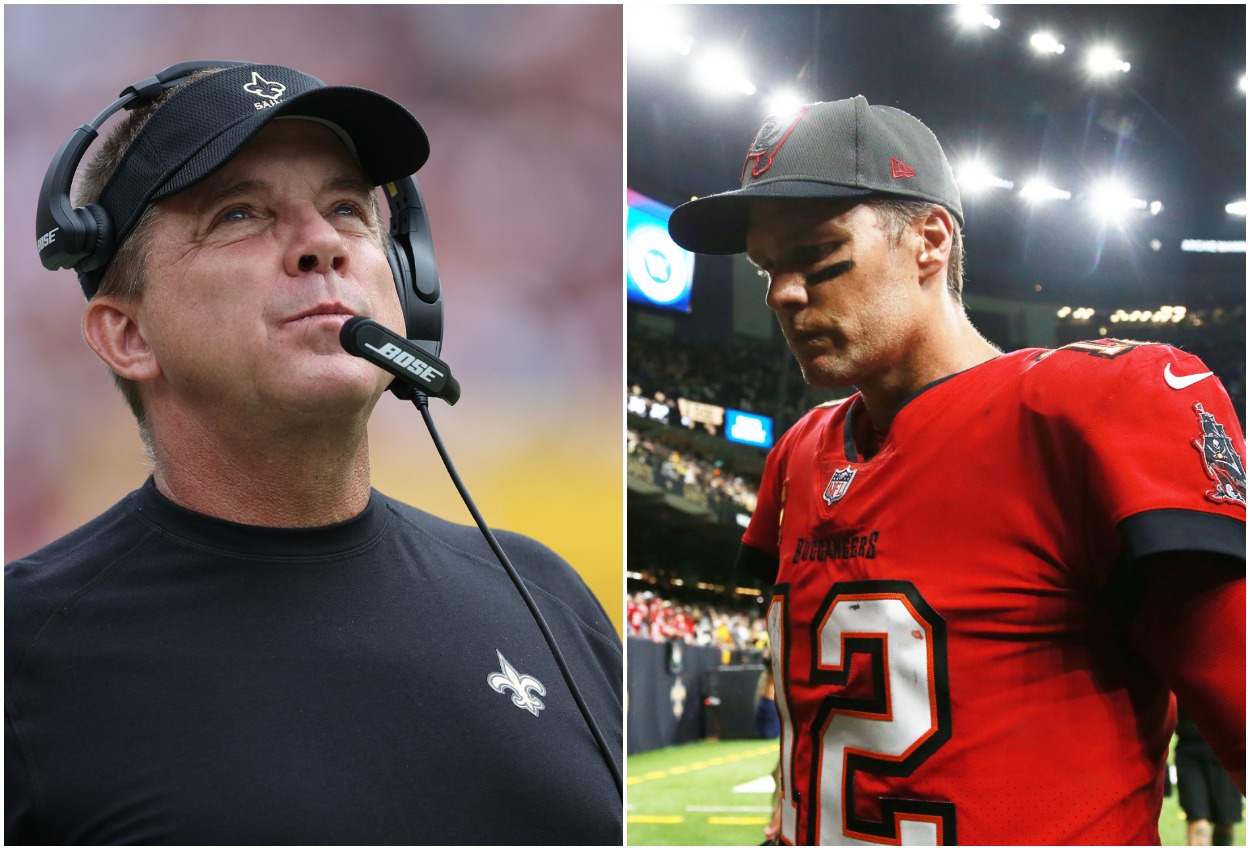 Somehow, the Saints and Buccaneers are separated by just one victory. Tampa Bay is headed for its bye in Week 9, and the Saints have a winnable game against the Atlanta Falcons.
However, they will have to find a way to suffice without Jameis Winston, who is out for the season after suffering an ACL and MCL injury in the Saints' thrilling victory. Who steps up as the guy remains to be seen, although Trevor Siemian filled in pretty well after Winston went down.
With New Orleans right on their heels, Tampa Bay can't afford to get complacent. Fortunately for Brady and the Bucs, their schedule eases up for a bit. After the bye, they face the Washington Football Team, followed by the New York Giants, Indianapolis Colts, and Atlanta Falcons.
Even better is their three-game stretch to end the year — the Carolina Panthers (twice) and New York Jets. The Saints might be on their heels right now, but the Bucs schedule is very favorable going forward, and they should have no issues running away with the division crown.
Stats Courtesy of Pro Football Reference
RELATED: Tom Brady's Scorching Hot Start to His Age-44 Season Has Put Him in a Position to Embarrass His Former Employer Even Further