Buccaneers Trading for Deshaun Watson Has Plenty of Traction
Tom Brady retired from the NFL and proceeded to leave the Tampa Bay Buccaneers scrambling for an answer. Currently, just Kyle Trask and Blaine Gabbert are on the roster under the QB position, and neither one are entirely exciting options.
But, the Buccaneers knew this day was coming, so there must be some plan. As the NFL offseason kicks off and free agency approaches, it will be interesting to see what Tampa Bay does on the QB front. However, reports have surfaced that the team has checked in on Russell Wilson and Deshaun Watson via the trade market.
In fact, the Watson-to-Tampa rumors are starting to gain some serious traction and make sense for both sides.
The Buccaneers have done their homework on both Deshaun Watson and Russell Wilson
The Buccaneers aren't going to trot out Trask or Gabbert when the 2022 NFL season begins. They aren't.
Jason Licht, the Buccaneers GM, will be aggressive either in free agency or in the trade market — and this year's QB list of free agents isn't awe-inspiring at all.
So, a trade for either Wilson or Watson makes sense. However, as the calendar gets closer to March, it looks more unlikely that Wilson is traded from the Seattle Seahawks.
That would mean Watson is priority No. 1 for Tampa Bay, and he would be a great addition. His legal issues are the only thing holding back teams from throwing a ton of draft picks to the Houston Texans in a trade, but the mutual interest between Watson and the Buccaneers is there.
What a move that would be if Tampa Bay could pull it off, and Watson reportedly has interest in Tampa.
Watson has listed the Buccaneers and Vikings as teams of interest, but his agent shot down those reports
In a report from Jeremy Fowler of ESPN, it was mentioned that Watson had shown interest in playing for the Buccaneers and the Minnesota Vikings.
Now, the Vikings don't make too much sense because of the massive money owed to Kirk Cousins, but it is worth mentioning.
The Buccaneers make sense, and with the talent already on the roster, bringing in Watson would automatically send them right back into the Super Bowl conversation.
However, despite Watson reportedly showing interest in these teams, his agent had other things to say.
That is from Watson's agent himself. But, we should take those comments with a grain of salt.
Yes, they are waiting to see how Watson's legal issues play out. Until then, he most likely won't be traded. But, once they are settled, it would make sense for him to be interested in the Buccaneers — and it would make even more sense for Tampa Bay to have an interest in him.
Why wouldn't Watson be interested in joining one of the best teams in the NFL?
On the other hand, why wouldn't the Buccaneers be interested in Watson, even if it is just for one season?
The feeling must be mutual, and with Bruce Arians delaying retirement for at least one season, they should be all-in to acquire a star quarterback who can make the transition from Brady a seamless one.
If Watson heads to join Bruce Arians, they become immediate Super Bowl contenders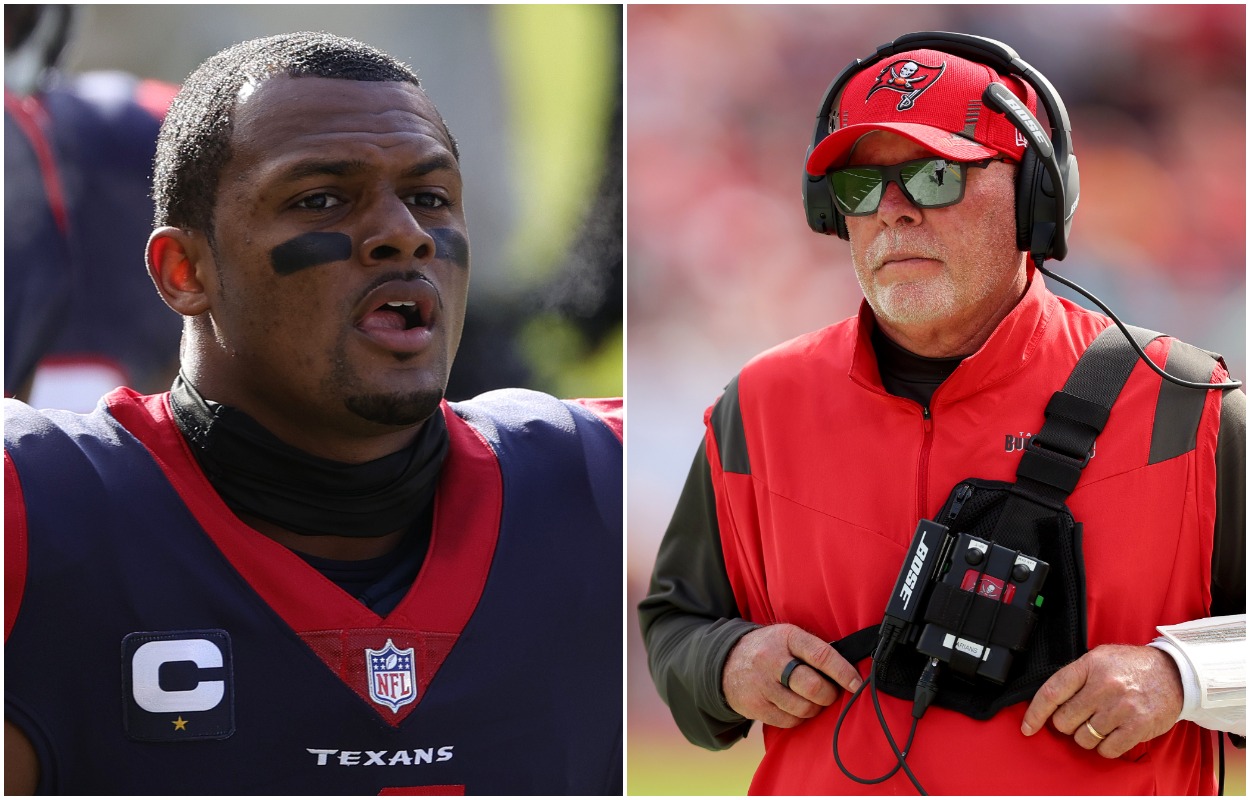 Aaron Rodgers is the biggest name on the market this offseason, but his return to the Green Bay Packers feels inevitable now. With that being said, Watson will have the attention of everyone who needs a QB.
If his legal issues get settled and he can suit up in 2022, many teams will have an interest. The question is, which of them will Watson be interested in?
His contract includes a no-trade clause, so he must approve a deal. Thus, the Buccaneers are in the driver's seat.
If Watson ends up in Tampa Bay, they will be the talk of the NFC and should have no problem convincing guys like Chris Godwin, Rob Gronkowski, and Leonard Fournette to run it back for one more year at least.
Byron Leftwich and Todd Bowles could improve their stock after failing to land head coaching jobs this time around, although Leftwich technically removed himself from the Jacksonville Jaguars vacancy.
The Watson sweepstakes will easily be the most volatile of the offseason. Still, if his legal issues get resolved before free agency, a bidding war might begin — and the Buccaneers could very quickly walk away with the top prize.
RELATED: How Deshaun Watson Could Take the Explosive Vikings Offense to the Next Level if the Texans Trade Him