Bucks' Crushing Loss to the Shorthanded Nets Punctuates a Disturbing 2022
2021 was a very fruitful year for the Milwaukee Bucks. Led by superstar Giannis Antetokounmpo, the Bucks captured their first NBA title in 50 years. Milwaukee then closed out '21 with five consecutive victories, showing the league that the defending champs weren't going anywhere.
However, from midnight on Jan. 1, the Bucks have gone from champs to chumps. Even with Giannis in the mix to win his first scoring title, Milwaukee looks far from ready to defend its title crown come playoff time. And quite frankly, it's hard to pinpoint the exact reason why.
The Milwaukee Bucks dropped a heartbreaker to a Nets team missing the majority of its stars
Milwaukee opened up its post-All-Star break stretch by hosting the Brooklyn Nets on Saturday night. It was a rematch of last year's thrilling second-round series, which ended with a Bucks overtime victory in Game 7. Though instead of suiting up against Kevin Durant, Ben Simmons, and Joe Harris, the Bucks had to defeat the likes of Bruce Brown and James Johnson.
But that's why you play the games.
The Bucks were torched by Kyrie Irving, as the road-only veteran dropped 38 points in Brooklyn's 126-123 victory. Milwaukee held a halftime lead but got outscored 43-34 in the third quarter to face a one-point deficit heading into the final frame. It managed to regain the lead in the fourth by as many as seven points, but Irving's 12 points in the last 12 minutes helped the Nets come back and pull off the upset.
While Giannis still scored 29 points to go with 14 rebounds, his 1-of-6 performance in the fourth hurt the Bucks. The defending champs would have lost by a lot if not for the efforts of Bobby Portis, who led the team with 30 points and hit a season-high eight three-pointers.
Despite Giannis' brilliance, the Bucks have hit a wall in 2022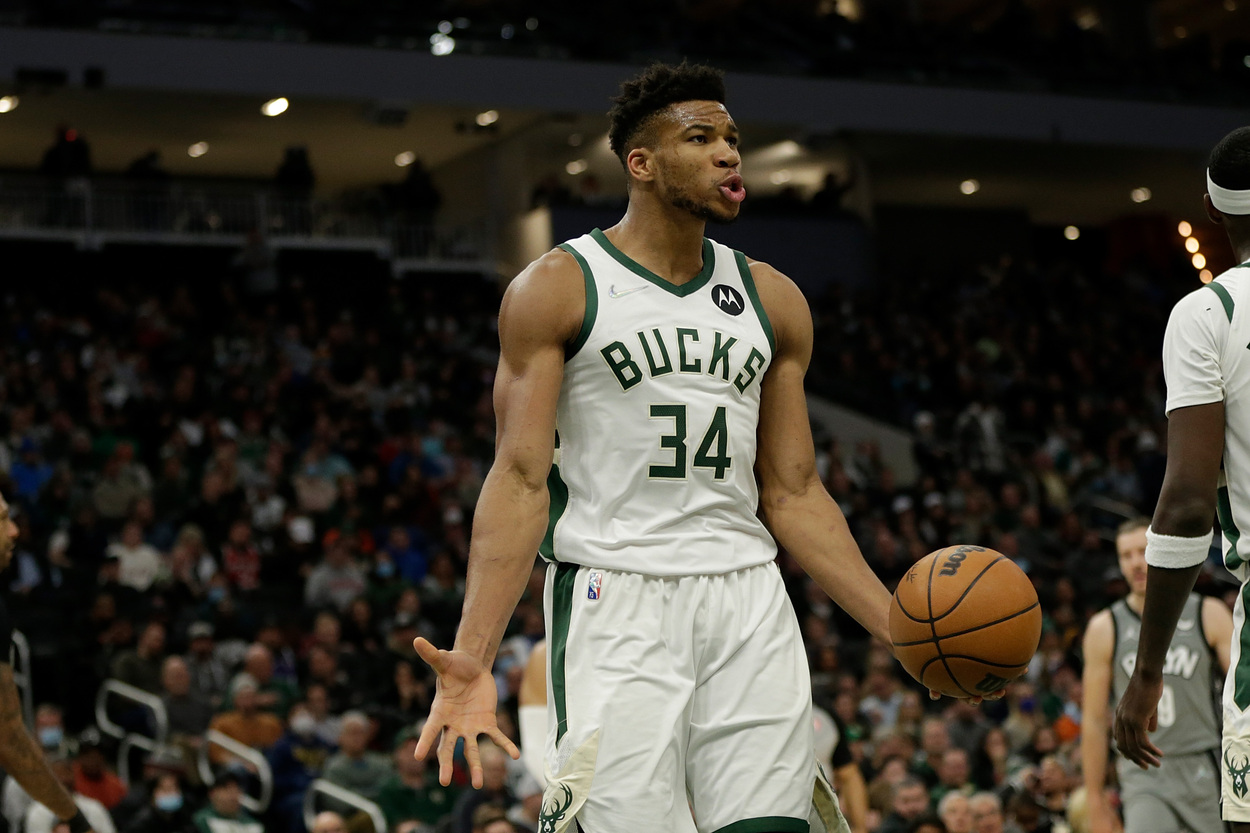 Saturday night's loss dropped the Bucks to 36-25, good for fifth in the Eastern Conference. But Milwaukee's overall record paints a much brighter picture than the one that started at the turn of the new year.
The Bucks, last year's champions, are now 12-12 in 2022. While they still have the eighth-best offensive rating during that period, their defensive rating is only 18th. And they've fallen to both rebuilding clubs like the Detroit Pistons and Sacramento Kings as well as under-manned versions of the Nets and Philadelphia 76ers.
Milwaukee has dropped four of its last five games, but it hasn't gone through a horrible losing streak a la Brooklyn's 11-game skid from a couple of weeks ago. But out of its 12 wins in '22, only four have been against teams with a winning record.
Antetokounmpo, the two-time MVP and last year's Finals MVP, isn't the issue. The superstar forward is averaging 32.0 points on 56.0% shooting with 11.1 rebounds and 6.4 assists since Jan. 1. Giannis' MVP case has taken off, but is it deserved if his success isn't translating to wins for his club?
The Bucks overcame injuries and lengthy COVID-19 absences to several of their key players early on. Yet whether it's because of lackluster defense or simply poor luck, their largely-healthy roster hasn't looked like a championship contender in nearly two months.
The Bucks still have time to flip the switch
Fortunately for Giannis and the Bucks, being the defending champs has its perks. Namely, earning the fear and respect from 29 other teams for an entire season.
As long as Antetokounmpo and company are in the playoffs (and they will be), they'll be a threat. But until then, they have some time to work through the kinks.
Khris Middleton could look to improve between now and the end of the season. Middleton is hitting just 35.8% of his threes while averaging a team-high 6.6 attempts since New Year's Day. Point guard Jrue Holiday has also been exposed on the defensive end, registering an awful 115.8 defensive rating since 1/1, the worst among all Milwaukee regulars.
When everyone is playing to the best of their abilities, the Bucks are tough to beat. Not to mention, playoff basketball is still several weeks away. But they'll need to make sure the next gear is activated before the playoffs begin, otherwise their title defense will be painfully short.
All statistics courtesy of Basketball Reference and NBA.com.
RELATED: Milwaukee Bucks Starting Lineup, Rotation After Latest Acquisitions