Bucks Trade Rumors: PJ Tucker Transformed Milwaukee Into a Title Contender as a Deadline Acquisition Last Season and the Bucks Are Hot on the Trail of 2 Boston Celtics to Try and Replicate That Success
Giannis Antetokounmpo, Khris Middleton, and Jrue Holiday led Milwaukee to its first NBA title in half a century last season. But PJ Tucker was instrumental in the Bucks' championship run, and trade rumors swirling around the team as the 2022 deadline nears revolve around a pair of Boston Celtics who could be this season's PJ.
Point guard Dennis Schroder and forward Grant Williams are both wanted men in the Cream City and would provide needed depth — just as Tucker did a year ago — for another stretch run.
But will the Bucks have enough to coerce Boston into a deal for either one?
Schroder and Williams have both been involved in Bucks trade rumors approaching the deadline
Milwaukee general manager Jon Horst has never been shy about pulling the trigger on a move he believes might help his team.
The most prominent example is the three picks and two pick swaps he included in the trade to acquire Jrue Holiday from the New Orleans Pelicans before the start of the 2020-21 season. And just before the deadline last year, he acquired Tucker.
Holiday's impact on the Bucks was clear, but Tucker filled a needed role defensively during the team's championship run.
In what turned out to be a much less helpful deal, Horst pulled the trigger on a deadline day trade in 2019 that landed his team Nikola Mirotic. Still, it's further evidence proving he's willing to take a swing.
This year, rumors point to Milwaukee's GM having an eye for Boston's Schroder and Williams. Per The Athletic, Horst has put feelers out for his own guard, Donte DiVincenzo, to see what kind of return he may be able to get for a guard the Bucks can't reach an agreement on an extension with.
Those talks have included Schroder, but also Williams.
A Schroder-for-Donte deal was reportedly offered to the Bucks according to The Athletic, but Milwaukee countered with an ask for Williams. As of Feb. 8, talks between the two teams are still ongoing, so a move is possible in the final days before the deadline passes.
Either Boston role player would fill a need for Milwaukee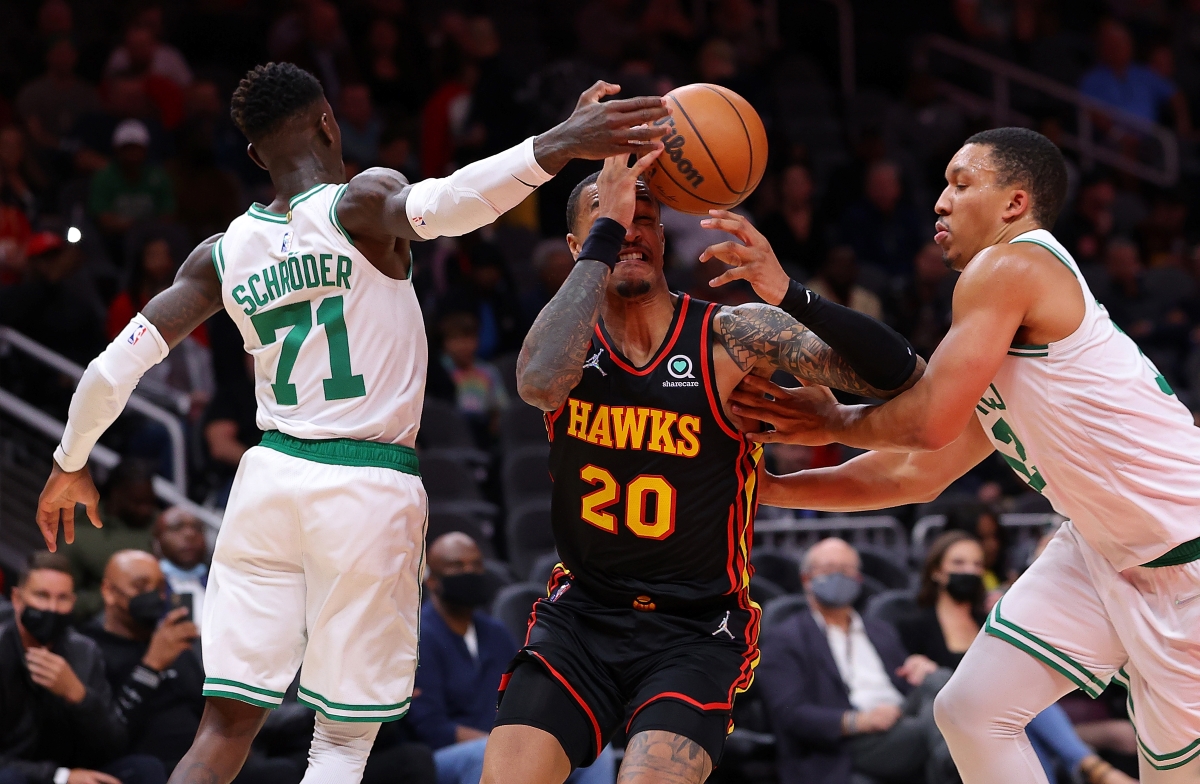 The Bucks' desire for Williams is likely twofold: First, the 23-year-old forward would give Milwaukee a stout defender. Though he's listed at just 6-foot-6, the Tennessee product is close to 240 pounds and has no problem banging with taller players.
Williams has also been durable, playing in 50 of 55 games this year — second on the team behind only Jayson Tatum — at 23 minutes a night.
More importantly, though, he's found a three-point shooting stroke to go along with his strength and effort defensively. Grant is shooting 42.8% from deep this year on 3.5 attempts per game. That's up from 37.2% last year and 25.0% his rookie year.
When you put all those skills together, you get what essentially amounts to a younger version of Tucker. It's easy to see why that appeals to the Bucks.
On the other hand, Schroder would be a useful upgrade at the backup point guard spot behind Holiday. The 28-year-old is averaging 14.4 points and 4.3 assists in nearly 30 minutes per game this season.
Milwaukee is struggling at that spot. Veteran George Hill returned to the franchise and has soaked up most of the minutes behind Jrue, but the 35-year-old appears to be just about washed. After leading the league in three-point shooting two seasons ago, Hill is hitting only 31.6% of his 2.9 attempts per game.
He's playing 25.5 minutes a night and averaging only 7.0 points, 3.2 rebounds, and 2.5 assists.
Schroder would take most, if not all, of those minutes and would be a major upgrade over Hill.
There seems to be a real interest in the two Celtics as both would help the Bucks' depth significantly.
The defending champions are looking to add around the margins and either player would do the trick
Horst's main target seems to be Williams as a 2022 version of Tucker. But if he can't land the power (literally) forward, Schroder wouldn't be a bad fallback plan.
One would fill frontcourt minutes, while the other would provide needed production in the backcourt.
As the Bucks continue to be involved in trade rumors in the final days leading up to Feb. 10, both Boston players will surely continue to pop up.
Horst has already proven he's not gun shy about upgrading where he feels his team needs it most. And if Milwaukee is going to have a legitimate shot at winning back-to-back championships, the Bucks are going to need reinforcements.
All statistics courtesy of NBA.com.
RELATED: Jrue Holiday Can Now Add Another All-Star Snub to His Growing Resume as One of the NBA's Most Indefensibly Underrated Players