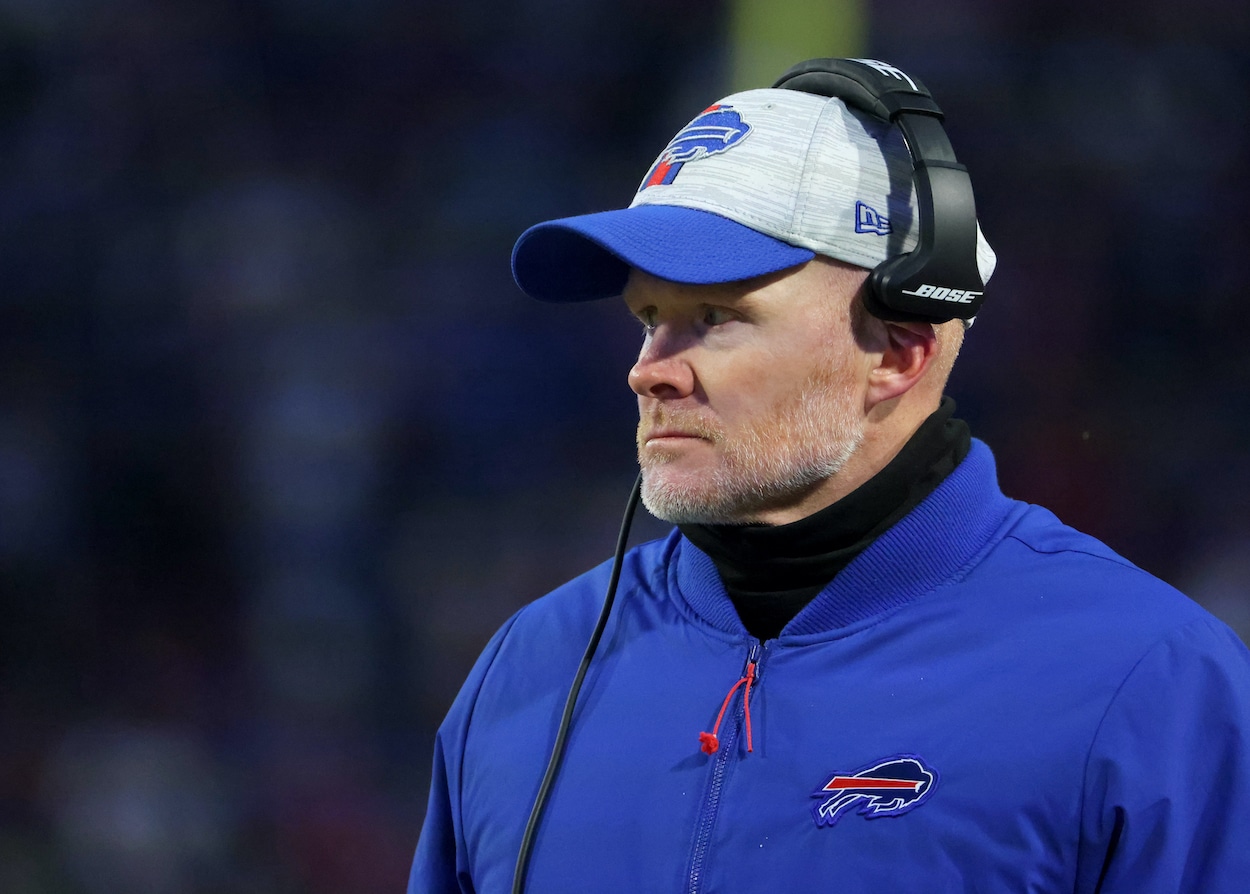 Buffalo Bills Head Coach Sean McDermott No Longer Sleeps in His Office: 'That's a Sign of Growth'
Buffalo Bills head coach Sean McDermott no longer sleeps in his offense at that could be a good sign for title-starved Western New York fans.
When Sean McDermott took over as head coach of the Buffalo Bills, the then-43-year-old put in ridiculous hours while trying to turn the franchise around. Now, though, with 49 regular-season wins, four playoff appearances, and three playoff wins under his belt, McDermott is pumping the breaks a bit. He's no longer so maniacally dedicated to his job that he's sleeping in his office. And defensive coordinator Leslie Frazier says that's a great sign.
Buffalo Bills coach Sean McDermott is finding some work/life balance
Former Carolina Panthers DC Sean McDermott took over the Buffalo Bills head job in 2017. At that point, the team hadn't been to the playoffs in the 21st century.
The once-great franchise that went to four straight Super Bowls in the 1990s had fallen on hard times. The Bills hired and fired eight head coaches after Marv Levy retired in 1997.
McDermott cured the Bills' playoff drought in his first season, making the postseason with Tyrod Taylor at quarterback in 2017. A year later, McDermott and the Bills drafted Josh Allen. Since then, the Western New York organization has become one of the best squads in the NFL.
At least part of this success is due to McDermott's tireless work ethic.
Now an established NFL head coach, McDermott is singing a different tune. He recently told the Buffalo News (h/t Pro Football Talk), "After a few days [of minicap] this week, we're going to unplug a little bit to get away, speaking of balance, and enjoy a little bit of what life has to offer."
McDermott's DC, Leslie Frazier, thinks this new "balance" speaks volumes about the head coach's growth as a person and a leader. 
"That's a sign of growth, compared to a young Sean McDermott," Frazier said after hearing his boss' comments. "He's put a priority on family and spending time with our family, even though we spend a lot of hours here. A lot of hours. But he's not one of those guys who will sleep at the office anymore, that's way behind him."
McDermott also said, "then we fire back up at the end of July, and we get this thing cranked up all the way here." So, don't worry, Bills Mafia, he'll be ready to go when the bell rings. 
Like Sportscasting on Facebook. Follow us on Twitter @sportscasting19 and subscribe to our YouTube channel.