Brandon Beane and the Buffalo Bills Are Open to Cutting Players Who Refuse to Get Their COVID-19 Vaccine
Buffalo Bills fans will be pleased to know that the team remains entirely devoted to fighting the coronavirus pandemic.
When Josh Allen and the Bills take the field in Week 1, the team hopes to be fully vaccinated. And if any players are still hesitant to get their shot, they may want to hear what general manager Brandon Beane recently said.
The Buffalo Bills are open to cutting a player who refuses vaccination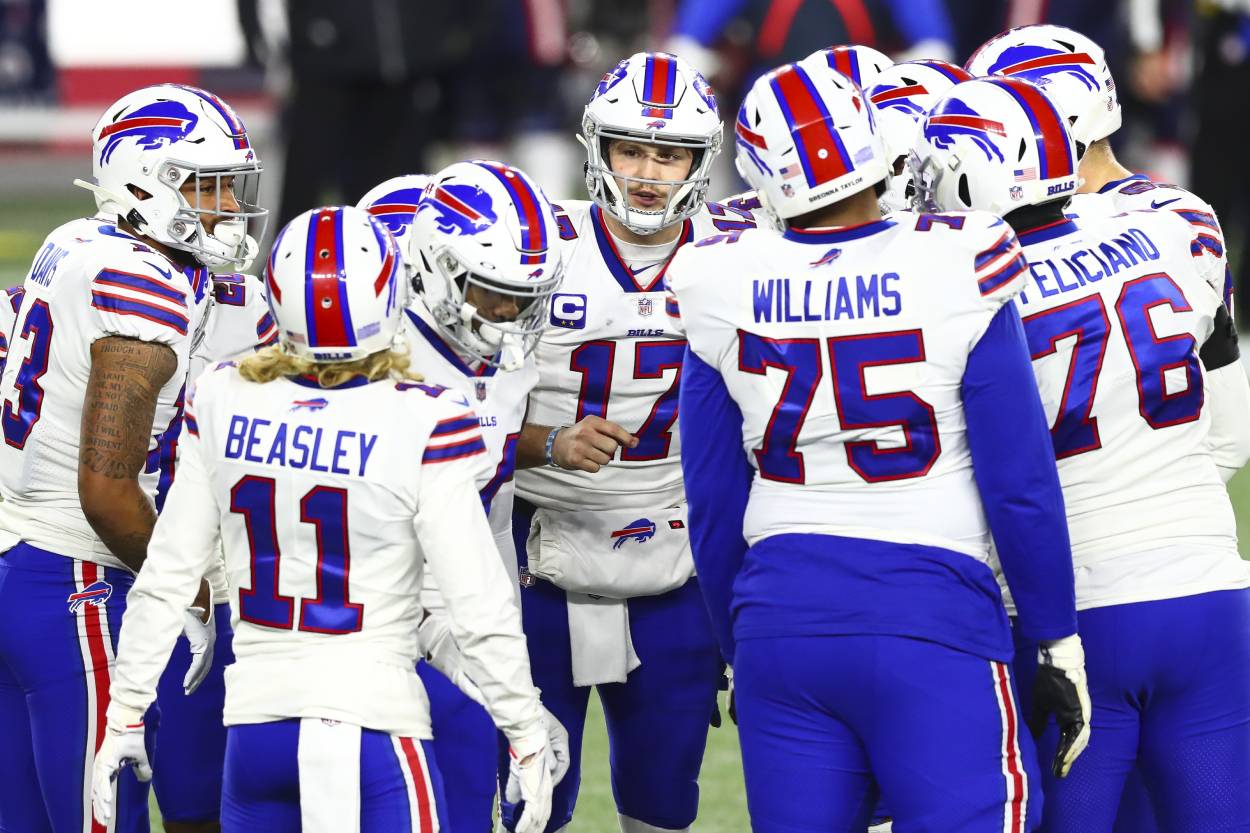 If Brandon Beane and the Buffalo Bills get their way, then every member of the organization will be fully vaccinated in the near future.
NewYorkUpstate transcribed comments Beane made on the May 5 episode of One Bills Live. He explained that if the Bills reach a certain percentage of players who have been vaccinated, they can hold in-person meetings with restrictions. 
OBL co-host and Bills legend Steve Tasker hypothetically asked Beane if the team would cut a player who either isn't vaccinated or refuses to get their shot to meet the requirements. Beane answered affirmatively and provided an explanation.
"These meetings were not as productive as before because you guys saw in the field house, we had three and four meetings going on. And sometimes, you're talking over each other, but it was the only way to pull it off and be socially distanced. It would be an advantage to cut a player and fall under that umbrella."

Brandon Beane
Beane's comments are noteworthy in that he, an NFL figure in a position of power, addressed a major elephant in the room. Much like how teams are willing to take chances on talented players with troubling legal histories, some organizations may be open to cutting players who refuse to get their vaccination.
Some professional athletes are still wary of getting their shot
The 2021 NFL draft provided a look at a new and vaccinated sports world.
Some draft rooms had staffers and coaches walking around without masks and not socially distancing because they had been vaccinated. Elsewhere in sports, several baseball teams, including the New York Yankees, no longer need to wear masks in the dugout because at least 85% of their players and staff are fully vaccinated.
Then, there are some professional athletes on the other side of the equation. LeBron James has publicly said that he isn't sure if he will be vaccinated. As of May 6, James hadn't provided an update on his vaccination status.
Bills quarterback Josh Allen said in April that he also remains unsure of his plans. Allen admitted on the 10 Questions podcast that he would not get a shot if statistics told him it was too risky. However, Allen also said the opposite held true if the statistics confirmed he would be safe after receiving the shot.
According to the Centers for Disease Control and Prevention (CDC), "COVID-19 vaccines were evaluated in tens of thousands of participants in clinical trials. The vaccines met the Food and Drug Administration's (FDA) rigorous scientific standards for safety, effectiveness, and manufacturing quality needed to support emergency use authorization (EUA)."
The NFL does not require players to get vaccinated
Beane and the Bills may have to address the reality of what to do with a player who has not been vaccinated.
The NFL has not mandated that players receive a vaccine. Instead, the league is trying to incentivize them to receive their shot; those who are fully vaccinated, for example, do not have to undergo a daily COVID-19 test. Instead, they will only have to do a weekly test.
The Buffalo Bills almost certainly won't cut Allen if he decides not to get his shot. A backup who isn't convinced that he should get his vaccine may want to remember that the longer they wait, the better the chance that Beane may call with some bad news.
Like Sportscasting on Facebook. Follow us on Twitter @sportscasting19.