The Bulls Can Add Vital Frontcourt Versatility and Solve a Nets Problem by Acquiring Paul Millsap
The Chicago Bulls regained the top spot in the Eastern Conference, but they could use added depth ahead of the Feb. 10 NBA trade deadline. That could lead them to a player whom they nearly signed this summer.
Injuries to Lonzo Ball and Alex Caruso have impacted Chicago's backcourt and negatively impacted team defense. It's possible those injuries could change how the Bulls proceed in the next week. But team president Arturas Karnisovas likely understands the team would benefit from more size, and the Brooklyn Nets' desire to find a new location for Paul Millsap presents Chicago with an opportunity.
The Bulls need size before the NBA trade deadline
One of the more humorous elements of DeMar DeRozan's selection as an All-Star starter is that he earned a spot in the backcourt, despite mostly playing power forward for the Bulls this season.
Part of DeRozan playing an undersized 4-man has to do with head coach Billy Donovan's affinity for small-ball lineups. But it also points to Chicago's relative lack of size.
The Bulls have three true bigs on the roster, with Tony Bradley and Tyler Cook backing up Nikola Vucevic. They're somewhat thin on forwards, particularly with Patrick Williams still sidelined and Derrick Jones Jr. also nursing an injury.
The numbers pretty clearly highlight the absence of size. Chicago ranks just 27th in total rebound. The Bulls are also 20th in blocked shots. At present, those issues haven't prevented the Bulls from winning. But the lack of size could pose a real problem come playoff time should Chicago run into the Milwaukee Bucks or Cleveland Cavaliers.
It's likely Karnisovas exhibits a forward-thinking mindset. That likely means adding a wing or frontcourt player ahead of the NBA trade deadline. Interestingly, the Bulls could turn to a rival for assistance.
Paul Millsap is the kind of versatile forward who can help the Bulls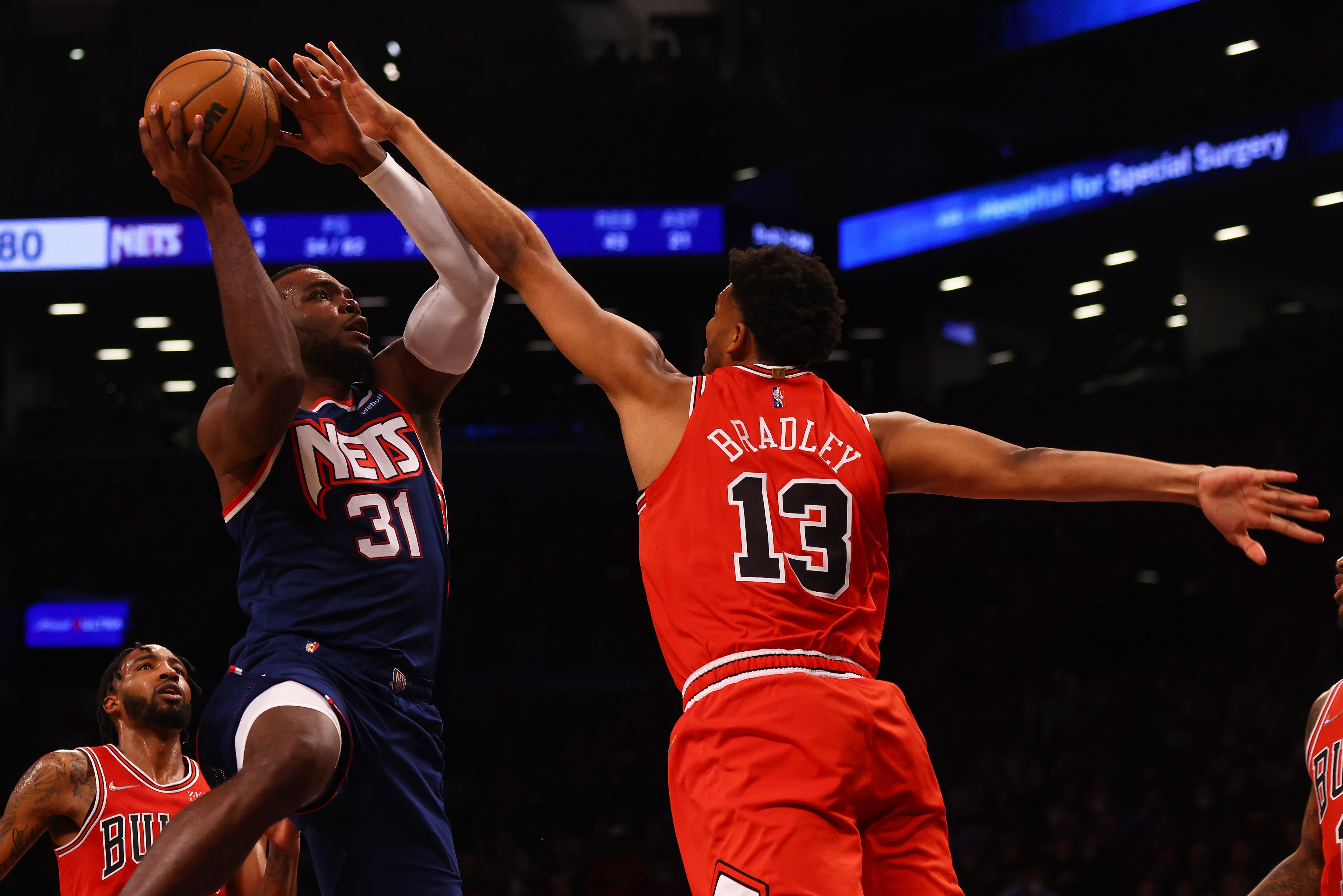 The Bulls might ideally prefer to pursue someone such as Portland Trail Blazers big Larry Nance Jr. or his teammate, Robert Covington. But, on the margins, the asking price for those guys might exceed what Chicago would like to offer.
However, Paul Millsap is a low-cost option for the Bulls to consider.
Bleacher Report's Jake Fischer reported Millsap would allegedly "prefer" to land in Chicago because of his past relationship with Karnisovas during their days with the Denver Nuggets. Simultaneously, the Nets are working to find a new team for Millsap, which opens the door for Chicago to make a move.
At nearly 37 years old, Millsap is not as effective as in years past. He's slower on both ends and might have some rust given how little he's played for the Nets this season. Still, Millsap has the kind of pedigree that should appeal to the Bulls.
The four-time All-Star can play the switchable forward who traditionally stands out on the defensive end and can handle the ball a little bit. He can also space the floor and is a significant asset on the glass. Millsap is averaging 11.9 rebounds per 36 minutes in his brief showings this season. He tallied 8.1 boards per 36 last season.
Millsap is on a $2.6 million deal. He's affordable and expendable to the Nets. Chicago might hope he gets to the buyout market, but it could also swing a deal.
The question is: Would the Nets trade with the Bulls?
Brooklyn might not want to help a rival contender
While the Nets are trying to find a trade partner for Millsap before the NBA trade deadline, they certainly aren't obligated to send him to a fellow contender.
Brooklyn is jostling for playoff positioning and could see the Bulls in the playoffs. Why, then, would the Nets want to help Chicago plug holes on its own roster?
Well, it's important to consider that the Nets would probably prefer to get at least some value for Millsap than agree to a buyout and allow him to sign in free agency. Additionally, Brooklyn is sorely lacking in draft picks. Perhaps it can obtain future compensation by making a trade.
The Bulls might not feel compelled to add an aging Millsap. However, he has the skill set that can help the current roster, and he could be the cheapest option. If Brooklyn is willing to negotiate, Chicago should try to buy low.
Stats courtesy of Basketball Reference.
RELATED: Zach LaVine's Vigorous Praise for Ayo Dosunmu Explains Why the Bulls Rookie Is the Steal of the 2021 NBA Draft