The Bulls Should Go Hard After Larry Nance Jr. as the Answer to Their Size Issues
Aside from the current health and safety issues beginning to permeate the entire NBA, the Chicago Bulls are rolling. Before COVID-19 wracked the roster, the superstar duo of Zach LaVine and DeMar DeRozan anchored the Bulls, with rookie Ayo Dosunmu emerging as a massively important rotation player. But while Chicago asserted its contender status, some roster holes remain evident, which could inspire the Bulls to be aggressive in the trade market.
The most notable issue is a lack of size. Nikola Vucevic is struggling mightily this year, and Chicago lacks frontcourt depth outside of Tony Bradley. Derrick Jones Jr. has, at times, played the 4-spot, but he's too small for the position.
The Bulls can capitalize on a Portland Trail Blazers team looking to mix things up. That should lead them to Larry Nance Jr.
The Portland Trail Blazers could make Larry Nance Jr. available for trade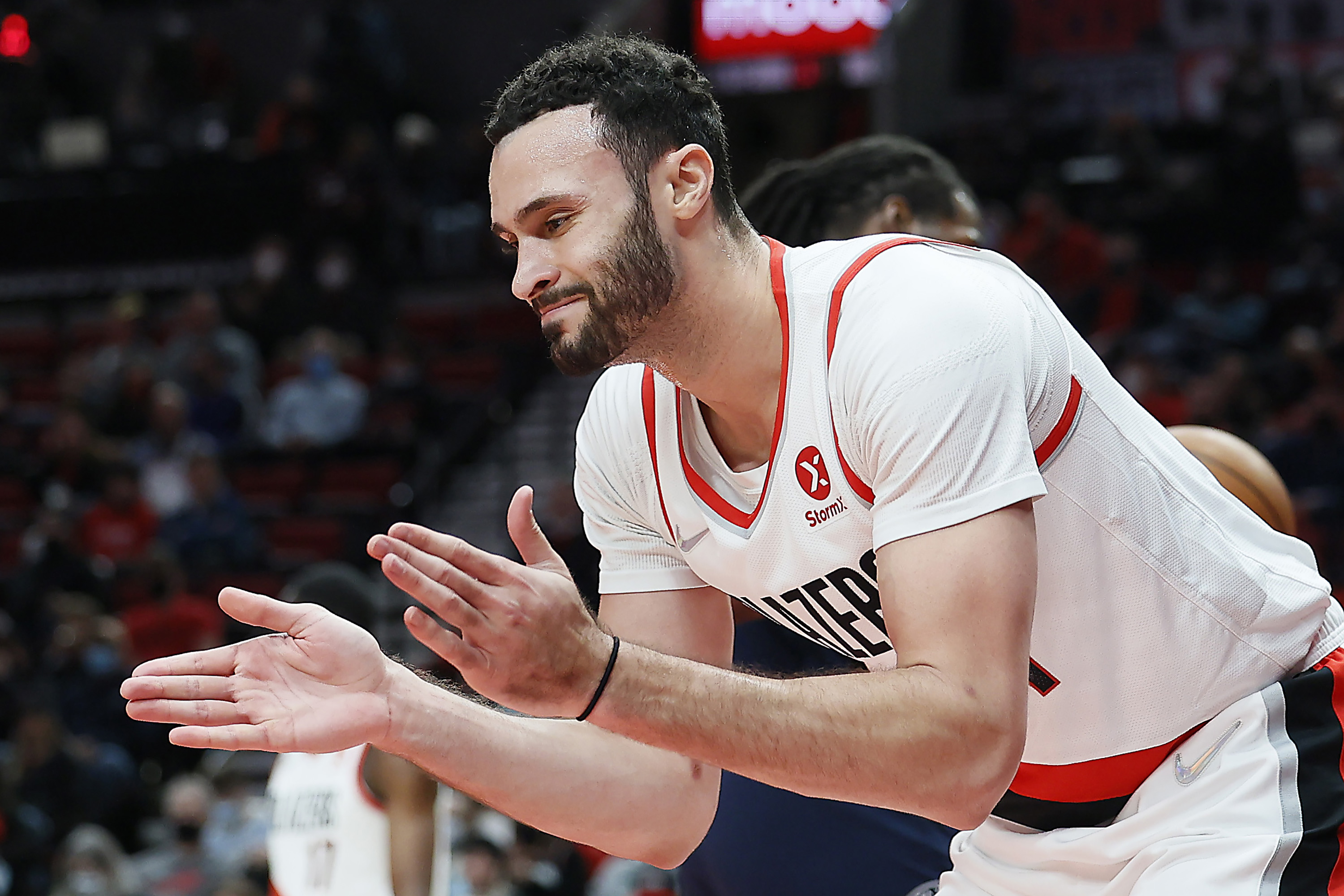 The Portland Trail Blazers are less a basketball team and more of a traveling circus.
Head coach Chauncey Billups recently ripped his team, especially the starters, for lack of effort. Reports of dysfunction between Billups and the players came on the heels of that stern message, as well as more trade rumors involving Damian Lillard. Although Lillard vehemently denied said rumors and later stated he would not request a trade, the organization remains in flux. This could work to the Bulls' benefit.
Joe Cronin took over as interim general manager following Neil Olshey's dismissal. He is apparently ready for a roster shakeup, even if said moves might not involve Lillard or CJ McCollum.
Bleacher Report's NBA Insider Jake Fischer reported that the Blazers are keen on moving center Jusuf Nurkic and 3-and-D wing Robert Covington. However, Fischer also noted that Larry Nance Jr. is likely to attract attention in trade talks.
Although RoCo could give the Bulls a key defensive-minded wing presence, Nance addresses the more immediate need for size. His skill set also makes him an ideal fit for Chicago.
Nance would mesh well with Chicago's roster
Three weeks ago, Nance spoke about versatility as one of the reasons why the Blazers acquired him this past offseason. It's the same reason the Bulls should make a play for him before February.
The 28-year-old is averaging 10.9 points, 9.3 rebounds, 2.8 assists, and 1.6 steals per 36 minutes. He snatches close to three offensive rebounds per contest.
In many ways, Nance could provide value similar to that of Thaddeus Young on last season's Bulls squad. He can provide screen assists or send cutters to the basket off rubs. The court vision is evident, judging by his assist numbers in recent seasons (over three per contest last season). Nance can also put the ball on the floor, get to the cup himself, or run in transition.
The Akron native can also shoot it from deep. While Nance is shooting just 27.3% from deep this season, he converted on 36% of his triples with the Cleveland Cavaliers during the 2020-21 campaign, when he averaged 3.3 attempts.
Nance can make plays for himself and others around the rim. He uses length to his benefit as a defensive playmaker and attacks the glass on both ends. If he can be a stretch-4 type in Chicago, the Bulls would be all the more dangerous.
Returning Portland's pick?
What might it take for the Bulls to trade for Larry Nance Jr.? Interestingly, the Bulls could possibly entice Portland by simply returning a first-round pick.
Chicago acquired the Blazers' lottery-protected pick as part of a three-team deal that sent Lauri Markkanen to the Cavs and Nance to Portland. The Bulls could attempt to send this pick back in the hopes of acquiring Nance.
As of this moment, the Blazers probably don't care about the pick, considering it's lottery-protected and they currently stand 11th in the Western Conference. But they might ultimately show interest if they go on a run.
The Bulls don't have a ton of future draft capital to play with, but perhaps they'd be willing to part with a wing player such as Javonte Green, though he's been relatively impressive in Chicago thus far.
Much of this depends on how high the Blazers sell on Nance, a free agent at the end of the 2022-23 season. But there should be an avenue for the Bulls to swing a deal.
Stats courtesy of Basketball Reference.