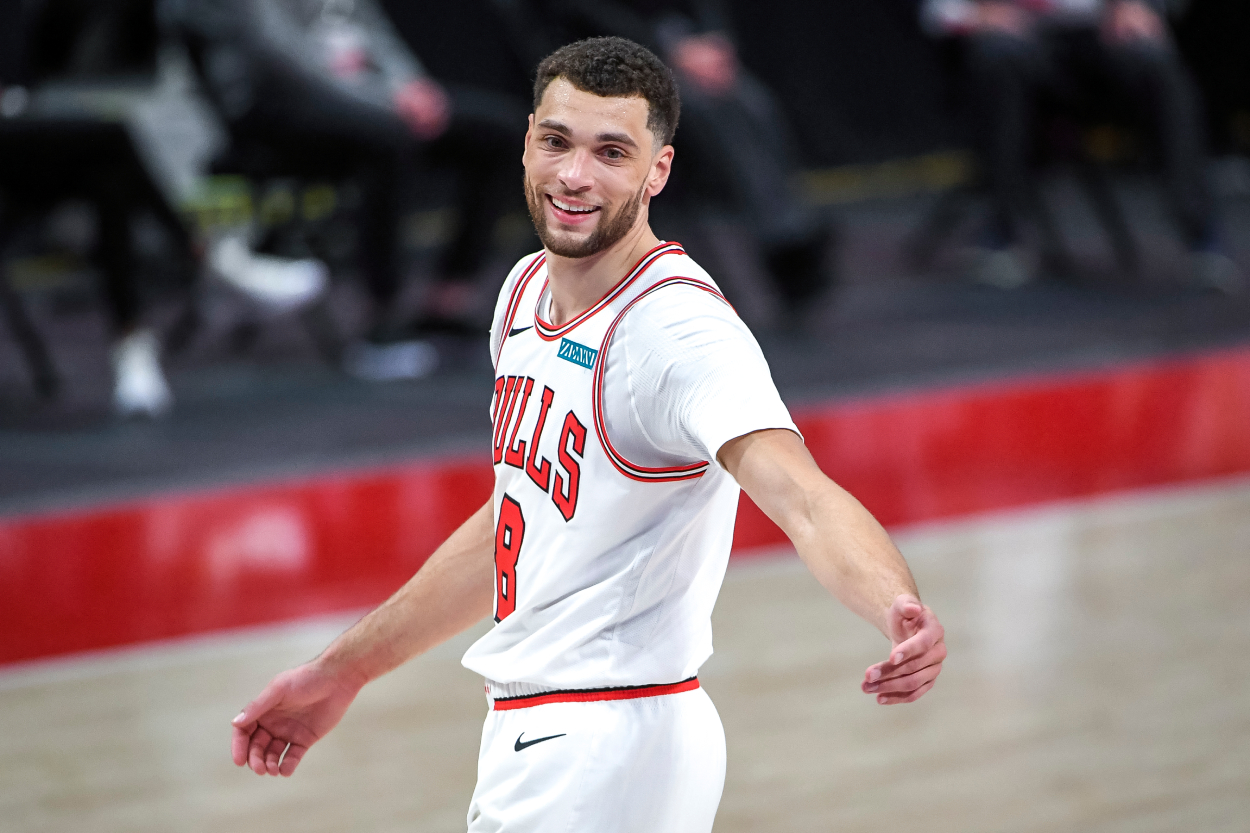 Bulls Star Zach LaVine's Career Could Have Been Much Different Had It Not Been for a $78 Million Gamble in 2018
Zach LaVine currently has the Chicago Bulls contending in the East, but his career would look very different had it not been for a $78 million gamble in 2018.
There are plenty of "What if" scenarios in sports. What if the Miami Heat never signed LeBron James and Chris Bosh? What if the Indianapolis Colts stuck with Peyton Manning and didn't draft Andrew Luck? What if Chicago Cubs fan Steve Bartman never interfered with the foul ball during the 2003 NLCS?
The questions don't actually matter in the grand scheme of things; the past is the past. But they are still fun to discuss.
And for Chicago Bulls fans, they, of course, have questions like: What if Michael Jordan never retired to play baseball?
But they also have more current ones that affect their team today.
Like, what if the Bulls never took a $78 million gamble on NBA guard Zach LaVine?
The Chicago Bulls took a $78 million gamble on Zach LaVine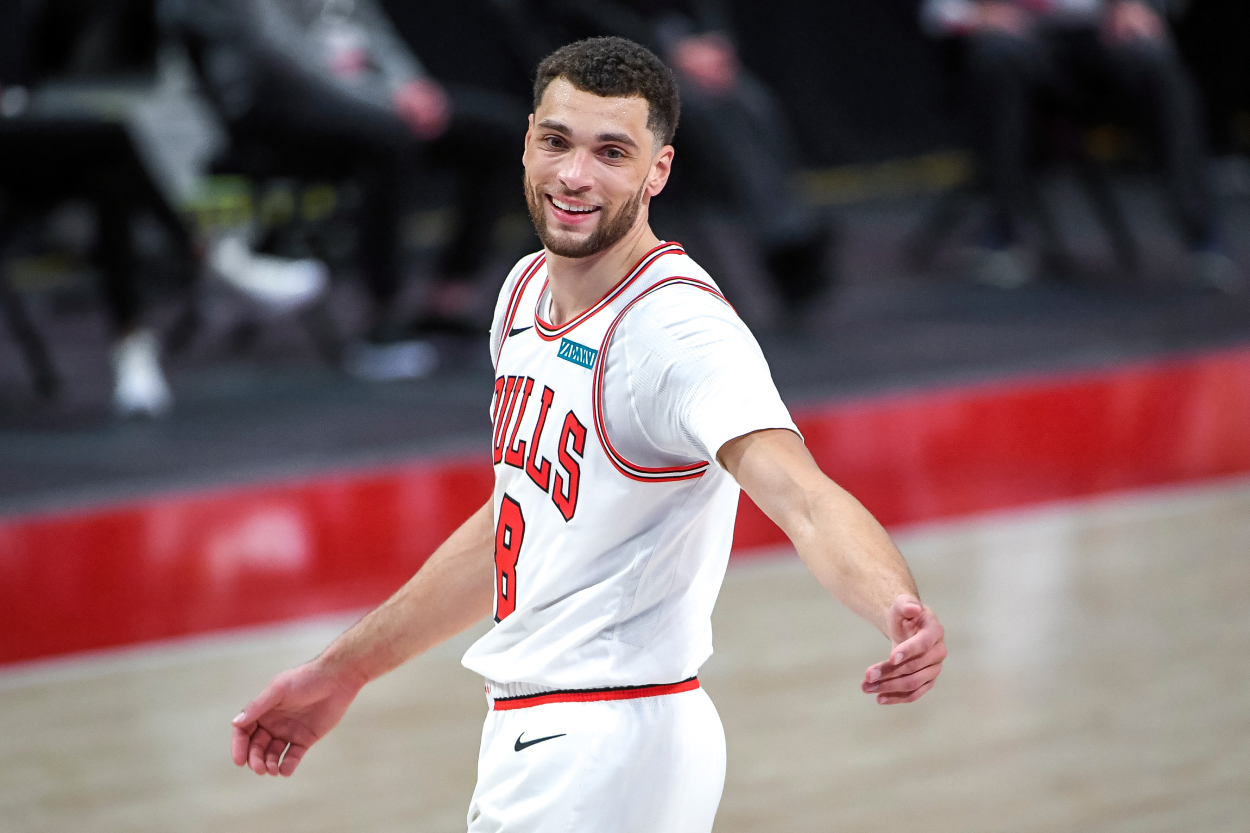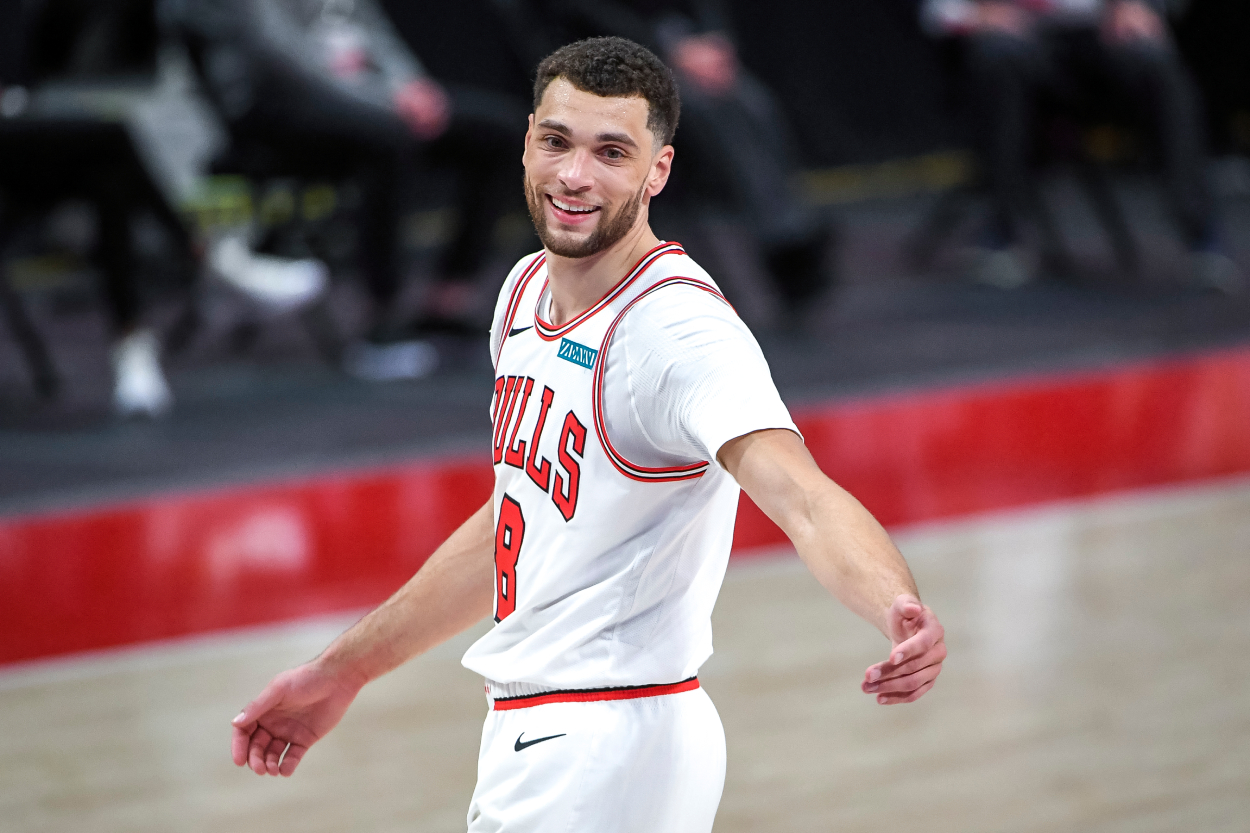 Through the first few seasons of his career, Zach LaVine proved to have a ton of potential. He had developed into a decent shooter and could match up with anyone athletically.
But in 2017, the Minnesota Timberwolves traded him, Kris Dunn, and Lauri Markkanen to the Bulls for Jimmy Butler and Justin Patton. LaVine averaged 18.9 points for Minnesota the season prior, but he tore his ACL in February 2017, so the team decided to go with a more proven player in Butler.
LaVine then hardly played for the Bulls in 2017-18, appearing in just 24 total games. And when he became a restricted free agent that following offseason, the team didn't have much to go off of, other than what he showed in Minnesota.
His potential, though, was enough for the Sacramento Kings, who signed LaVine to a four-year, $78 million offer sheet.
However, despite not knowing whether he would return to full strength again, the Bulls took a gamble. They matched the offer sheet to keep LaVine in Chicago. Now, he's one of their main stars and a major reason why they are having a big season this year.
But what if he had gone to Sacramento?
What if he had gone to the Sacramento Kings?
Let's be honest. LaVine's career would likely look totally different had he gone to the Kings, and not in a good way, either.
Yes, he could have created an interesting Big Three of sorts with Buddy Hield and De'Aaron Fox, but Sacramento has struggled on the glass the last few seasons. LaVine wouldn't have helped in that area. 
The Kings have also essentially become perennial losers over the last 15 years, not making the postseason since 2005-06. Considering he was only 23 when he signed the offer sheet, it's unlikely that LaVine would have changed that culture.
No, the Bulls haven't been great in recent seasons. But their market has turned the UCLA product into a flat-out star. They have also built their roster around the high-flying guard, which has led to Chicago becoming a force in the Eastern Conference again.
Zach LaVine has the Bulls contending in the Eastern Conference
Ever since the Bulls matched the Kings' offer sheet, Zach LaVine has become one of the best scorers in the NBA, averaging over 23.5 points in each of the last four seasons. He even scored as many as 27.4 per game in 2020-21, earning his first career All-Star selection in the process.
Chicago, though, has been one of the league's worst teams since committing to LaVine, missing the playoffs each of the last three years and going a combined 75-144. The franchise's struggles also made some wonder whether he's a winning player or not.
However, the Bulls began turning their roster around in March 2021 by acquiring two-time All-Star Nikola Vucevic from the Orlando Magic. In the offseason, they then added Lonzo Ball, Alex Caruso, and four-time All-Star DeMar DeRozan, who have all played a role in them becoming one of the league's most rejuvenated squads.
Chicago is 27-14 this year behind a combined 50.6 points per game from DeRozan and LaVine. It also sits at No. 1 in the Eastern Conference.
Had LaVine gone to Sacramento, it's likely he would have never contended for a Western Conference title. But he and the Bulls currently have as great a chance as anyone to win the East this year, and it's all because they took a $78 million gamble.
Stats courtesy of Basketball Reference