The Bulls Must Trade Coby White in an Effort to Solidify Their Championship Core
At one point, the Chicago Bulls likely believed Coby White could be a foundational piece on the team's next contender. Indeed, White finds himself in a top team in the NBA. But he's hardly a leader or a key rotation player for the franchise.
What DeMar DeRozan deemed as the "Big 4" have anchored the club all season long. The addition of Alex Caruso improved the Bulls defensively and gave them depth at the guard spot. Perhaps more notably, rookie Ayo Dosunmu keeps soaking up the minutes and offers Chicago critical two-way value.
With a strong backcourt and prolific tandem in DeRozan and Zach LaVine, there isn't much room for White on the current roster. The Bulls likely need to make a move ahead of the trade deadline to bolster the frontcourt. Given their lack of draft capital, they may have to part with White in an effort to win now.
Coby White hasn't lived up to his potential as a No. 7 overall pick
Coby White left NBA executives with plenty to love during his lone season at North Carolina.
The former Tar Heels star already had the physical attributes as a 6-foot-5 point guard with blazing speed. He constantly hunted scoring opportunities in transition and showed a willingness to fire from beyond the arc.
The Bulls made White the No. 7 overall pick in the 2019 NBA Draft. But the collegiate success hasn't really translated to the Association.
Sure, White made an All-Rookie team in his debut campaign. He started in 54 of 69 games last season, averaging 15.1 points, 4.8 assists, and 4.1 rebounds. But the advanced numbers are far less appealing.
Last season, the 21-year-old had a -9 net rating and a 12.0 player efficiency rating. He's borderline abhorrent on the defensive end, often getting lost in space and struggling to stay in front of ball-handlers.
It's gotten even worse for White this season. He missed the first part of the season following offseason shoulder surgery. After 13 games, White is averaging just 8.1 points, 2.7 rebounds, and 1.3 assists. He has a -21 net rating and -8.1 box plus-minus.
White is a volume shooter who needs to score efficiently to provide value. He hasn't done that, and the emergence of Dosunmu is making him a less desirable option in the rotation.
Ayo Dosunmu is already a better option in the backcourt
With Caruso nursing an injury and Lonzo Ball in health and safety protocols, White stepped into the starting lineup. However, rookie Ayo Dosunmu probably deserves the lion's share of the minutes lost in Caruso's and Ball's absences.
White got cooked by Trae Young early in Monday's game against the Atlanta Hawks. Only when the Bulls switched Dosunmu onto Young did they turn the tide. Dosunmu's defense on Ice Trae is but a small window into why he should be getting more minutes than White.
The former Illinois standout is a stingier on-ball defender who can guard multiple positions because of his added strength. He moves well without the ball on the offensive end and can knock down open 3-pointers. Dosunmu is even better as a guy who runs the floor in transition and can finish at the rim or make the right pass to set up scoring opportunities.
Dosunmu has given the Bulls valuable minutes and has gradually seen increased playing time since the beginning of the season. Unlike White, he doesn't need the ball in his hands to make an impact, making him a more ideal fit in head coach Billy Donovan's rotations.
The Bulls should trade White before his trade value is reduced to zero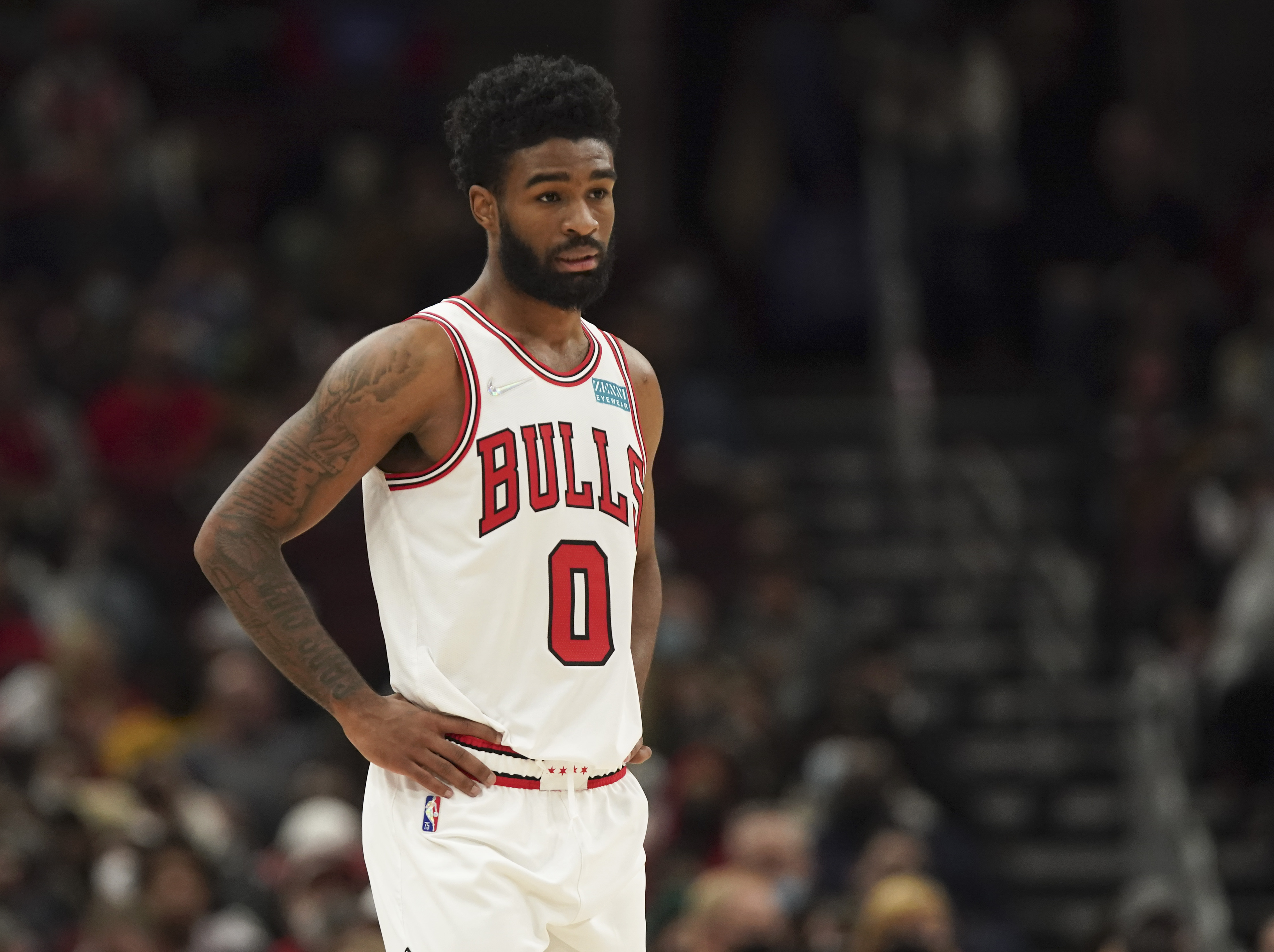 Despite White's struggles, he still has upside as a quality NBA player. There's a reason the Bulls exercised his option for the 2022-23 season.
The Goldsboro, North Carolina native has explosive athleticism. He challenges defense with his speed and can break opponents down off the dribble. Though the defense is lackluster, his length and quickness give him the tools to improve on that end.
However, the Bulls suddenly find themselves trying to contend for a championship this season. They cannot wait for White to mature, especially not when Caruso and Dosunmu fill more vital areas of need.
Chicago can try to sell White's upside in an effort to add a possible difference-maker. Or perhaps, the Bulls can at least add a fringe piece. Regardless, they need to trade him before his value is totally reduced to zilch.
Stats courtesy of Basketball Reference.