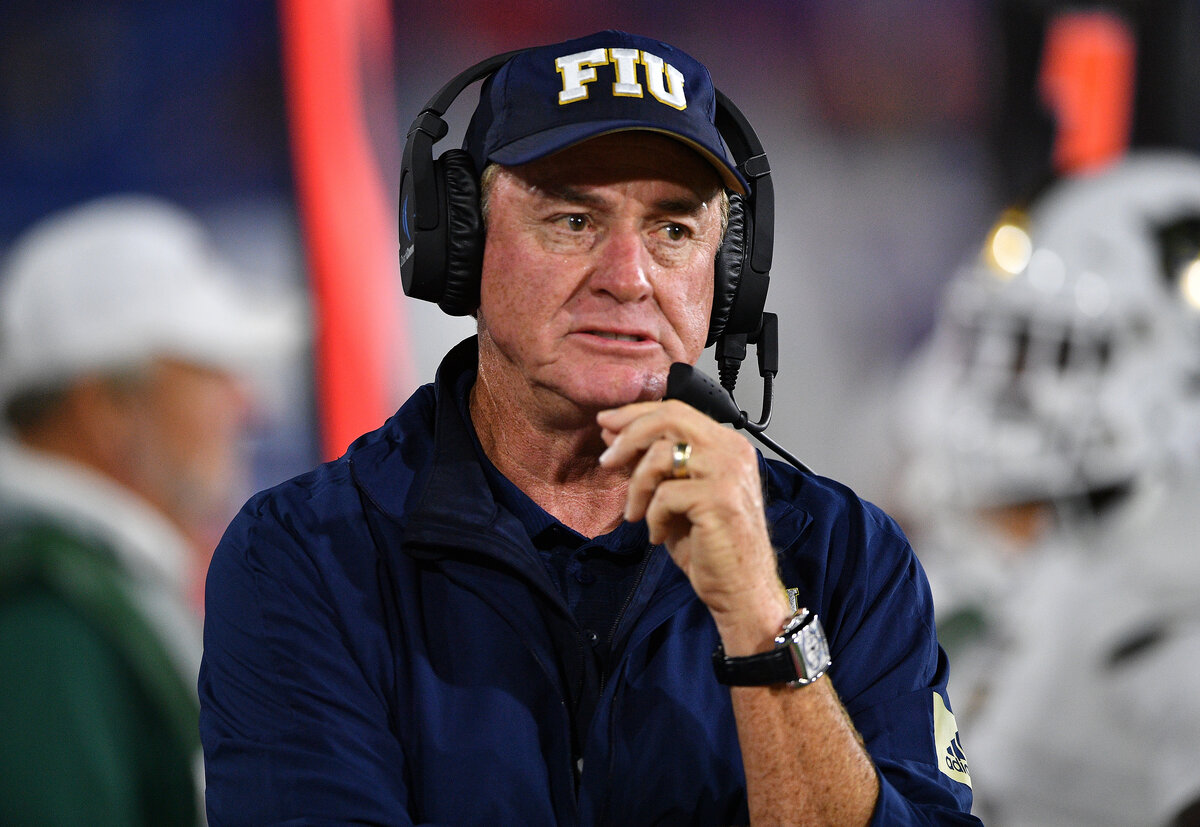 Butch Davis's Head Coaching Days Are Approaching a Depressing End at Florida International
Florida International head coach Butch Davis has had an impressive career. Davis's retirement could be coming to an end soon -- and in ugly fashion.
The waves are getting rougher for Butch Davis and the Florida International Panthers.
A year ago today, Davis and FIU upset the Miami Hurricanes, where Davis coached in the 1990s. The past 12 months have been unkind, between the coronavirus pandemic, off-field challenges, and humiliating on-field losses.
For one night, FIU was the talk of the college football world a year ago. Now, Davis's career on the sidelines could be approaching a depressing end in University Park, Fla.
Butch Davis has had a long head coaching career
Butch Davis is rapidly approaching an even 50 years in the coaching business.
Davis began coaching in 1973, when he was only 22 years old, at Fayetteville High School in Fayetteville, Ark. Davis climbed up the coaching ranks and eventually became Jimmy Johnson's defensive coordinator with the Dallas Cowboys in 1993.
Two years later and with two Super Bowl rings on his hand, Davis took over the Miami Hurricanes and went 51-20 in six seasons. Davis joined the Cleveland Browns and went a respectable 24-35 in four seasons.
Cleveland even made the playoffs after the 2003 season, which is their most recent postseason berth.
Davis resigned midway through the 2004 season when Cleveland was 3-8. Davis returned to the sidelines in 2007, taking over the North Carolina Tar Heels.
Although North Carolina officially went 28-23 in Davis' four seasons, the school fired him in July 2011 after an academic scandal. North Carolina vacated its wins from the 2008 and 2009 seasons.
Davis has had mixed success at Florida International
Although Butch Davis is from Oklahoma and played at Arkansas, he nonetheless had a homecoming in November 2016.
Davis signed a five-year contract with Florida International, a Conference USA school best known for sending Indianapolis Colts receiver T.Y. Hilton to the NFL.
Davis immediately turned FIU around, winning eight games and reaching the Gasparilla Bowl in his first season. FIU won another nine games, including the Bahamas Bowl, in 2018.
Things reached a high point last November, when Davis and FIU upset the Miami Hurricanes, 30-24, at Marlins Park. Although FIU reached another bowl game, a loss to Arkansas State in the Camellia Bowl dropped the Panthers to 6-7.
Interestingly, FIU defeated Miami, a Power 5 program, at a neutral-site. But in Davis' first three seasons, FIU lost all three games to rival Florida Atlantic in the Shula Bowl.
FAU outscored FIU by an impressive 138-45 margin in those three games.
Butch Davis's career could be approaching a depressing ending
Any good vibes and feelings from the victory over Miami a year ago have expired for Butch Davis and FIU.
FIU lost its first five games in a challenging 2020 season. The coronavirus pandemic postponed or canceled multiple games, and FIU receivers coach Aubrey Hill died in August following a private battle with cancer.
Davis's son, Drew, is FIU's tight ends coach. Drew Davis tested positive for COVID-19 at one point and had to isolate. 
Opponents outscored FIU, 162-112, in those five games. FAU routed FIU, 38-19, in the Shula Bowl on November 13. 
Davis turned 69 on November 17, and one has to wonder how much longer he'll be on the sidelines in Miami.
Davis recently told the Miami Herald he has not considered retiring when the season ends.
"I'm on the right side of the grass. Other than that, it's been crazy. I've not had another season even remotely close to this. Nothing. Not at all."
Davis and FIU will need to decide on his future in the coming weeks. The NCAA has not pushed back the Early Signing Period, which will tentatively begin December 16 and runs through the 18th.
According to 247 Sports, FIU currently has 10 commits in their 2021 signing class. If Davis decides to retire, FIU would likely need to find a new head coach before January 1. 
FIU has three more games scheduled, including a showdown on December 11 with No. 17 Marshall. 
Like Sportscasting on Facebook. Follow us on Twitter @sportscasting19.