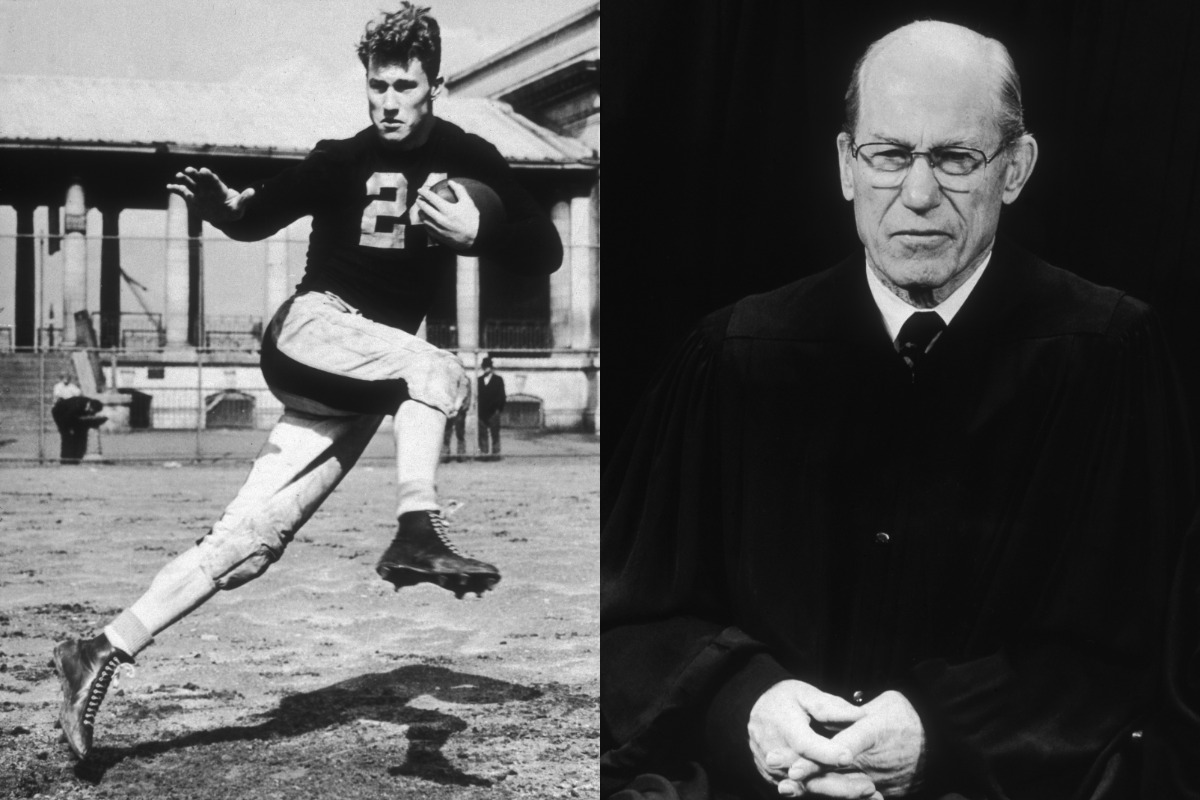 Byron White Went From NFL Running Back to the Supreme Court
Byron White was an All-Pro running back in his early 20s. He later became an Associate Justice of the Supreme Court. Why the change?
Byron White took the idea of mixing sports and politics to another level.
White didn't go the Colin Kaepernick or LeBron James route, though, and use sports as a political platform. Instead, White — an All-Pro running back with the Detroit Lions in the 1940s — gave up football to become a lawyer.
That legal career took him all the way to the Supreme Court. This is White's story.
Byron White was an All-Pro running back
A 6-foot-1, 187-pound running back from Wellington, Colo., Byron "Whizzer" White starred at the University of Colorado Boulder.
Although he played three sports, White enjoyed his most success at running back and earned consensus All-American honors in 1937. That was the same year Colorado went 8-1 and White finished second in the Heisman Trophy voting.
The Pittsburgh Pirates, later known as the Steelers, used the fourth overall pick in the 1938 NFL draft on White. He led the league in rushing yards as a 21-year-old rookie but took the 1940 season off to study at the University of Oxford in England.
White returned stateside in 1939 to attend Yale and later rejoined the NFL, this time with the Detroit Lions.
His 514 rushing yards led the league in 1940 — that isn't a typo, nether is his 3.5 yards per carry average — and he again earned All-Pro honors. White's numbers dipped to 240 yards and 2.7 yards per carry in 1941, his final season.
Byron White gave up football during World War II
The United States' entry into World War II after the Pearl Harbor bombings on Dec. 7, 1941, had a major impact on professional sports. Many top athletes were drafted into the armed forces.
Things got so bad in baseball that the Cincinnati Reds, starved for bodies in 1944, sent 15-year-old Joe Nuxhall to pitch against Stan Musial and the St. Louis Cardinals.
Byron White traded his football and cleats for a role as an intelligence officer in the Navy. He earned two Bronze Star medals and reached the rank of lieutenant commander.
When the war ended, White finished working on his law degree at Yale. He graduated in 1946.
He became an Associate Justice of the Supreme Court
Byron White had a long-lasting relationship with the Kennedy family.
White met John F. Kennedy and Joe Kennedy, who died during World War II, in London while studying at Hertford College. Joseph Kenedy was the U.S. ambassador to London.
That relationship paid off when JFK ran for president in 1960. White chaired Kennedy's campaign in Colorado and served as the Deputy Attorney General when Kennedy took office in 1961.
White became the Associate Justice of the Supreme Court of the United States in 1962, a role he held until 1993.
When White retired in 1993, Ruth Bader Ginsburg — who still holds that role in 2020 — took his place. White died of pneumonia in April 2002.
The NFL Players Association honors his legacy with the Byron "Whizzer" White NFL Man of the Year Award, an award that is given to one player each year for his charity work. Jets linebacker Brandon Copeland was the 2020 recipient.
Other recent winners include Rams offensive tackle Andrew Whitworth, former Eagles teammates Chris Long and Malcolm Jenkins, and Washington linebacker Thomas Davis, who took home the award while still playing in Carolina.