BYU's Kyle Collinsworth Is the NCAA's New Triple-Double King
Brigham Young point guard Kyle Collinsworth (pictured below) is now in sole possession of the record for the most triple-doubles in a single Division I college basketball season. He broke the record Saturday against Loyola Marymount with a 23-point, 12-rebound, and 10-assist performance in BYU's 87-68 win.
His fifth triple-double of the 2014-2015 season broke a five-way tie for the single-season record with Stephane Lasme, Jason Kidd, Brian Shaw, and Michael Anderson. Lasme, Kidd, Shaw, and Anderson all recorded four in a single season, and all four players went on to have extensive professional careers.
Here is a look at the four players Collinsworth was tied with heading into Saturday, as well as how their stats in their record-breaking seasons compare to those of BYU's star point guard.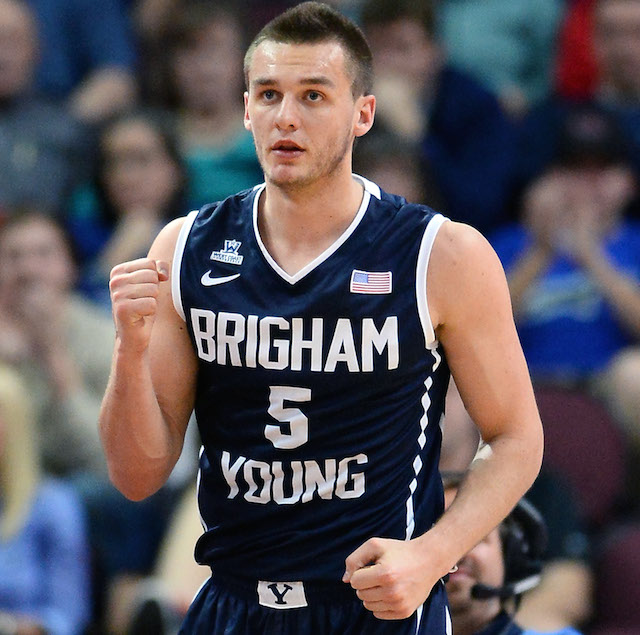 1.  Stephane Lasme, forward, UMass (2006-2007)
Season stats:
13.5 points per game
5.1 blocks per game
9.5 rebounds per game
Lasme played four seasons at UMass before being selected by the Golden State Warriors in the second round of the 2007 NBA Draft. He never really latched on in the NBA and has been playing professionally in Europe since 2008.
2.  Jason Kidd, guard, Cal (1993-1994)
Season stats:
16.7 points per game
3.1 steals per game
9.1 assists per game
6.9 rebounds per game
After two seasons at Cal, Kidd left school and was selected as the second overall pick by the Dallas Mavericks in the 1994 NBA Draft. He went on to be a 10-time NBA All-Star and is considered to be one of the best point guards to ever play the game.
3.  Brian Shaw, guard, UC Santa Barbara (1987-1988)
Season stats:
13.3 points per game
1.6 steals per game
6.1 assists per game
8.7 rebounds per game
Shaw starred at UCSB before going on to have a 16-year NBA career. He won three NBA titles as a player with the Los Angeles Lakers, and is now the head coach of the Denver Nuggets.
4.  Michael Anderson, guard, Drexel (1985-1986)
Season stats:
18.8 points per game
3.0 steals per game
6.5 rebounds per game
After a wildly successful college career at Drexel, Anderson went on to play professionally, mostly in Europe, from 1988 to 1999.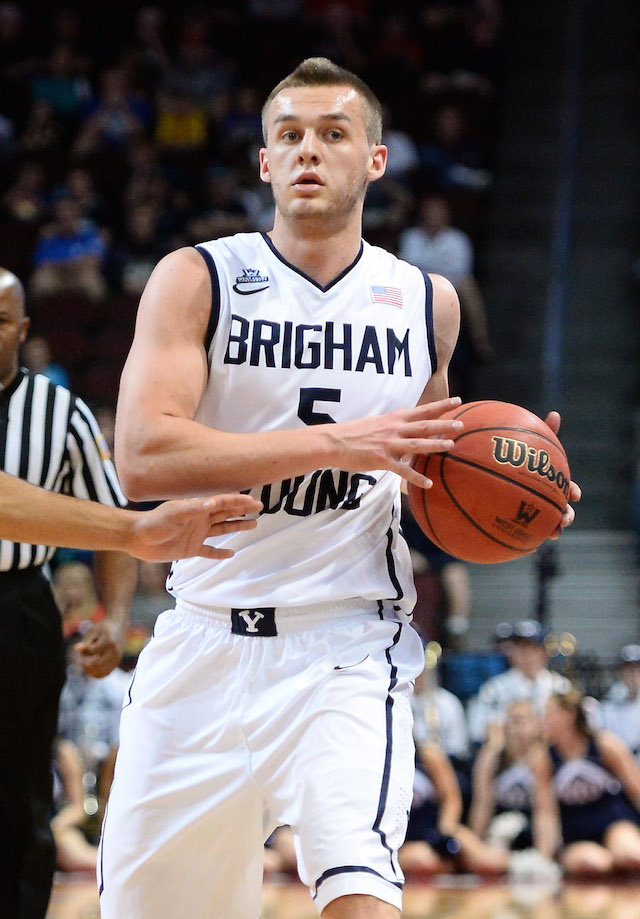 Kyle Collinsworth, guard, BYU (2014-2015)
Season stats:
13.0 points per game
2.0 steals per game
5.8 assists per game
8.5 rebounds per game
Collinsworth, a junior, is a big 6-foot-5 point guard with a rarely seen skill set. He now owns the record for the most triple-doubles in a single season, and with one more, he will jump into a three-way tie with Shaquille O'Neal and Michael Anderson for the all-time Division I record for most career triple-doubles. Assuming he stays at BYU for his entire career, Collinsworth will have the remainder of this season and all of the 2015-2016 season to break the record.