No. 1 Overall Pick Cade Cunningham Finally Broke out With a Historic Performance That Puts Him in the Company of Only Stephen Curry, Trae Young, and Jason Kidd
Cade Cunnigham was the No. 1 overall pick by the Detroit Pistons in the 2021 NBA Draft after a stellar one-and-done season at Oklahoma State. As the first-overall selection, Cade was immediately thrown into the Rookie of the Year conversation. But he missed the entire preseason and the first four games of the regular season with a sprained ankle and had yet to really find his footing.
He showed the potential that made him a consensus All-American with the Cowboys, though, in a game against the Sacramento Kings on Nov. 15. And that performance put him in some pretty unique company.
Cade Cunningham was widely considered the top prospect in the 2021 draft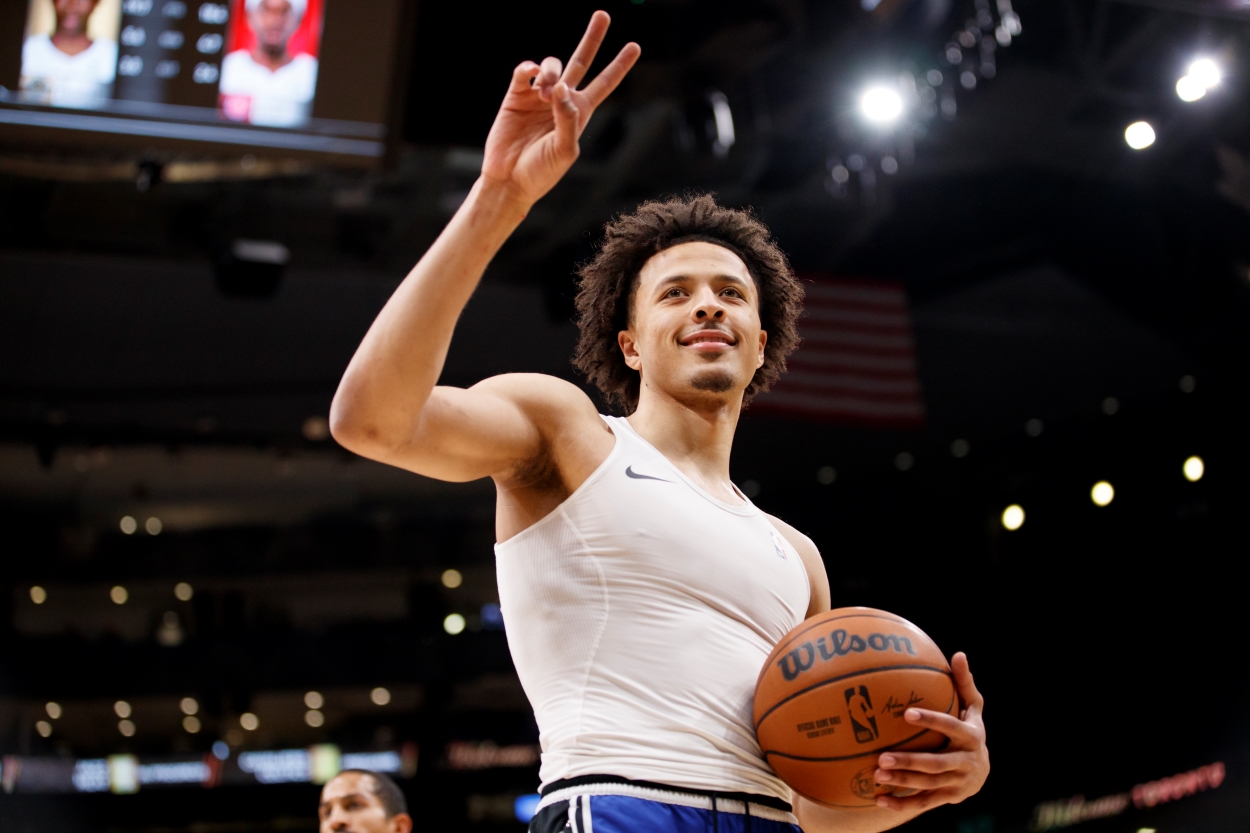 In addition to his spot on the 2020-21 All-Ameican team, Cunningham was also a member of the 2020-21 All Big-12 Team and All-Freshman Team. He was named last season's Big 12 Rookie of the Year and Player of the Year.
He showed the same all-around game in Stillwater that made him one of the top recruits of the 2020 high school class. At 6-foot-8 and 220 pounds, Cade flashed a tantalizing mix of all-around offensive skills. He averaged 20.1 points, 6.2 rebounds, and 3.5 assists at OK State.
Cunningham's off-court maturity and leadership skills were specifically attractive to a Detroit franchise that's toiled away in futility for the last decade-plus.
He fell off the radar a bit during the early portion of the season due to his ankle injury, but the Arlington, Texas native showed why he was selected first overall as he rolled through the Kings and made some rookie history in the process.
Cade got off to a slow start, but his breakout performance put him in rarified air
Even in a Pistons loss, Cunningham was the biggest story of the night.
He finished with a stat line of 25 points, eight assists, eight rebounds, and was 5-of-11 from three. According to StatMuse, that put the Pistons' rookie centerpiece in the company of Stephen Curry, Trae Young, and Jason Kidd as the only rookies with a 25/8/8 game with five 3-pointers made.
Cade understandably struggled as he eased back not only into shape but NBA competition. But he's flipped a switch in Detroit's last four games.
He's scoring 16 points a night, which leads all rookies in that span. He's tied for first in field-goal attempts per game (14) but second in shooting percentage (46.4).
He's connecting on 40% of his 7.5 3-pointers per game. He's also second in assists (4.5) and steals (1.5) among all rookies during that stretch.
The Pistons are 3-10 through the first month of the season. Their first win came in Cunningham's first NBA game, and their other two have come during their rookie cornerstone's four-game hot streak.
Cunningham is the future in Detroit
Jerami Grant and Saddiq Bey lead the team in scoring, but Cunningham leads the Pistons in assists. He's proving that his playmaking ability is already making a difference with one of the least talented rosters in the NBA.
"His versatility, the leadership, the connectability was what really separated him," Detroit general manager Troy Weaver said of Cunningham after the Pistons made him the No. 1 pick, according to NBA.com. "Look at our team, he's a human connector – on the floor, off the floor."
"He is a leader," head coach Dwane Casey added. "He has 'it.' He's a natural leader. You don't have to push him into that role. That's what is exciting about him."
The common thread between Cade's GM and head coach? Intangibles.
Yes, Cunningham has begun to produce in the stat column. But what Detroit needs more than anything is a culture change.
It's no coincidence that the teams only wins this season have come with Cade on the floor. He's exactly what the Pistons expected him to be, and he'll need to continue to be that player if the franchise is going to return to any form of respectability.
All statistics courtesy of NBA.com.