Cade Cunningham Compares Favorably to a Young DeMar DeRozan, According to Dwane Casey
When he tilts his head just so and squints his eyes just right, Detroit Pistons coach Dwane Casey said sees a young and evolving DeMar DeRozan in star point guard Cade Cunningham.
If anybody could see that, it would be Casey, who coached DeRozan through his formative years with the Toronto Raptors, and he has the electrifying Cunningham under his direction now in Detroit.
Based on where DeRozan currently sits — as an NBA All-Star Game starter and an MVP candidate — that has to be Motown Music to the ears of long-suffering Detroit Pistons fans. There is a strong hope that the basketball brilliance of Casey can help mold Cunningham into a player who can finally lead the franchise out of the darkness.
Cade Cunningham has already lived up to the No. 1 pick hype and has superstar potential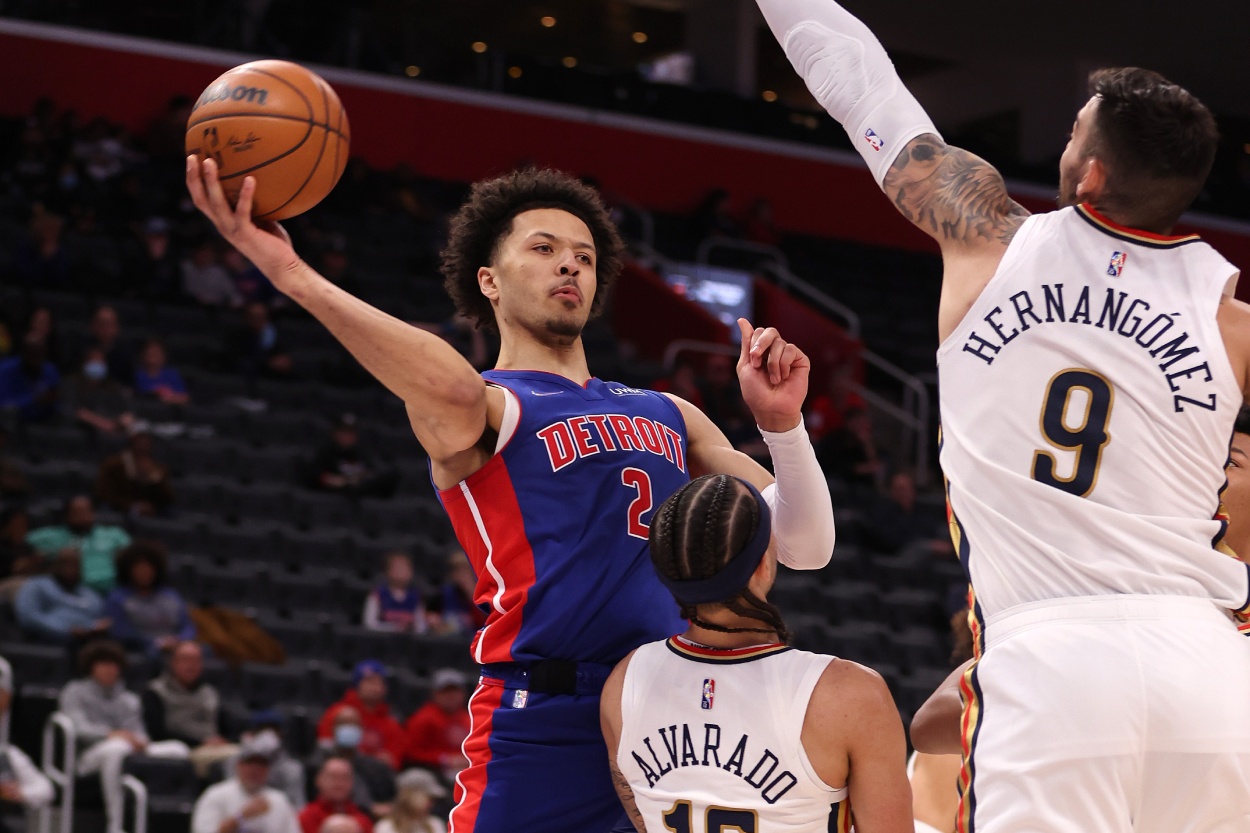 The 6-foot-6, 220-pound Cade Cunningham was the No. 1 pick in last summer's NBA Draft. His size, court vision, and competitiveness made him a no-brainer first pick, and he's already lived up to the hype in his first NBA season with the Detroit Pistons.
Look no further than Cade Cunningham's jaw-dropping performance against the Denver Nuggets on Jan. 25 to realize the point guard's enormous potential. That night, Cunningham almost single-handedly kept the Pistons close with a 34-point, eight-rebound, eight-assist, four-block night. That performance put him in rarified air with Michael Jordan in NBA History among rookies.
Among all rookies, Cunningham ranks tied for first in scoring (15.8 PPG), second in assists (5.2 APG), second in steals (1.3), and sixth in rebounding (5.5 RPG). Also, his do-everything abilities have been on display while compiling six double-doubles and two triple-doubles.
Cunningham's toughness in tough times, versatility, and ability to summon greatness when needed has already caught the eye of Detroit head coach Dwane Casey. Knowing what he's seen already from Cunningham, the veteran coach said there should be no reason why the young and dynamic guard shouldn't be on a collision course with superstardom.
"He's a gamer, the moment's not too big for him, and if he makes a mistake, it's an honest mistake. It's never been him being afraid of the moment," Casey said of the guard who doesn't even turn 21 years old until September. "Some guys have 'it,' and he has 'it' when it comes to big moments. Does he still have a lot to learn fundamentally about the NBA? Yes, but once he does get that down, he'll still have 'it.'
"From a coaching standpoint, you can't always put your finger on it, but he just finds a way to get it done in big moments," Casey added. "Whether it's a blocked shot or just making a big bucket, he finds a way to get it done."
In budding star Cade Cunningham, Dwane Casey sees a lot of a young DeMar DeRozan
DeMar DeRozan has had one of the great renaissance seasons in NBA history this year. Now 32 years old and in his 13th NBA season, DeRozan has newfound energy after signing with the Chicago Bulls. His 26.5-point scoring average is six points higher than his career scoring average and the most he has averaged in five seasons. His work has the Bulls on top of the Eastern Conference, and it has DeRozan in the MVP conversation.
To hear head coach Dwane Casey now compare Cade Cunningham to a young DeMar DeRozan is particularly flattering to the young guard. Casey coached DeRozan for eight seasons in Toronto, and he was witness to much of the evolution of the All-Star guard's career. He watched DeRozan go from someone who struggled reading defenses and dealing with internal and outside pressures to an ice-cold killer in those situations.
In Cunningham, Casey sees many of the same attributes that DeRozan had ears ago in Toronto.
"I tell him the story all the time of working with DeMar DeRozan in Toronto, and now Cade is that young guy learning," Casey said. "(Last week) I watched (DeRozan) against (Orlando), picking the defense apart, and Cade is growing into that. I compare him a lot to DeMar because DeMar had the same issues early on when seeing a lot of different defenses and learning how to handle them.
"Playing against double teams, Cade's doing a much better job of that now," Casey added. "Just knowing how to peel out of them and how to use the proper footwork, he's growing in those respects."
The young guard has already displayed a great ability to battle through adversity and respond
The Detroit Pistons are in a tie for the fewest wins in the NBA with 12, and they are still deep into rebuilding mode. Rumors abound that their best veteran player, Jerami Grant, could be on the move before next week's NBA Trade Deadline.
All that losing has to be difficult for Cunningham, who played on a high school national championship team at Montverde Academy in suburban Orlando and reached the NCAA Tournament in his one season at Oklahoma State University.
Maybe one of the best attributes displayed by Cunningham so far has been his ability to bounce back from tough times. An ankle injury delayed the start of Cunningham's NBA career, and his first two games as a pro produced some awful struggles. In those first two games, he made only three of 22 shots and missed all 14 of his heaves from three-point range. Soon after, he rebounded with a stellar three-game stretch where he averaged 18.5 points and 6.0 rebounds, and he was on his way.
Last week, he suffered through one of the worst games of his career against fellow Orlando rookies Franz Wagner and Jalen Suggs. Cunningham missed his first 11 shots and finished with just six points on three-of-17 shooting.
For those wanting to see a response, Cunningham proceeded to outplay standout point guard Darius Garland and stellar fellow rookie Evan Mobley two nights later. His 19-point, 10-rebound, 10-assist triple-double helped Detroit notch a feel-good win over the upstart Cleveland Cavaliers.
Rarely ever does the rookie guard make the same mistakes, Casey marveled.
"Early in the season, Anthony Davis blocked his shot twice, and he doesn't put himself in those positions now," Casey said. "It's something that you have to learn through experience when you see how quick guys close ground to you, how long they are, and how you have to get your shot off over them.
"Those things he's learned, and that's where I've seen the most growth," Casey continued. "Defensively, there's better awareness, he's using his length, and he's learning how close he can get while guarding a player one-on-one. All those little nuances that you take for granted, you have to teach young guys, and he's doing such a great job of picking them up quickly."
Sportscasting.com Senior NBA Writer John Denton obtained all quotes in the article firsthand.
Statistics are courtesy of ESPN.com.
RELATED: Orlando Magic Hope Two Rookies — Jalen Suggs and Franz Wagner — Are Better Than No. 1 Cade Cunningham