Cade Cunningham Is Following in the Footsteps of LeBron James, Michael Jordan, and Many Other NBA Stars With His Latest Endorsement Deal
Cade Cunningham hasn't played a single game in the NBA yet, but he is following in the footsteps of legends. Yes, he will already do that by likely becoming the No. 1 overall pick in the 2021 NBA Draft with the Detroit Pistons, but Cunningham is following the paths of guys like Michael Jordan, LeBron James, and many other stars with his newest endorsement deal.
Cunningham is now a Nike athlete.
LeBron James, Michael Jordan, and other NBA stars are Nike athletes
Nike has had great NBA players on its roster for years.
Michael Jordan has been one of the most profitable. He not only has his own branch within Nike called Jordan Brand, but Forbes reported in 2020 that Nike has paid Jordan over an estimated $1 billion since he signed his first deal with the company in 1984.
LeBron James has also made a ton of cash with the athletic brand. In fact, he even signed a lifetime deal with Nike in December 2015, and James' business partner Maverick Carter hinted that it might actually be worth over $1 billion. When asked if it was worth $1 billion by GQ in 2016, Carter reportedly didn't give an actual answer but pointed upward.
Other current basketball stars who are Nike athletes (or Jordan Brand athletes within Nike) include the following: 
Giannis Antetokounmpo
Bradley Beal
Sue Bird
Devin Booker
Anthony Davis
DeMar DeRozan
Kevin Durant
Paul George
Brittney Griner
Kyrie Irving
Khris Middleton
Breanna Stewart
Diana Taurasi
Russell Westbrook
Zion Williamson
Nike athletes from other sports also include guys like Aaron Donald, Russell Wilson, Mike Trout, and Cody Bellinger.
Cade Cunningham signed a deal with Nike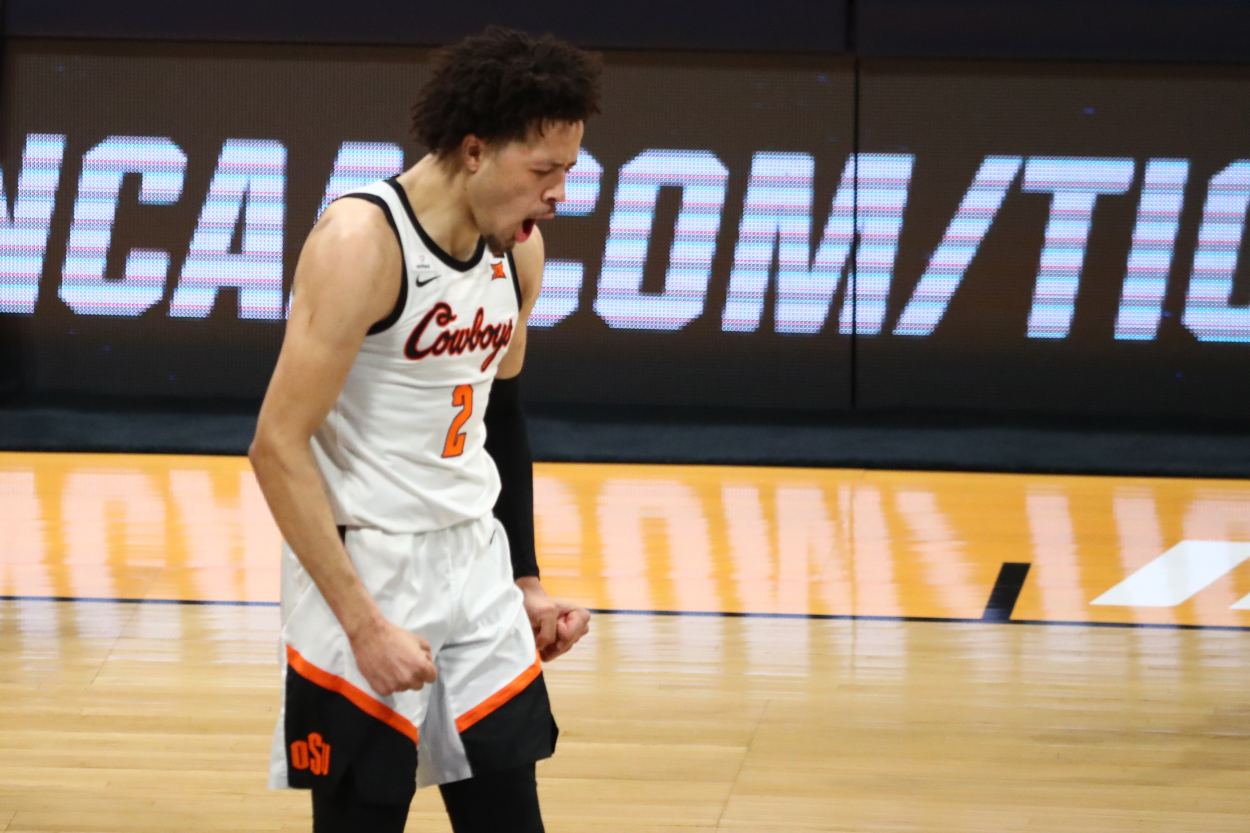 Cunningham is preparing for the 2021 NBA Draft, and ahead of the big day that takes place July 29, Cunningham and Nike announced their new multi-year deal together.
Cunningham has long had an appreciation for the brand, and Oklahoma State, his college team, was a Nike-sponsored school.
"More than anything, they show that athletes are more than just athletes," Cunningham said to ESPN. "They really put the right message out for people to see. That was important to me. … I felt like it was a perfect match for me."
Cunningham reportedly has the largest shoe deal of any prospect in his draft class. Before signing with Nike, he also tried Li-Ning, Puma, Adidas, and Converse sneakers during his pre-draft workouts, per ESPN.
"We all can tell a Nike commercial as soon as they come on," he said, per ESPN. "Those things matter to me, and I want to be associated with a brand like that."
Cade Cunningham will likely make significant cash as an NBA star
Cunningham was the No. 1 high school player in 2020, which translated to the court at Oklahoma State. He averaged 20.1 points, 6.2 rebounds, and 3.5 assists in his lone college season, earning Consensus All-American honors and the Big 12 Player of the Year award.
Because of his stellar play, many people expect him to be the No. 1 pick in the 2021 NBA Draft, which will pay off big time. The 2020 No. 1 pick, Anthony Edwards, made over $9.7 million last season with the Minnesota Timberwolves and will make over $10.2 million in 2021-22, per Spotrac.
It also appears that, in addition to Nike, Cunningham plans to make cash through other endorsements. ESPN reported that he has agreed to deals with various companies in several industries that include cryptocurrency, energy drinks, plant-based food, and numerous others.
"I definitely have been putting thought into it. I'm not playing basketball just for fun anymore," he said, per ESPN. "It's a business now, and that's the blessing of it. I'm happy that I've gotten to get to this point to where I can make money doing what I'm doing. Marketing myself, I want to be fully authentic with who I am. I don't want to take any marketing deals that don't match who I am."
Cunningham will soon be an NBA superstar. But he will also be a pretty wealthy man.
Stats courtesy of Sports Reference