Cade Cunningham Hasn't Played in 1 NBA Game yet but Already Knows What His 'Welcome to the NBA' Moment Will Be
Cade Cunningham won't step on an NBA court until this fall, but many expect him to be a special player. If his college career is any indication of what he can do as a pro, then the top 2021 NBA Draft prospect has a chance to be one of the best players in the league. However, before becoming a superstar, Cunningham must learn what it's like to be a professional, and he already knows what his "welcome to the NBA" moment will be: playing against LeBron James.
Cade Cunningham is a top prospect in the 2021 NBA Draft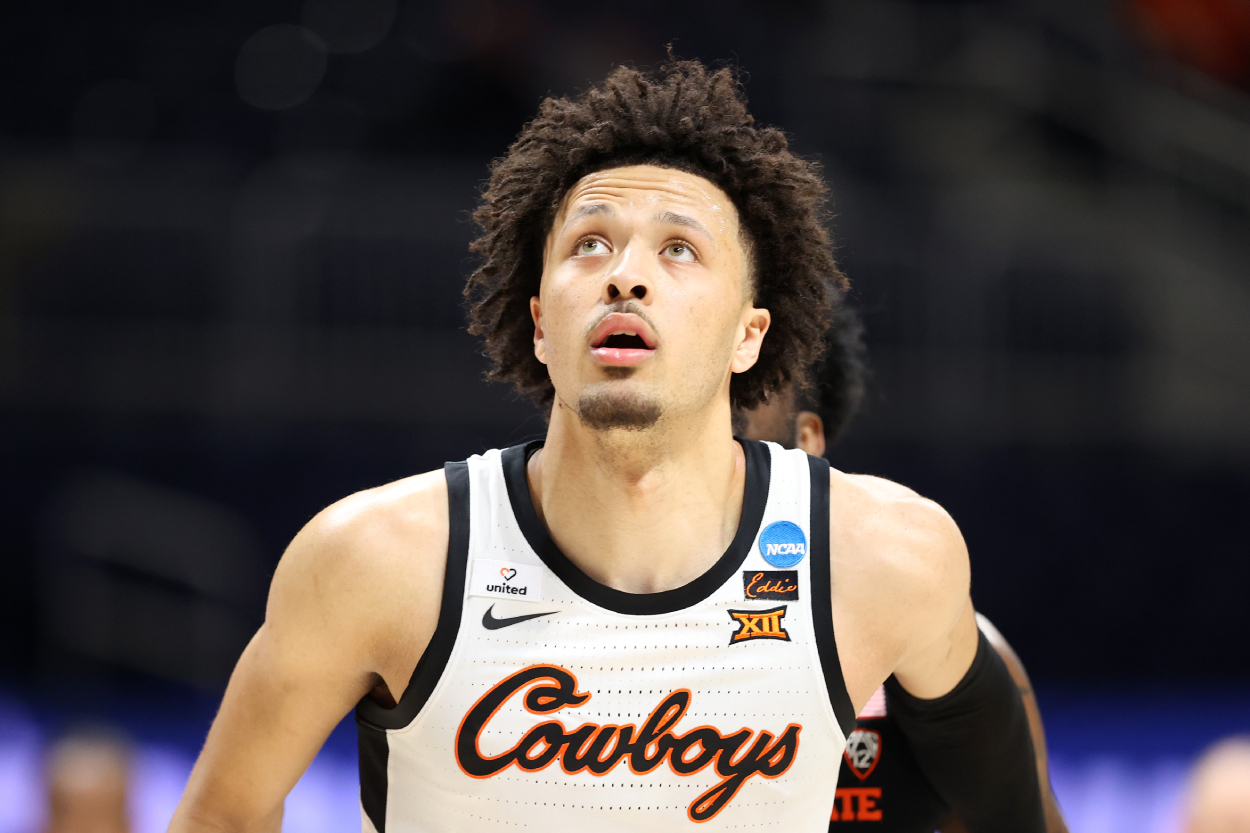 Cunningham had a ton of hype surrounding him even before his college days, as he was the top-rated recruit in 2020.
He then lived up to all the expectations, as he was a consensus All-American in his lone collegiate season at Oklahoma State. He also won the Big 12 Player of the Year award.
Cunningham can do it all on the court. The 6-foot-8-inch guard averaged 20.1 points for Oklahoma State to go with 6.2 rebounds and 3.5 assists. He also shot 40% from 3-point range and collected 1.6 steals on the defensive end.
His play easily made him the top prospect in the 2021 NBA Draft, and many people expect him to go to the Detroit Pistons first overall.
Playing against LeBron James will be his 'welcome to the NBA' moment
LeBron James was in Cunningham's shoes in 2003. He went to the Cleveland Cavaliers with the No. 1 overall pick that year and has been one of the best players in NBA history ever since. He's a four-time NBA MVP, four-time champion, and a four-time finals MVP.
Since James has been in the league for most of Cunningham's life, playing against The King will be the prospect's "welcome to the NBA" moment.
"He got his Space Jam movie now, so I mean that's Space Jam," Cunningham said to ESPN on July 28. "LeBron has been somebody I've been watching growing up, a lot of inspiration for me. He's been to the finals pretty much every year I can remember. So, to be on a court with him, that's gonna be special for sure. [It will be] definitely a good scale to see where I'm at."
Playing against one of the all-time greats has to be surreal for any young athlete. Luckily for Cunningham, though, he'll probably only have to face James a couple of times a year since he'll most likely play for the Pistons.
Cade Cunningham is all-in on the Detroit Pistons
Although Detroit could very well pass on Cunningham in the 2021 NBA Draft, or trade their pick to another team, it appears the guard expects to go to the Pistons. They were the only team he worked out with before the draft.
"I loved Detroit," Cunningham, who is from Texas and played high school ball in Florida, said to ESPN. "The facilities were big-time. The people throughout the organization were really good people, and I think they've got a lot of things going for them in the future, so definitely a good organization, and if they take me, I'll definitely be happy to be in there."
Cunningham also attended a Detroit Tigers game while visiting with the Pistons.
"Detroit was a great city; the people there were showing me love, so my trip, in general, was just a good trip," he said.
Cunningham has the potential to become the next big NBA star. If he ends up going to the Pistons, he can transform them from perennial losers to one of the league's powerhouses — similar to what LeBron James did with the Cleveland Cavaliers.
His journey will be fun to watch.
Stats courtesy of Sports Reference