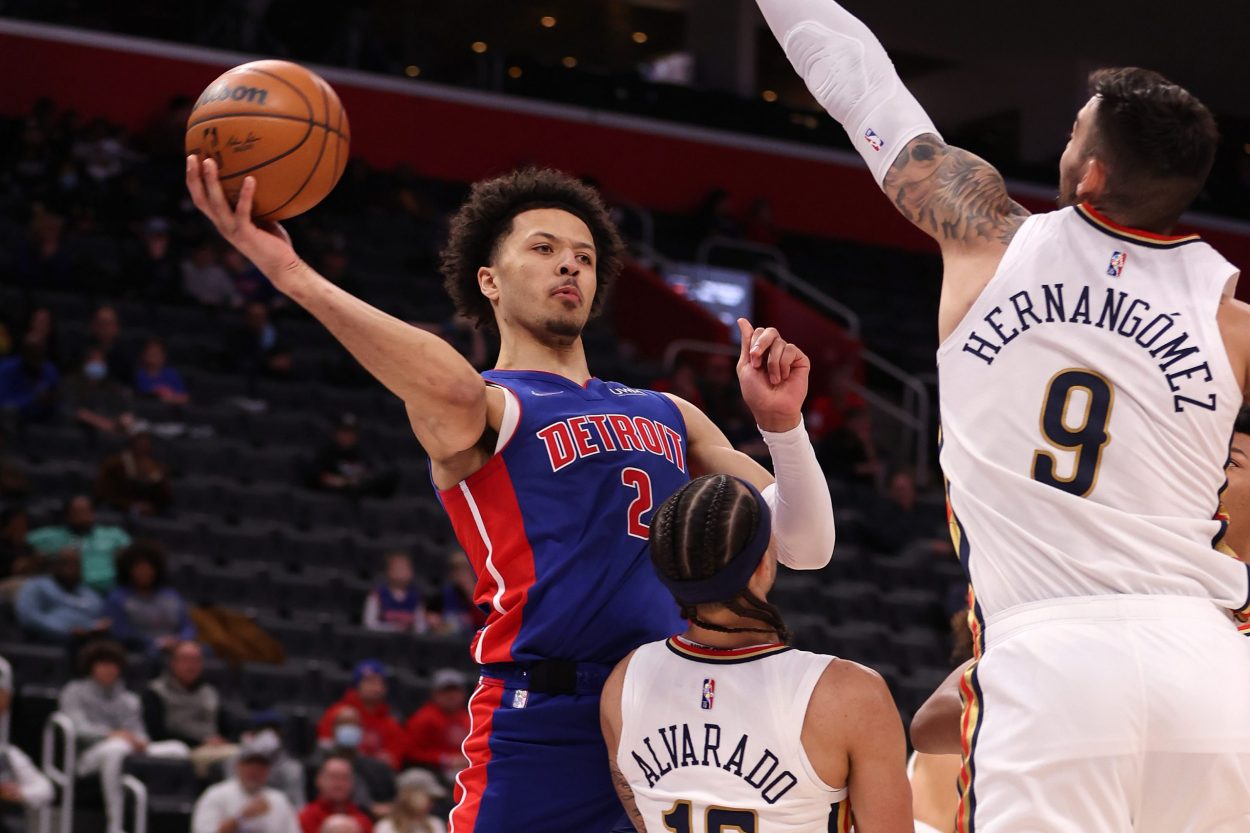 Cade Cunningham Shows an Important Sense of Humility Amid Tumultuous Rookie Season
Cade Cunningham shows maturity in embracing the learning process of being a rookie and embracing individual and team struggles.
Not every No. 1 NBA draft pick can come in and immediately change the course of a franchise. In fact, very few can achieve such a feat. Fortunately, Detroit Pistons rookie Cade Cunningham acknowledges as much.
More importantly, Cunningham embraces the grind.
The Oklahoma State product came into the 2021 NBA Draft as one of the most highly-touted prospects in recent memory. But Cunningham's rookie season hasn't been all sunshine and rainbows. He missed time early due to injury and struggled to adapt to the NBA.
However, Cunningham is gradually showcasing the gifts that made him such a coveted talent and eliciting comparisons to All-Stars in the process. It's been a slow build, but the 20-year-old has displayed maturation as the Pistons look to build around him.
Cade Cunningham's roller-coaster campaign
Cunningham's transition to the pros didn't quite go as planned.
An ankle sprain cost the former Cowboys star four games at the start of the regular season. Cunningham struggled to settle in immediately thereafter, posting a forgettable 47.4% true shooting mark in November and averaging close to four turnovers per contest.
However, Cunningham has begun to find his stride.
In nine December contests, the Texan averaged 17.9 points, 6.3 assists, and 5.7 rebounds. He also shot above 40% from beyond the arc. Cunningham earned Eastern Conference Rookie of the Month honors in January, averaging 17.3 points, 5.6 assists, and 4.2 rebounds while slashing his turnover rate.
Cunningham's improvements haven't resulted in more winning. His efficiency suffers because he is the only true shot-creator and bonafide backcourt playmaker on the roster. Detroit also struggles defensively, resulting in the Pistons ranking dead last in net rating.
It must feel frustrating for Cunningham to bear so much responsibility and experience so much losing. But he's taking everything with a grain of salt and trudging forward.
Cunningham humbly acknowledges the ups and downs of his rookie season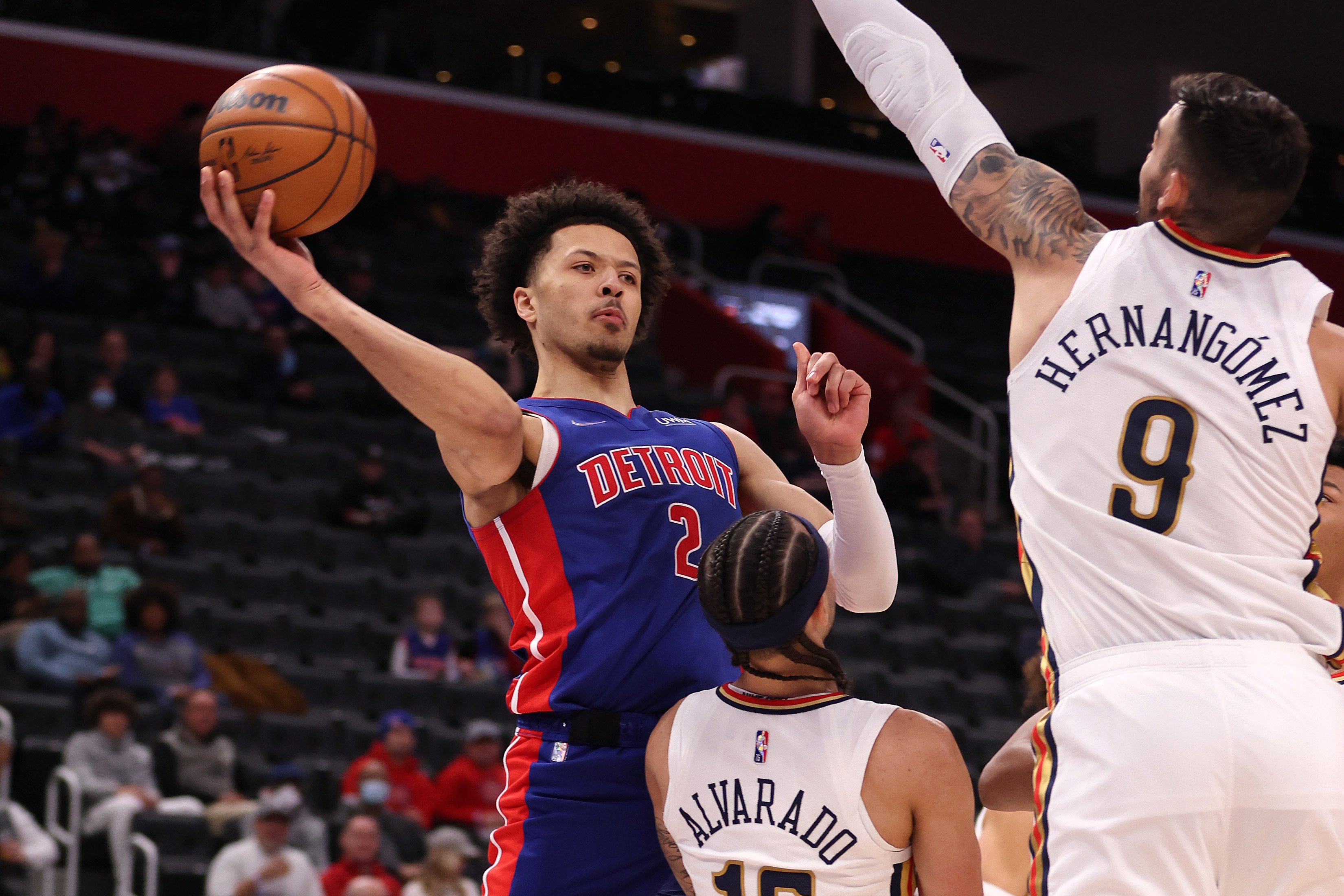 Although Cade Cunningham hasn't shied away from commenting on other players in his draft class and suggesting he is the best rookie in the league, he isn't dismissing the valleys of this season, either.
Cunningham sat down for an interview with Omari Sankofa II of the Detroit Free Press in which he detailed his NBA journey thus far. He admitted to going through "ugly moments" and called the campaign a "learning experience." The Pistons guard highlighted his efforts to soak in every moment and take something from every game, no matter how painful.
"There's been times this season where we've had some ugly losses where it's tough to sit on the bench during the game and just sit there and be in that moment. I've tried to learn to fully accept those moments and fully be there, you know what I mean? You can't run. In your head, you can't take yourself to another place. You just have to learn from where you're at and make sure you don't put yourself in that position next time."

–Cade Cunningham, via the Detroit Free Press
The message sounds simple. But it's not.
Cunningham fully admits to the difficulties of playing for a losing franchise. But, instead of selfishly looking to glean positives from his play, he admits to his role in Detroit's inability to put together wins.
As Cunningham stated, he isn't trying to "run." Instead, he wants to confront the negatives and grow from them. That honestly and humility further cement his status as the franchise cornerstone in the Motor City.
Where do the Pistons go from here?
At this point, the Pistons need to do everything in their power to build around Cade Cunningham. But what does that mean, exactly?
Jerami Grant is the most likely player to leave Detroit, though it's not beyond the realm of possibility that the Pistons could keep him and try to re-sign him in free agency this summer. Additionally, general manager Troy Weaver has shown he will act aggressively to swing deals for young players with upside and dangle draft picks.
Moreover, the Pistons have plenty of cap space for the offseason. Might they pursue a guy like Miles Bridges or another budding young star?
Detroit has its work cut out in the coming years as it attempts to build a sustainable winner. That said, Cunningham's eagerness to improve and take stock in all things good and bad bode well for the Pistons in the future.
Stats courtesy of Basketball Reference.