Cade Cunningham Is Only a Rookie, but His Connection to NBA Superstar Kevin Durant Has Already Paid Off: 'To Have Somebody Like That … Is Supercool'
Detroit Pistons rookie Cade Cunningham had a slow start to his NBA career, struggling to hit shots and find his rhythm. But the No. 1 overall pick in 2021 has since proven why people were so high on him during his high school and college days.
Lately, Cunningham has been on a tear, slowly but surely raising his shooting percentages. And if the company he keeps is any indication of what his future holds, the basketball world needs to hold on tight.
Cunningham recently revealed that he has a close connection to NBA superstar Kevin Durant, and it appears their relationship has already paid off.
Cade Cunningham has become a star rookie for the Detroit Pistons
There was a bit of speculation on whether Cade Cunningham would potentially become a bust during his first few games. In his three opening contests, the Oklahoma State product only averaged 8.7 points on 17.9% shooting. He also only made 4.8% of his seven 3-point attempts per game.
However, since the end of November, Cunningham has been one of the hottest rookies in the league, averaging 18.3 points on 43.6% shooting in his last 15 games, and he has made 40.4% of his 3-pointers during that span. The 6-foot-6-inch guard also had a massive game against the Utah Jazz on Jan. 10. Despite the Pistons only being 9-30, they beat the 28-13 Jazz, 126-116, behind Cade's career-high 29 points on 10-of-17 shooting and eight assists. He also made 5-of-9 three-pointers.
After his slow start, Cunningham has shown the playmaking abilities and shooting range we all saw he had in college. And it appears one of the league's all-time great scorers has helped him throughout his journey.
Cade Cunningham has had a connection to Kevin Durant since high school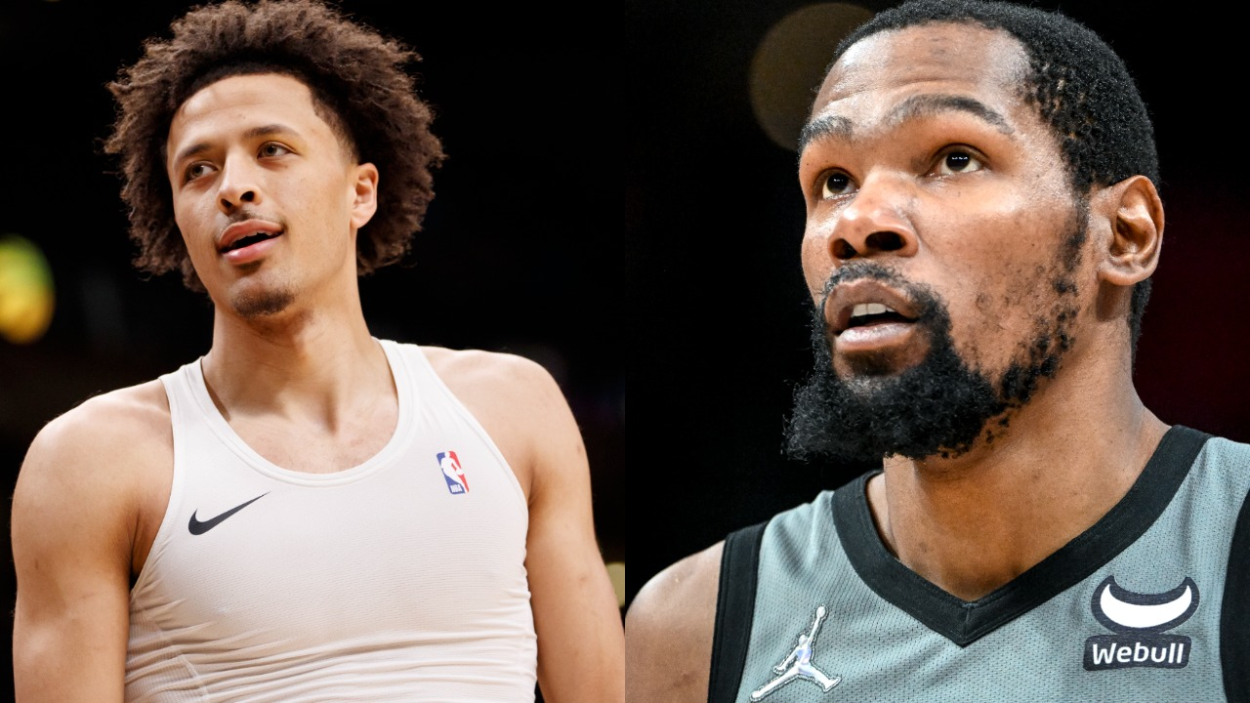 Cade Cunningham and Kevin Durant go way back, as they met during Cade's high school years. 
OK, Cunningham was only in high school two years ago, but having someone like KD in his corner was likely crucial for him during his ascension to basketball's highest level. And it's now probably just as valuable as he works to reach NBA stardom.
"We've been in contact since then. I talked to him through college. Being able to play against him recently was supercool," Cunningham said to The Undefeated in December. "To have somebody like that as somebody that I can holler at is supercool. He told me, 'More than anything, just keep working.' He's a real-life gym rat."
Cunningham added that everyone seems to say "keep working," but KD means it.
"He is more serious about it and [it's] why he has got to the point where he's at. That's just something that I'm trying to do and see that in my game," he said.
Cunningham likely took that advice and ran with it during his slow star. It has since resulted in him catapulting into the thick of the Rookie of the Year race.
And luckily for him, he can now use Durant's road map to success as he tries to become an NBA superstar.
Kevin Durant clearly followed his own advice
Like Cunningham, Kevin Durant didn't just enter the NBA as a 27.0 points per game scorer. Although he won Rookie of the Year in 2008, he averaged 20.3 points in his first season, shot just 43.0% from the field, and posted an atrocious 28.8% shooting percentage from 3-point range.
In his second year, Durant improved his numbers to a 25.3 points per game average and a 47.6% shooting percentage. He also made a remarkable 42.2% of his 3-pointers. He has since become a four-time league scoring leader and averages 27.1 points for his career. He is also a 49.5% career shooter and makes 38.3% of his long-range shots.
Sure, some Pistons fans may have been worried at the start of this season. But with Durant as his mentor, Cade Cunningham has a chance to become a bona fide star.
Stats courtesy of Basketball Reference