Caeleb Dressel: 5 Facts About the Olympic Swimming Gold Medalist
Caeleb Dressel is a world-class swimmer who started earning his Olympic gold medals in the Rio Olympics in 2016. At the 2020 Tokyo Olympics, he won a total of five gold medals: in the individual 100-meter freestyle, the 4×100-meter medley relay, the 4×100-meter freestyle relay, the 100-meter butterfly, and the 50-meter freestyle. He is also a current world record holder, having earned a world record in the 100-meter butterfly — beating out Michael Phelps in the process. His other world records include the 50 meter freestyle (short course), and 100 meter individual medley (short course). Additionally, Dressel was awarded Male Athlete of the Month in December 2018 after earning a total of nine medals in the FINA World Aquatics Championships, according to Team USA.
His impressive swimming resume aside, let's take a look at five fascinating facts about Dressel as a person.
He's passionate about tattoos and has at least five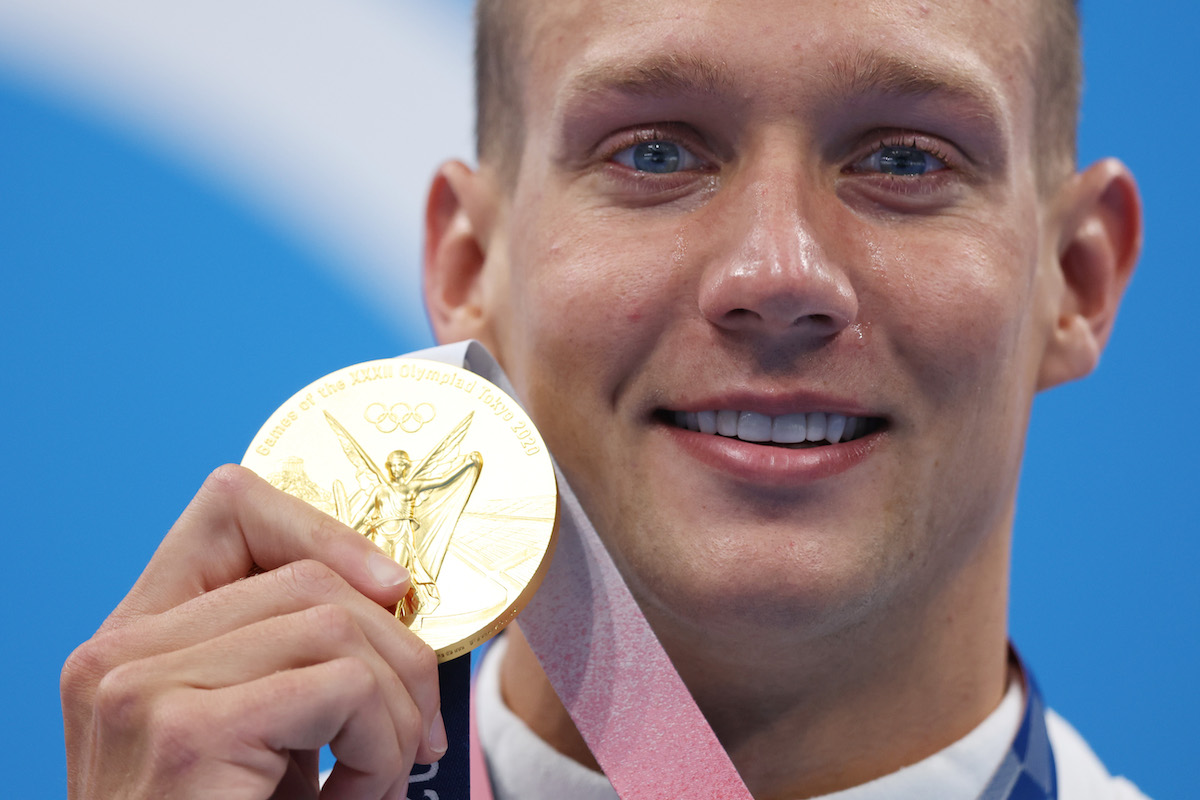 Dressel enjoys getting tattoos — and as of right now he has five known ones according to Body Art Guru: an American flag, an alligator head, an eagle, a bear, and the Olympic rings. The alligator is a tribute to the University of Florida, which is his alma mater. The eagle and bear were inked in pursuit of his spirit animal. He eventually decided the eagle didn't fit well with him and got a bear instead, though he kept the eagle, which matches well with the American flag.
All of these tattoos were done by tattoo artist James Cumberland, who uses a bold and unique style. About the artist, Dressel said, "Always a pleasure to have James Cumberland draw on me. You're the man, thank you, my boy." His tattoos certainly help him stand out among the competition.
Caeleb Dressel plays drums and the ukulele
Dressel has a rigorous training schedule, but that doesn't mean he doesn't enjoy plenty of hobbies in his free time. One of these is music, as he plays the drums and the ukulele.
While he considers himself tone-deaf, he enjoys the ukulele since it's a pretty simple instrument and makes it easy to play chords. As for the drums, he started playing drums in band when he was only in sixth grade, and he has kept playing ever since. When he moved to Florida, he brought with him the electric drum kit he had at home. While he has tried to branch out into other instruments like the banjo, he eventually stopped, saying it was a "disaster."
He married his high school sweetheart in February 2021
Dressel married his wife Meghan in February 2021, according to AP News. His only regret is not marrying her sooner. They've known each other since high school and have a shared interest in swimming, which Meghan did throughout high school and a bit in college. She has multiple degrees, including a master's in marriage and family therapy, which is her current occupation.
Dressel said he's very grateful for his wife, especially when his prolific swimming career gets tough. While it's hard on both of them, they still strive to make time for each other. He respects her cooking abilities, admitting that he's only able to make eggs. She frequently makes him chicken piccata, which is his favorite dish.
He started a podcast called 'The Ben and Caeleb Show'
Back in 2019, Dressel started a podcast with his best friend Ben Kennedy. It's a discussion-style podcast that covers random topics. They post new episodes a few times a month and cover everything from the placebo effect, to dolphins, to fan mail. On Spotify, their podcast description reads, "Two best friends, eager to learn about the world, share some of their greatest stories while trying to give insight and a good laugh to the people around them."
Caeleb Dressel trains his young black lab every single day
Along with music and his podcast, he also enjoys training his black lab Jane. His dad is a veterinarian, which is what started his love for animals, especially dogs. After his weight training, he runs around with his dog and teaches her hunting and retrieving skills. He says his dog is somewhat of a celebrity in his local area because he takes her everywhere he can — to the point where people say, "Hi Jane!" when they pass by.