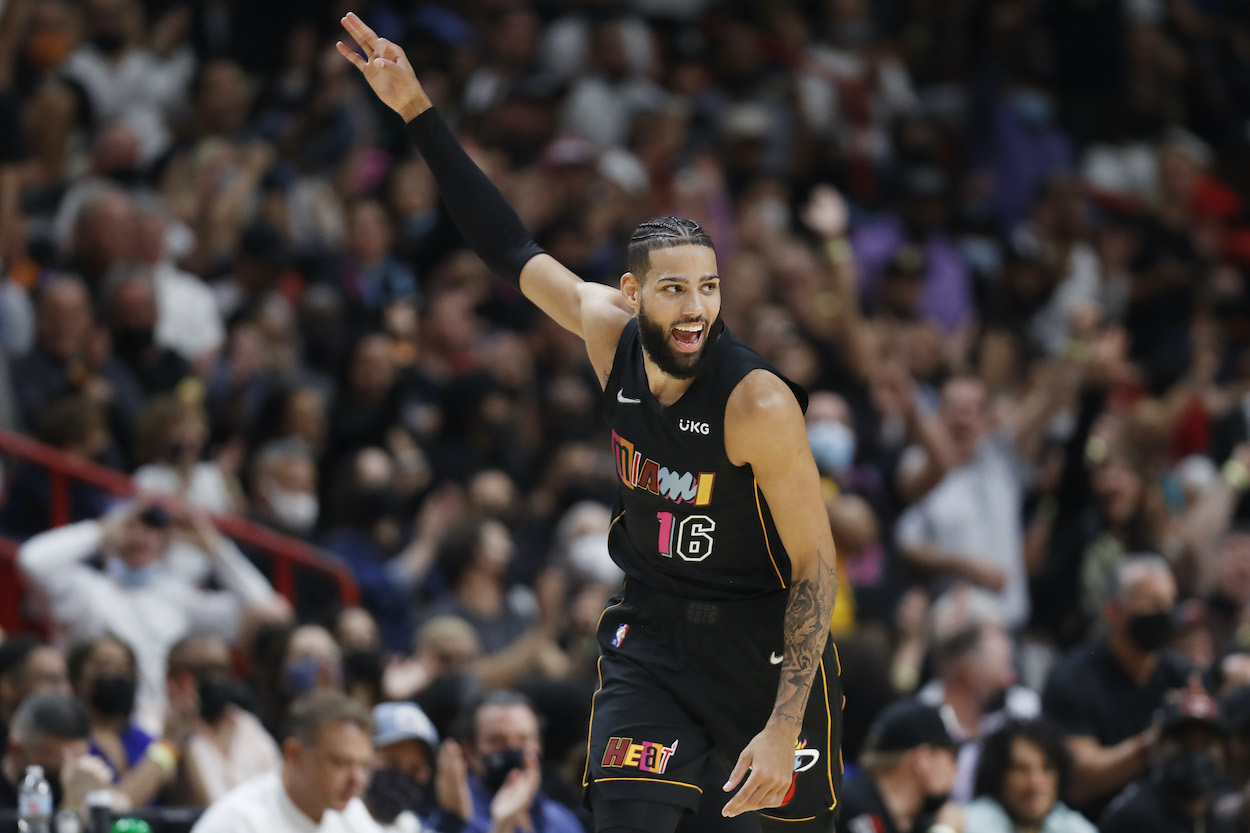 Caleb Martin Never Would've Signed With the Heat Without an Assist From Rapper J Cole
Caleb Martin recently signed with the Heat for the rest of the season, but that never would've been possible without J Cole.
Caleb Martin saw his short NBA career come to a halt last summer when the Charlotte Hornets released him following his two seasons with the team. When he didn't get picked up by another team off waivers, he faced the frightening reality that he might've played his last game in the NBA.
But thanks in large part to famous rapper J Cole, Martin found a home with the Miami Heat and got his career back on track.
J Cole took Caleb Martin under his wing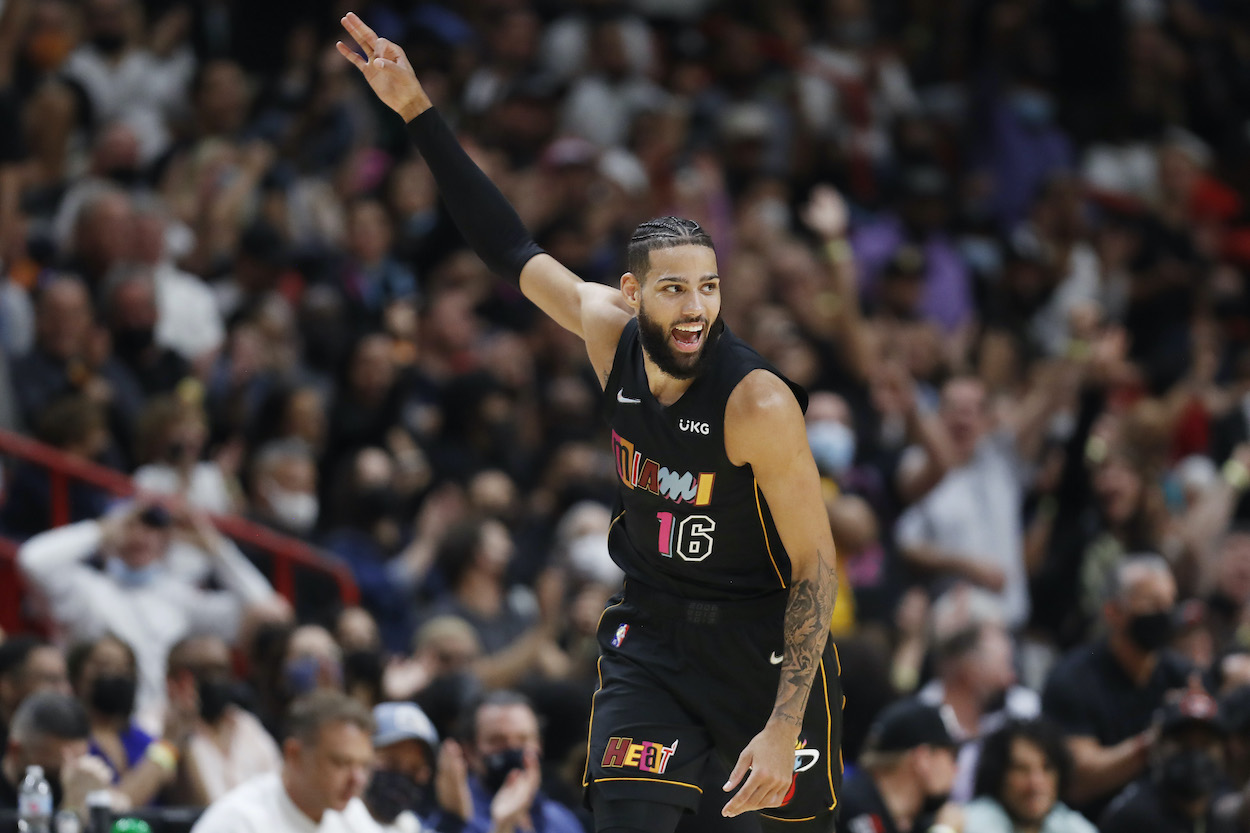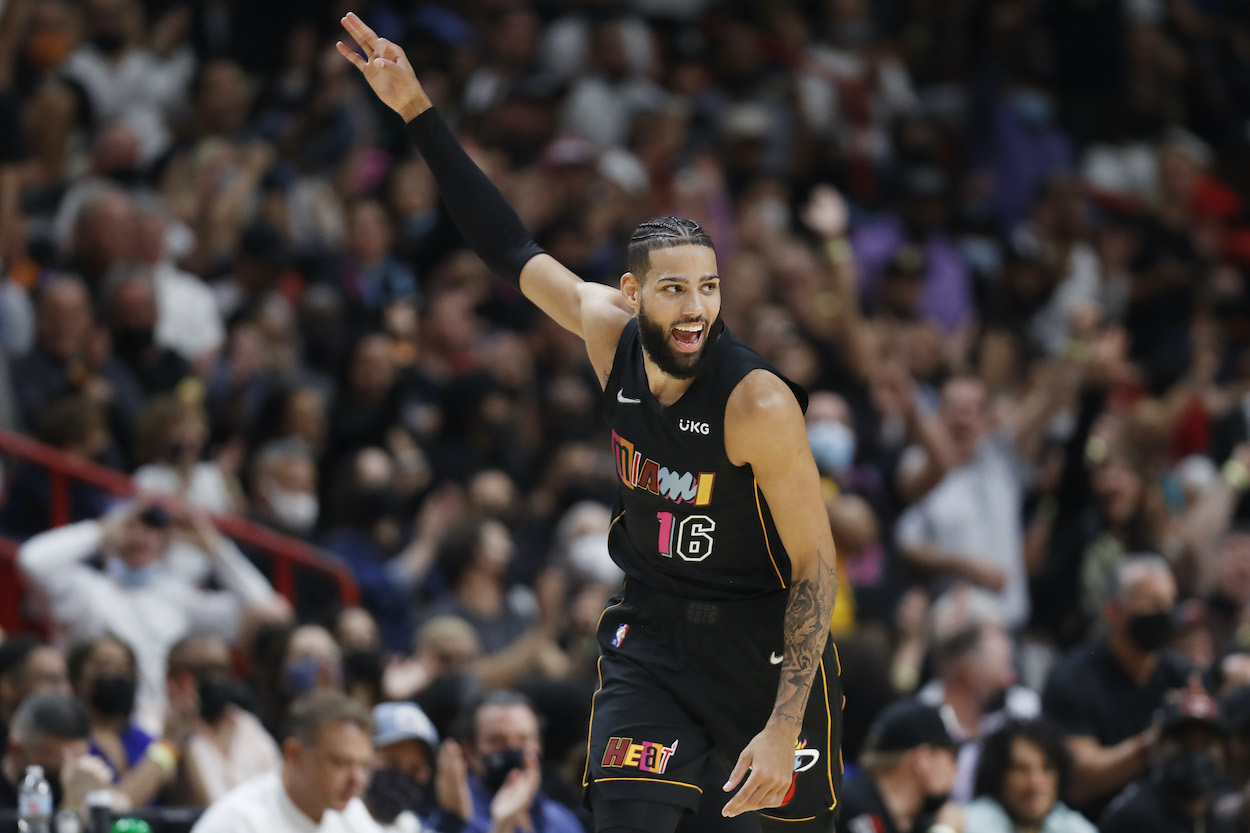 In a recent story written by Roderick Boone of the Charlotte Observer, he explained how Jermaine Cole, the rapper known as J Cole, paved the way for Martin to sign with the Heat last year.
After Martin was cut by the Hornets in the offseason, he started working out at Cole's private gym in North Carolina. Cole, who's an avid hooper himself, immediately became impressed with Martin's game, so he set out on a mission to find him another job.
"He was impressed and he was like, 'Yo what's the situation?'" Omar Khanani, Martin's personal trainer, told The Observer. "Cody [Martin, Caleb's twin brother] had a deal and Cole was like, 'How does this guy not have a deal? He's killing me, everybody.' Cole holds his own against guys and Caleb was giving him fits. You've got a gym full of pros and he's standing out. 'So how does this guy not have a job?'"
Cole set out to change that.
J Cole helped Martin land a deal with the Heat
After growing infatuated with Martin's game, Cole started calling up his contacts around the league. Eventually, he reached out to Caron Butler, a former NBA player who's now an assistant coach with the Heat. Butler gave Martin a chance by inviting him to a scrimmage with members of Miami's current roster.
Martin didn't disappoint.
Thanks to his brilliant performance in the scrimmage, Martin was offered a two-way contract with the Heat. But he never would've had the opportunity if it wasn't for Cole.
"Yeah, that's my man," Martin told The Observer. "It shows that even though he's accomplished a lot of things … and he's got so many other things to worry about, he worries about his people. And it's dope he considers me one of his people, that he takes into account and he knew my situation. He saw me working in the gym every day and you could just tell he appreciates guys who grinds like he does and so that's a blessing for him to lend a hand out there and do what he could."
Making the most of the opportunity
Cole was right that Martin deserved to be on an NBA roster, and he's proved it this season. In his first year with the Heat, Martin is averaging 9.2 points, 4.0 rebounds, and 1.0 steals per game. He's even cracked the starting lineup in 10 of his 46 appearances.
Miami was so impressed with Martin's play that the team recently signed him to a full NBA contract. The 26-year-old will now be available to play in the postseason, which he wouldn't have been able to do if he was still on a two-way deal.
Even if Martin's future isn't with the Heat, he's proven this year that any team would be lucky to have him coming off the bench. An NBA career resurrected, all because of J Cole.
Like Sportscasting on Facebook. Follow us on Twitter @sportscasting19.