Calvin Johnson Bashes Lions as Former Teammate Matthew Stafford Prepares for 2022 Super Bowl: 'Detroit Ain't Getting No Parade. They Don't Deserve a Parade'
Legendary wide receiver Calvin Johnson is happy for his former Detroit Lions teammate, Matthew Stafford. Stafford has led the Los Angeles Rams to Super Bowl 56 just over a year after being traded from Detroit to LA.
For his part, Johnson is hoping that his old quarterback will pull off a win.
With that said, if anyone associated with the Lions wants to try to make a Stafford win a win for Detroit, Johnson couldn't disagree with that logic more.
Calvin Johnson and Matthew Stafford tore the NFL up together with the Detroit Lions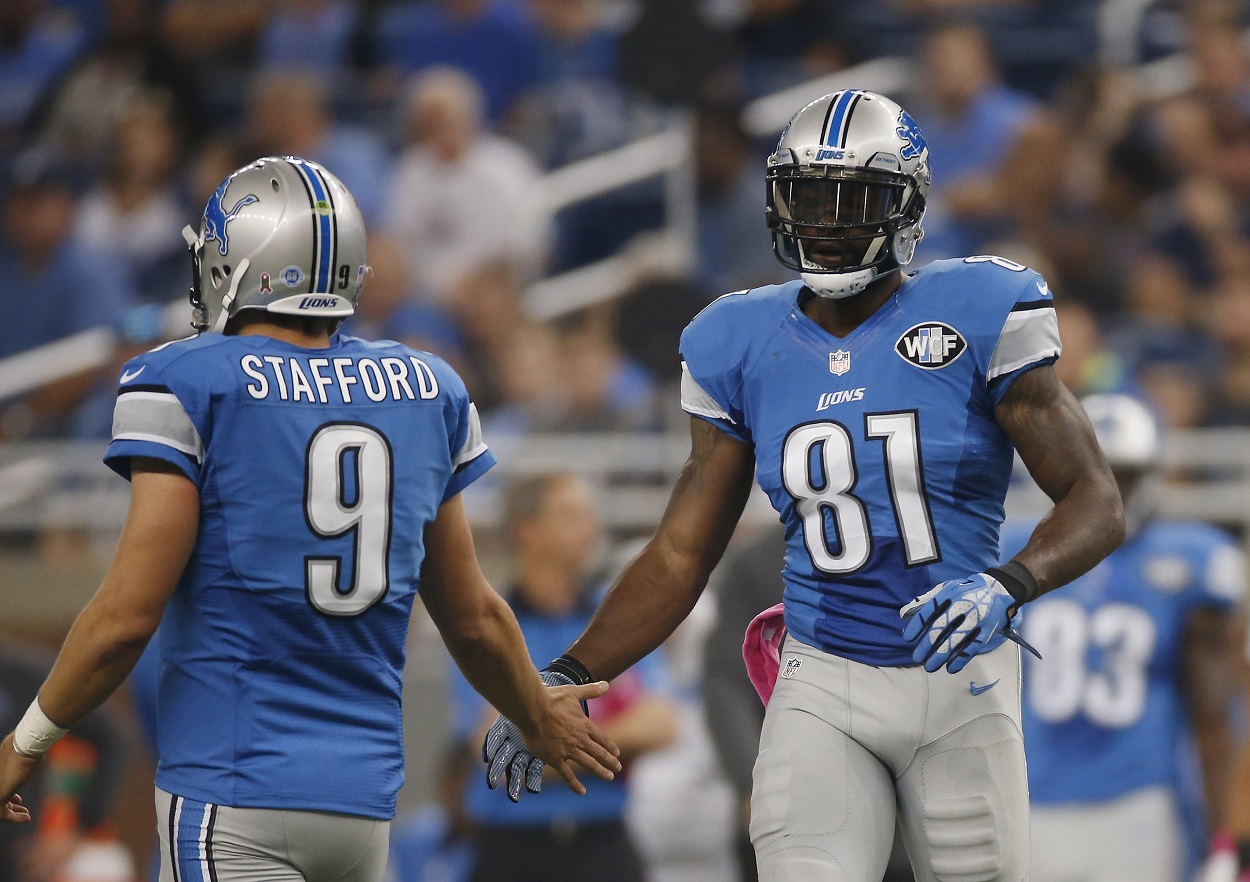 Johnson and Stafford played together for seven seasons in Detroit. Though their run together was less than satisfying as far as championships (or wins of any significance) were concerned, there is no doubt that the two were one of the best quarterback/wide receiver combinations in the NFL.
The Lions drafted Johnson with the second overall pick of the 2007 NFL Draft. Stafford was taken with the first overall pick in the 2009 NFL Draft. Together, the two highly drafted players became superstars.
There was Stafford, with his massive arm and ability to throw the ball a mile. Then there was Johnson, who was bigger, faster, and stronger than anybody else at 6-foot-5, 237-pounds. They called him "Megatron" for a reason. He looked like he was built at the Ford motor plant specifically to play football, and he dominated every time he stepped foot on the field.
The two connected for 24,520 yards and 156 touchdowns over seven seasons. Unfortunately, though, they never won the NFC North or even a single playoff game, let alone sniffed the Super Bowl.
Johnson is happy for Stafford's success with the Los Angeles Rams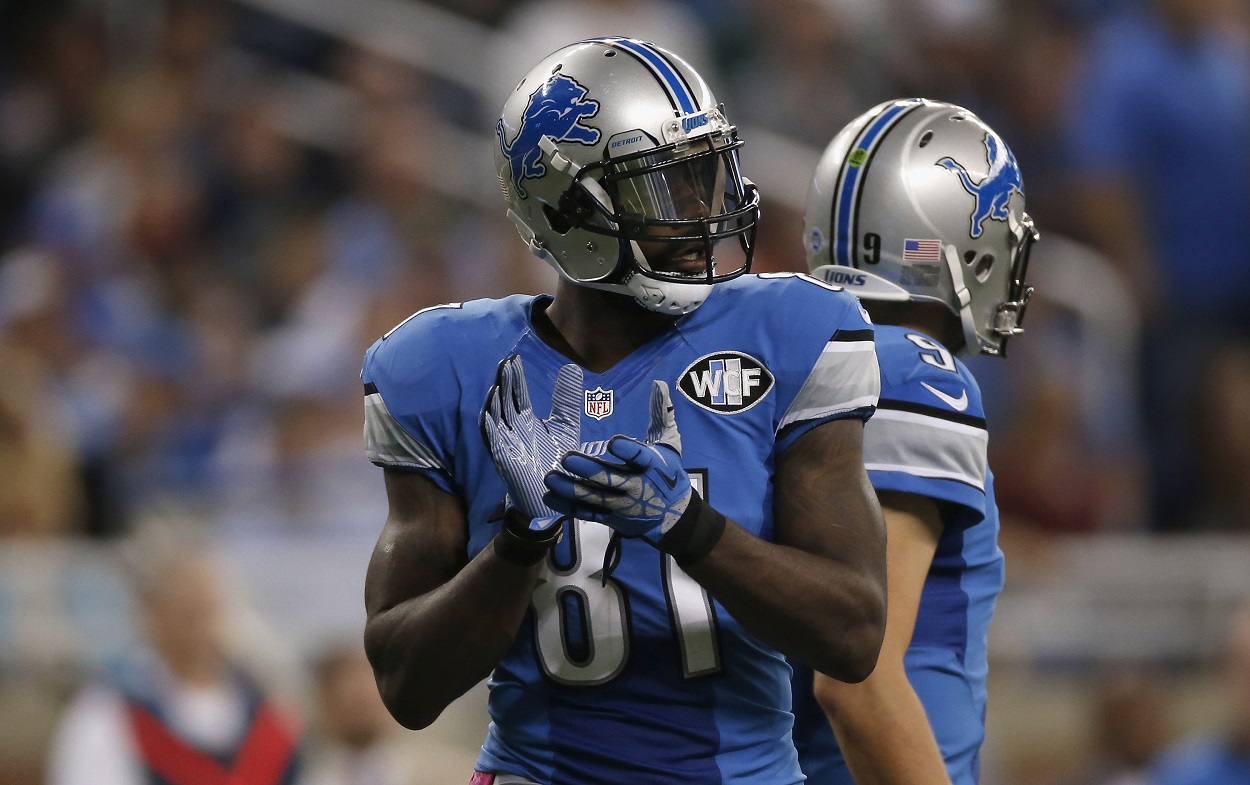 After being traded from Detroit to LA, Stafford has accomplished something he was never able to do with Johnson or the Lions. Not only has he finally won a playoff game, but he's won three on the road to Super Bowl 56.
The Super Bowl was a distant dream for the Lions when Stafford and Johnson played together. Frankly, it still is.
That hasn't stopped Megatron from being happy for his former teammate, though. In fact, Johnson is hoping that Stafford and the Rams beat Joe Burrow and the Cincinnati Bengals in Super Bowl 56.
"I've been choppin' it up with Matt. I hit him up every now and then," Johnson told Rich Eisen (h/t RamsWire). "I hit him after the game the other day, just happy. I just said 'championship.' That's all it said. Just extremely happy. I'm not going to talk to him this week. I just want him to go out there and get the job done and I fully expect him to win it, but I'm really hoping that he does because one, he's a friend. Two, just really proud of what he's done – one, in Detroit, but being in the first year, they brought you in here to go to the championship and you're ready to do that, so that's just awesome."
Johnson takes a hilarious dig at the Lions
Many fans in Detroit are excited to see Stafford in the Super Bowl. There's, of course, a conglomerate that believes it makes the Lions look bad. The fact that he left Detroit and could immediately win a Super Bowl does add to the pathetic aura surrounding the Lions. With that said, there's also a good chunk of Lions fans who are rooting for their former quarterback.
Just google Stafford half-and-half jerseys. They are a thing, sadly.
Would a win for Stafford be a win for the city of Detroit, though? Johnson says that's a big no.
He was asked by the Against All Odds podcasts if Detroit should have a parade if the Rams win.
"Detroit ain't getting no parade. They don't deserve a parade," Johnson said. "That's LA's parade."
Stafford and the Rams have to win it first, and for what it's worth, they're four-point favorites according to most betting sites. Even if and when they do, Johnson thinks Lions fans need to cool it.
If the Lions do ever win a Super Bowl, the party will be epic. This won't be the year for that, though. 
Stats courtesy of ESPN and Pro Football Reference. Contract information via Spotrac
RELATED: Calvin Johnson's Father Convinced Him To Play 1 More Season in The NFL