Calvin Johnson Is About to Open Up His 1st Business Since Retiring From the NFL
Most pro athletes start a second career when they retire. Usually, they go into broadcasting, acting, politics, or some sort of business. Former Lions wide receiver Calvin Johnson is going in a new direction since his retirement in 2015; he's in the marijuana business.
Johnson's not just selling legal weed. He and partner Robert Sims signed on with Harvard University to work on a project to determine the health benefits of medical marijuana and the best ways to deliver cannabis-based therapies to cancer patients. 
Calvin Johnson had a concussion every year he was in the NFL
Johnson, known as Megatron, played nine seasons in the NFL and is considered one of the great wide receivers ever. During that time, he sustained nine concussions, not to mention the ones he had in college at Georgia Tech, reports The Washington Post.
Concussions in Johnson's playing days didn't get the attention they do today. Players with a head injury got back up, went back in, and considered it all part of the game. Johnson saw most players self-medicating with narcotics — Vicodin, oxycontin, and the like — but didn't want to fight the pain with opioids. 
Johnson believes in medicinal marijuana
Rather than take narcotics, Johnson chose to smoke pot as part of his post-game routine. He says that's how he dealt with the ordeal of putting his body through the grinder every week. With that history, it's no wonder Johnson decided to enter the marijuana business once Michigan legalized it, according to the Detroit News.
Teammates Robert Sims Jr joined Johnson in the company, called Primitive. Their license allows them to cultivate, process, and dispense medical marijuana in Michigan. Johnson's business plan is to expand Primitive to locations throughout the state, according to the Detroit Free Press. Some locations will be run as joint ventures. 
Johnson admits there's still some stigma involved with pot, even the legal kind. His own mother thought he was nuts to even get into the business. 
Primitive teams up with Harvard
Teaming up with Harvard's International Phytomedicines and Medical Cannabis Institute has probably redeemed Johnson somewhat in his mother's eyes.  The Institute decided to dig deep into the therapeutic benefits of marijuana when they realized 80% of the global population use medicinal plants to treat illness.
Western medicine relies on drugs for treatment, but most of the world doesn't have access to modern drug therapies. Alternative medicine, from acupuncture to yoga, has become more and more popular in the US, so pot's day has finally come. 
The Harvard project is exciting for the Primitive team since they have experience with head injuries. Jason Strayhorn joined Johnson and Sims for the launch of the study. The focus of the former athletes is the benefits of cannabis in treating Chronic Traumatic Encephalopathy (CTE).
CTE is a neurodegenerative disease that is caused by repeated blows to the head, and a leading cause of early death among retired NFL players. Sims believes that 99% of NFL players have some form of CTE. Some positions are at higher risk than others. Wide receivers like Johnson take a lot more hits than kickers and punt returners. 
Johnson is giving back with Primitive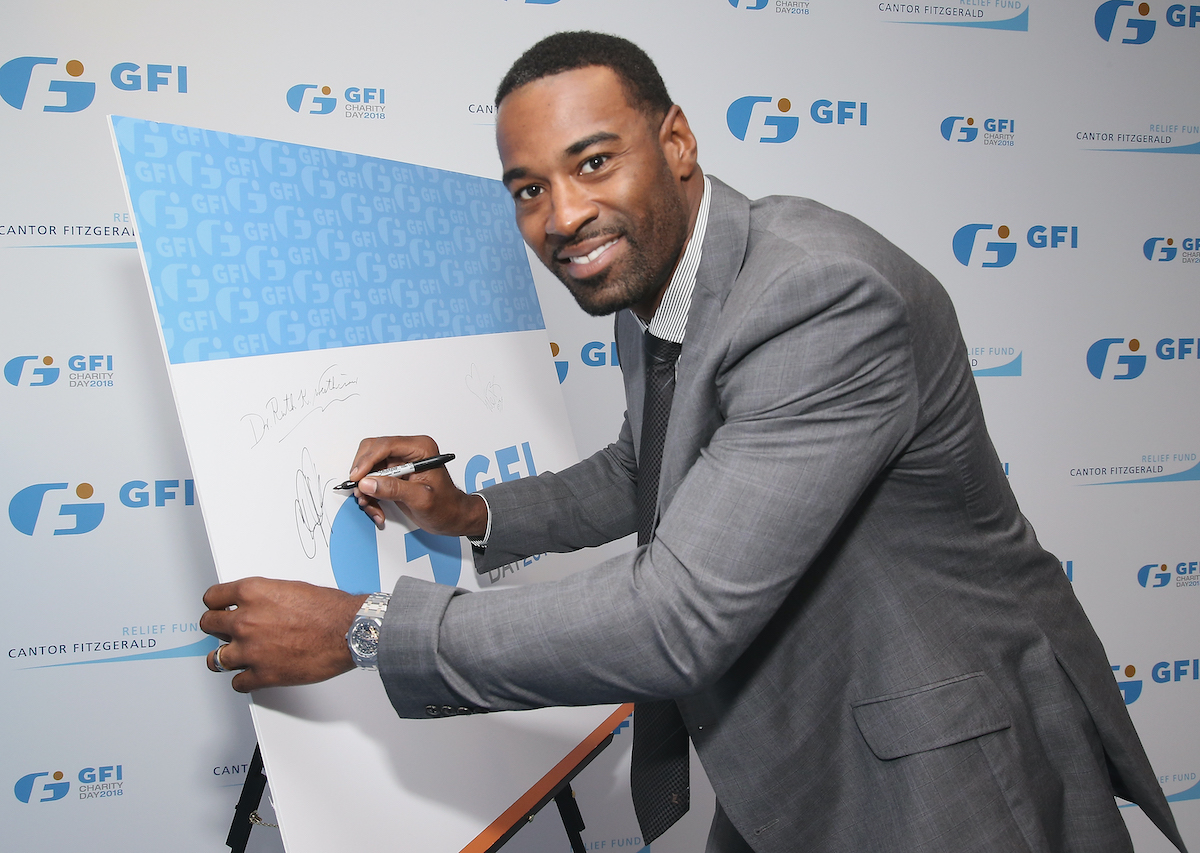 The former Lion says his involvement with the study, clinical trials on CTE and pain management, has a couple of benefits. One, they can contribute their products to the research and help athletes before they are completely debilitated by football.
Second, that pot as a legitimate therapy will help de-stigmatize the industry itself.  That will make Johnson's mom happy.  He's already considered to be a generous philanthropist in the Lansing area. Helping athletes and others manage their pain is just another way for Johnson to give back.