Calvin Ridley and Lamar Jackson Played in the Same Football League Together as Kids
Football players with pro-level talent often end up meeting one another long before they make it to the NFL. For most players, those kinds of relationships form during their years playing college football. A small number might meet one another while playing — or competing against one another — at the high school level.
A far smaller subset of NFL players first crossed paths even earlier than high school. Take for instance Atlanta Falcons wide receiver Calvin Ridley and Baltimore Ravens quarterback Lamar Jackson, who as children played together in a Pee Wee football league. Here we take a closer look at each of the men's NFL careers, before investigating their time playing football together as kids.
Calvin Ridley's NFL career so far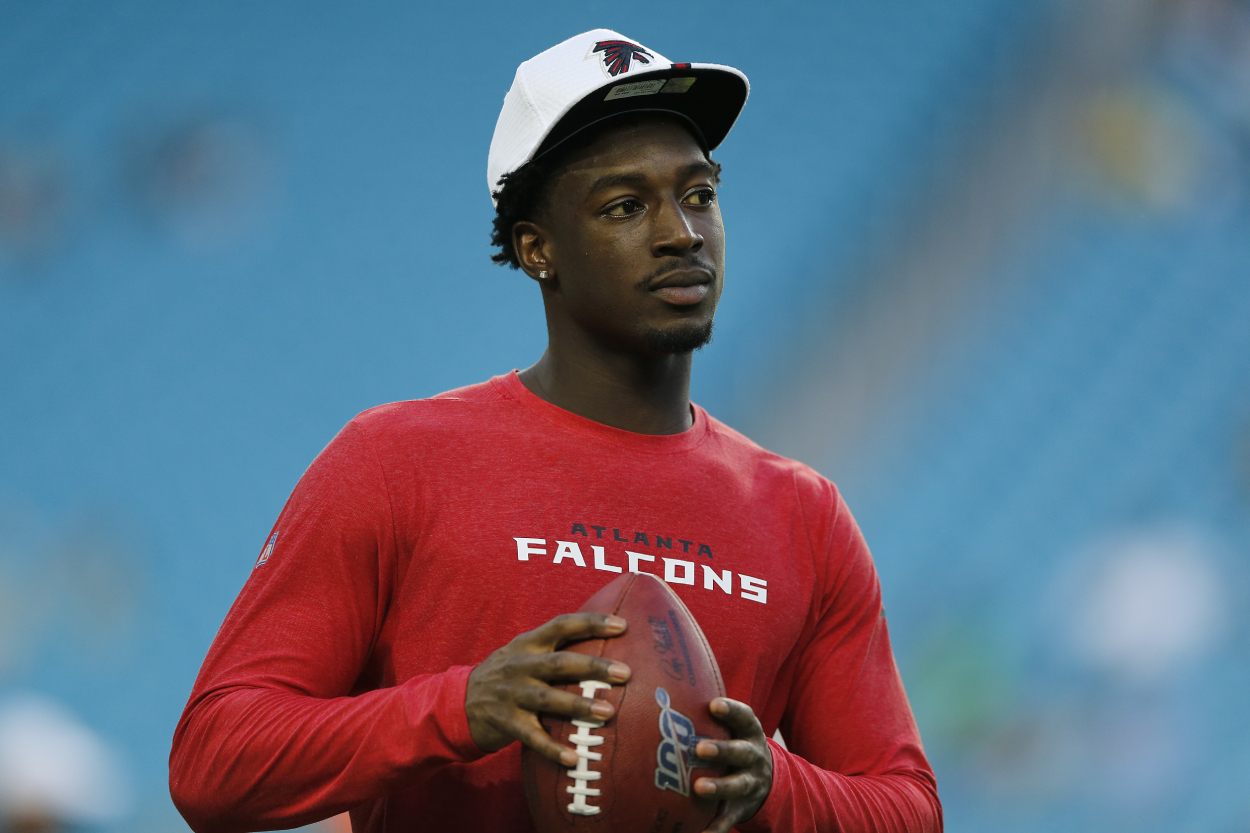 The Falcons drafted Ridley with the 26th pick of the 2018 NFL Draft. He showed significant promise during his rookie season, when he tallied 64 receptions for 821 yards and 10 touchdowns, with a catch percentage of 69.6%. His numbers the following season were remarkably similar: 63 receptions for 866 yards and seven touchdowns, with a catch percentage of 67.7%.
Based on his performance so far in 2020, Ridley seems poised to have a break out year. Through three games — all of which he has started — he has already racked up 349 receiving yards and four touchdowns. Even more impressively, he is currently sitting at 116.3 receiving yards per game — nearly twice as many as he managed to get last year.
With fellow Falcons receiver Julio Jones currently sidelined with a hamstring injury, Ridley should get a chance to prove if he can shoulder an even larger role. The Falcons certainly seem to think that he will continue to improve drastically.
Lamar Jackson's NFL career so far
The Ravens drafted Jackson with the 32nd pick of the 2018 NFL Draft, after having traded up to get the pick from the Philadelphia Eagles. During his rookie season, Jackson spent nine games backing up Joe Flacco at quarterback. In the seven games that Jackson started, he compiled an impressive 6-1-0 record. In total, he threw 99 complete passes for 1,201 yards, with a 58.2% completion rate.
Jackson became the Ravens' starting QB in his second year, quickly proving himself one of the most exciting young talents in the game. He led the Ravens to a 13-2-0 record with his stellar play. In 265 complete passes, Jackson totaled 3,127 yards and 36 touchdowns, while connecting on 66.1% of his throws.
He easily ran away with the top spot in ESPN's Quarterback Ratings, beating out Kansas City Chiefs star Patrick Mahomes by over five points. Even more impressively, he won the NFL Most Valuable Player award, while also getting his first Pro Bowl and First-team All-Pro selections. Needless to say, fans and analysts are watching eagerly to see whether Jackson can maintain such elite play this season.
Calvin Ridley and Lamar Jackson's shared past
Ridley and Jackson share a unique history. While children growing up in Pompano Beach, Florida, both men played in a local Pee Wee league. In fact, according to a Ravens' press release about Jackson, he and Ridley also used to play neighborhood football together even before they were old enough for Pee Wee.
That Pee Wee league also included wide receiver Marquise Brown, who now plays alongside Jackson for the Ravens. Jackson and Brown's long-standing friendship is well-documented at this point. Yet Brown didn't play on the same Pee Wee team as Ridley and Jackson, he was competing against them.
That knowledge might prove essential in interpreting a tweet that Jackson sent out last July. In it, he linked to a now-defunct video of Ridley working out. Jackson's tweet expresses his admiration for Ridley's explosive speed in shaking a defender, saying "Took that boy for a ride out the gate." It would seem that whatever bonds Jackson and Ridley forged during their Pee Wee days are still holding strong.
All stats courtesy of Pro Football Reference