Calvin Ridley Is Ready to Supplant Julio Jones and Light Up Fantasy Football Scoreboards
Atlanta Falcons wide receiver Calvin Ridley is feeling healthy and ready to cement his status as one of the best wideouts in the NFL. He is also prepared to take over Julio Jones' status as No. 1 receiver and make a whole lot of fantasy football managers happy in 2021.
Ridley underwent offseason foot surgery and will likely look to build on a sensational 2020 season, especially with the Falcons looking for him to replace Jones as Matt Ryan's No. 1 receiver.
Calvin Ridley was a top receiver in the NFL in 2020 despite playing on a bad foot
Ridley already replaced Jones as Atlanta's top receiver during the 2020 campaign for all intents and purposes.
While Jones was limited to just nine games due to injuries, Ridley put up some gigantic numbers. He hauled in 91 receptions for 1,374 yards and nine touchdowns. The yardage total was tied for fifth in the NFL, while Ridley's 91.6 receiving yards per game ranked fourth in football.
It was Ridley's best season yet, which is pretty remarkable considering he played through pain for most of the campaign.
Ridley said his foot was "not good" last year, per ESPN's Michael Rothstein, but added it is back to full health following the offseason procedure and subsequent rehab.
"In the offseason, I was really worried about myself," Ridley said, via Rothstein. "But now, the best thing I could have did was get the surgery and it really helped."
The Falcons could be dangerous on the offensive side of the football if a healthy Ridley produces beyond his 2020 standards and rookie Kyle Pitts lives up to predraft hype.
Julio Jones leaves behind big shoes to fill
Julio Jones might not have left Atlanta on the best of terms, but nobody can deny what he accomplished with the Falcons.
Jones was arguably the best receiver in the NFL at his peak. He made seven Pro Bowls in his 10 seasons with the Falcons, including two All-Pro selections in 2015 and 2016.
The former Alabama star's 2015 season is one of the greatest ever. Jones led the NFL in receptions (136), receiving yards (1,871), and yards from scrimmage. His combination of size, speed, and route-running technique made him one of the most unstoppable forces in football.
Jones also provided Falcons fans with some of the most unforgettable moments in franchise history. He went berserk in Week 4 of the 2016 season, going off for 300 receiving yards and a touchdown. Although the Falcons collapsed during the Super Bowl later that year, Jones' sideline catch is one of the best in NFL history.
In short, Jones leaves behind an exceptional legacy in Atlanta. He is 20th all-time in receiving yards and 29th in receptions. Can Ridley live up to Jones' production as he builds his own Falcons resume?
Ridley should be one of the best receivers in fantasy football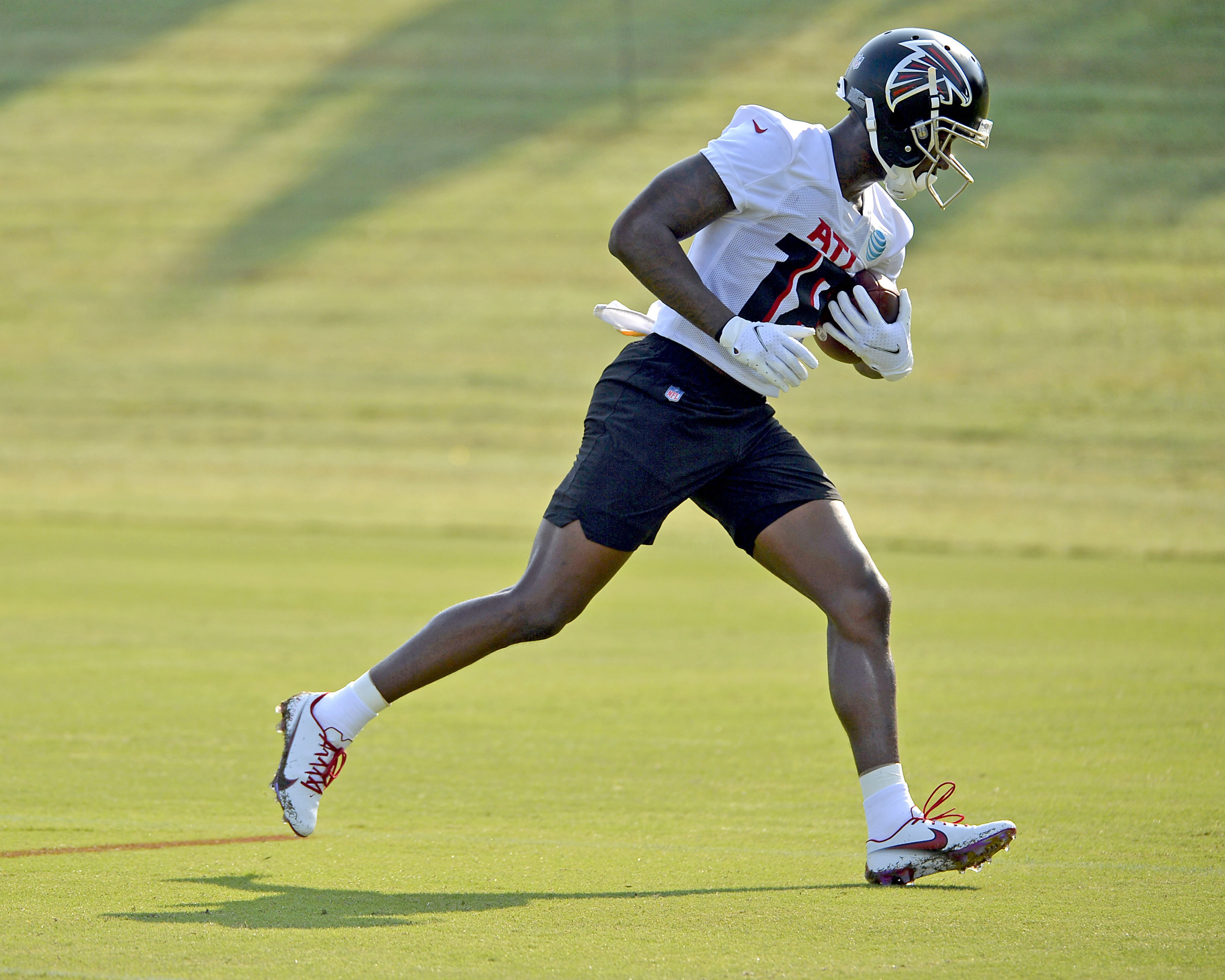 Calvin Ridley's fantasy football prospects are quite tantalizing.
Ridley immediately becomes the No. 1 guy in Atlanta with Jones out of the picture. The Falcons will likely hope to integrate Pitts as a top weapon in the offense, but Ridley will probably eat up most of Jones' target share.
Fantasy football managers are certainly treating the 26-year-old with respect. As of Friday, Ridley had an average draft position of No. 23 overall, per Fantasy Pros, making him the No. 7 wide receiver in fantasy.
Calvin Ridley already had a claim as one of the best wideouts in fantasy football. A healthy Calvin Ridley might just be the No. 1 receiver in the NFL when the dust settles on the 2021 season.
Stats courtesy of Pro Football Reference.