Cam Jordan Hilariously Jabbed Bill Belichick While Accidentally Highlighting Sean Payton's Worst Nightmare
The New Orleans Saints are preparing for a Week 3 tilt with the New England Patriots. Defensive end Cam Jordan had an interesting comment about Bill Belichick when asked of his impressions of the Patriots head coach. The statement was ironic, though, as it opened up a can of worms about a controversial scandal involving Sean Payton.
Cam Jordan says Bill Belichick will do anything to win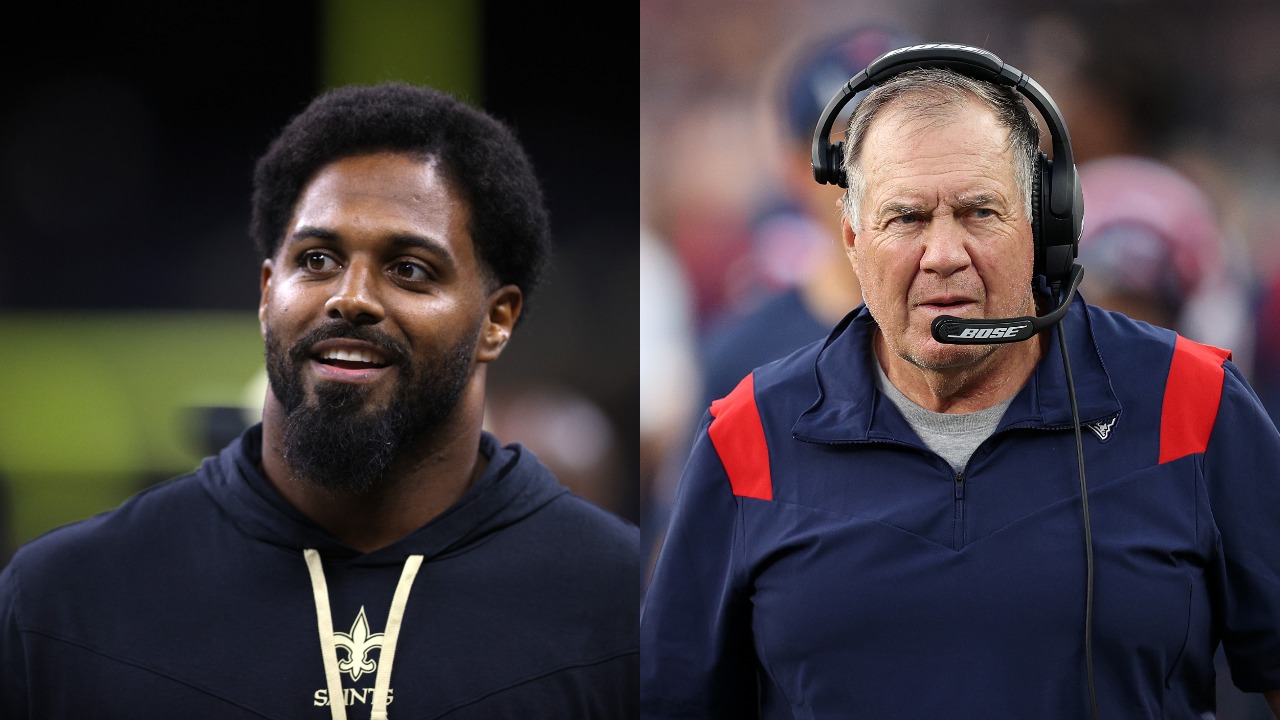 Cam Jordan sparked some controversy with comments made about Bill Belichick during a Saints press conference.
The reporter referenced how long Belichick has been coaching for in comparison to Jordan's age. He then asked the Saints defensive end about his opinion about the longtime Patriots coach.
"He's a top-tier coach that will clearly do anything to win," said Jordan. "Take that how you want."
The comments are vague. However, the end of the quote suggests that Jordan is doubling down and doesn't actually care how people interpret his words.
While he didn't mention any instances, in particular, one could reasonably assume what he was referencing. Many people were critical of the Patriots' actions under Belichick.
Revisiting Spygate and Deflategate
The Patriots' Spygate scandal took the NFL by storm in 2007, and it will forever go down in history.
The team's video assistant was caught illegally videotaping New York Jets coaches' defensive signals from the sideline.
Many dubbed Bill Belichick the mastermind behind the cheating scandal. In a meeting with league officials, including commissioner Roger Goodell, the Patriots head coach apologized, per ESPN.
Belichick said that he misinterpreted the rule and thought it was legal to videotape the signals of an opposing team as long as they didn't use it in real-time.
Goodell imposed a $500,000 fine against Belichick, a $250,000 fine against the Patriots, and also took away a first-round draft pick.
The Patriots were accused of systematic cheating after creating extensive notes and diagrams based on the illegal videotapes.
In 2015, another scandal emerged. Deflategate involved an investigation into the Patriots deflating footballs below the league standard for air pressure. The league accused Tom Brady of knowing of the wrongdoing and was suspended for four games.
The league later vacated the suspension, but the NFL received another black eye, and New England was involved again.
Jordan must have forgot about Sean Payton's involvement in Bounty Gate
Cam Jordan's comments are ironic, especially considering the New Orleans Saints' history of scandals.
The sports integrity was under fire as a result of Spygate and Deflategate. However, Bountygate took things to another level.
The controversy surrounded the Saints implementing a bounty system. Players were paid bonuses for punishing hits and intentionally injuring opposing players.
The scandal started in 2009, when New Orleans won the Super Bowl. It lasted up until 2011, according to ESPN.
Anywhere from 22 to 27 players participated in the program, spearheaded by defensive coordinator Gregg Williams. Head coach Sean Payton and general manager Mickey Loomis knew about the bounty system but did nothing to shut it down.
Goodell suspended Payton without pay for a year. As this scandal directly involved the safety of players, Bountygate goes down in infamy.
Cam Jordan probably should've thought twice before he took the shot at Bill Belichick. While he didn't say anything egregious, he resurfaced negative thoughts about a scandal involving his head coach and franchise. He was rookie on the team in 2011, which makes things look worse.
The bulletin board material just adds to the intrigue of the Week 3 matchup.
All statistics courtesy of Pro Football Reference.
RELATED: Tom Brady's Trusted Confidant Throws Bill Belichick Under the Bus Over TB12's Exit From Foxborough