Cam Newton's Revealing Comments May Have Just Completely Altered Bill Belichick's Image Forever
For years, Bill Belichick ran the show on the New England Patriots with legendary quarterback Tom Brady. However, with Tom Brady now on the Tampa Bay Buccaneers, Belichick's quarterback on the Patriots in 2020 was Cam Newton. The Newton era did not work out very well, though, as the Patriots had a losing record for the first time since 2000. Additionally, due to their struggles, many have wondered if Belichick and Newton just had trouble meshing. However, Newton's recent comments debunked that theory. In fact, his remarks may have just actually changed what we thought we knew about Bill Belichick.
Bill Belichick has reportedly been a tough coach to play for
Bill Belichick has been known for his "Patriot Way" during his time in New England. The Patriot Way essentially forces players to conform to Belichick's rules and standards. However, while it may be tough to play for him and in that culture, it ultimately pays off because the team typically wins and wins a lot.
Belichick has led the Patriots to six Super Bowl titles, three other Super Bowl appearances, and 13 total AFC Championship Games. However, all of those were with Tom Brady, so it's hard to tell who meant more to the franchise during those years.
Either way, though, Belichick has still been a tough coach to play for and is often viewed as a cold guy who prioritizes winning over relationships. He has admitted that he's difficult to play for in the past, too.
"I know we demand a lot, this isn't an easy place to play, and I'm not an easy guy to play for," he said in 2011, according to ESPN.
Former Patriots wide receiver Danny Amendola also highlighted how difficult it can be to play for Belichick.
"It's not easy, that's for sure. He's an a**hole sometimes. There were a lot of things I didn't like about playing for him, but I must say, the things I didn't like were all in regards to getting the team better, and I respected him," he said in 2018, according to CBS Sports.
However, Cam Newton may have just changed Bill Belichick's image entirely.
Cam Newton's comments may have altered Bill Belichick's image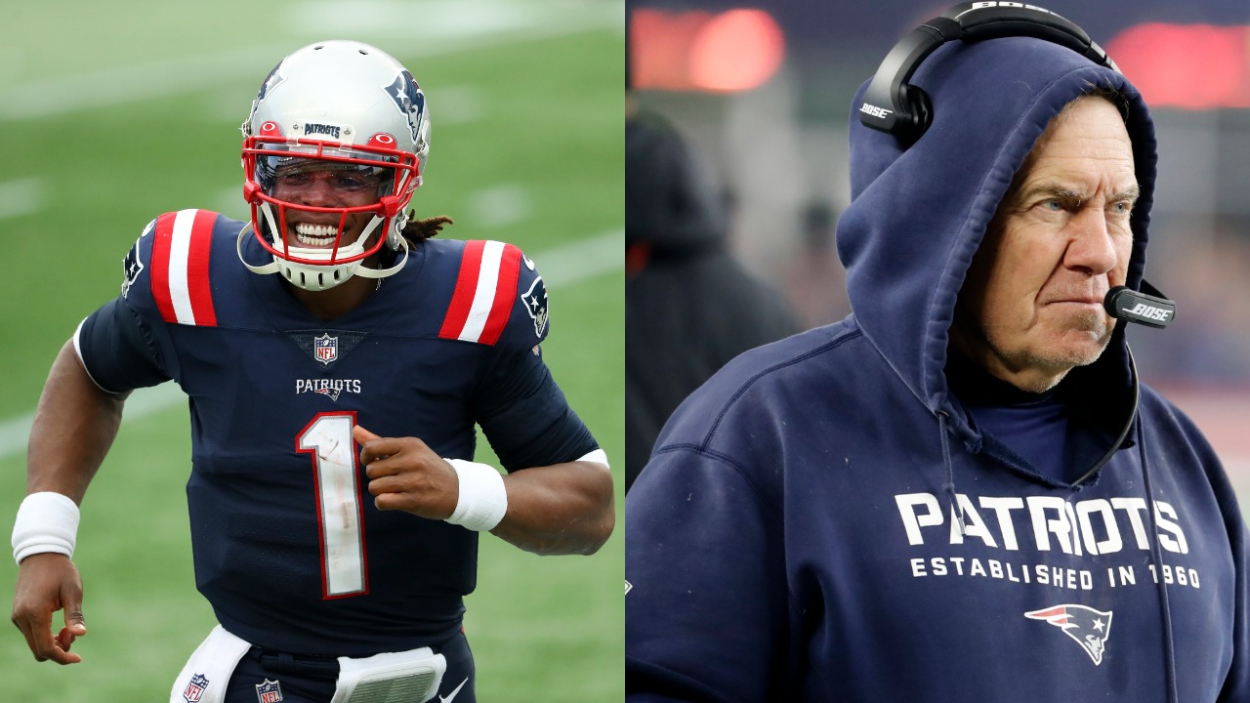 Cam Newton is coming off a disappointing season with the New England Patriots. However, even though he struggled and the team went 7-9 overall, Newton had nothing but praise for Belichick.
"I think Bill Belichick is the most misunderstood person in all of sports," Newton recently said on the I Am Athlete podcast, according to USA Today's Patriots Wire. "He's dope as s***. He is a cool dude."
Well, that's something we've potentially never heard anyone say before. If it has been said in the past, then not very many people said it.
Belichick's image has always resembled something closer to what Amendola said. "He's an a**hole sometimes." But if some players actually think that he is "a cool dude," and "dope as s***," that may actually change a lot of things in terms of everyone's perception of him.
No, this doesn't mean that it's all of a sudden easy to play for Belichick. But it does give us a different perspective that we've never really had before. Maybe, Belichick isn't actually all that bad.
Will Cam Newton play for the Patriots in 2021?
Bill Belichick and the "Patriot Way" had a tough go of it in 2020.
Cam Newton is a former NFL MVP, but this past season with the Patriots, he didn't look like the Cam Newton we have grown accustomed to watching over the years. He had the worst season of his career, throwing for 2,657 yards, eight touchdowns, and 10 interceptions. That's a far cry from what he was able to do with the Carolina Panthers and what Bill Belichick had with Tom Brady.
Despite his struggles, though, will the Patriots bring the former star quarterback back in 2021? Belichick and New England's feelings are unclear, but, while on the I Am Athlete podcast, Newton said that he is open to returning to the Patriots.
So, the fact that Cam Newton still wants to be the Patriots' quarterback in 2021 — despite losing a ton of games in 2020 while also playing for a tough coach — actually says a lot.
Newton's desire to be in New England alone actually somewhat changes everyone's perception of the legendary coach. If players still want to play for him after losing a bunch of games instead of a winning them, then maybe Bill Belichick isn't as difficult to get along with as we always thought.
Stats courtesy of Pro Football Reference