Cam Newton Could Be the Key to the New USFL's Success
Here's a fun idea for football fans to consider: Months after watching Cam Newton play for the New England Patriots, they could see him suit up in the USFL.
Alright, "fun" may not be the proper word there. Some fans may prefer "bizarre" or "inane." But if you're still intrigued, let us explain why Newton, the 2015 NFL MVP, should start thinking about the USFL and its upcoming reboot in 2022.
The new USFL needs players like Cam Newton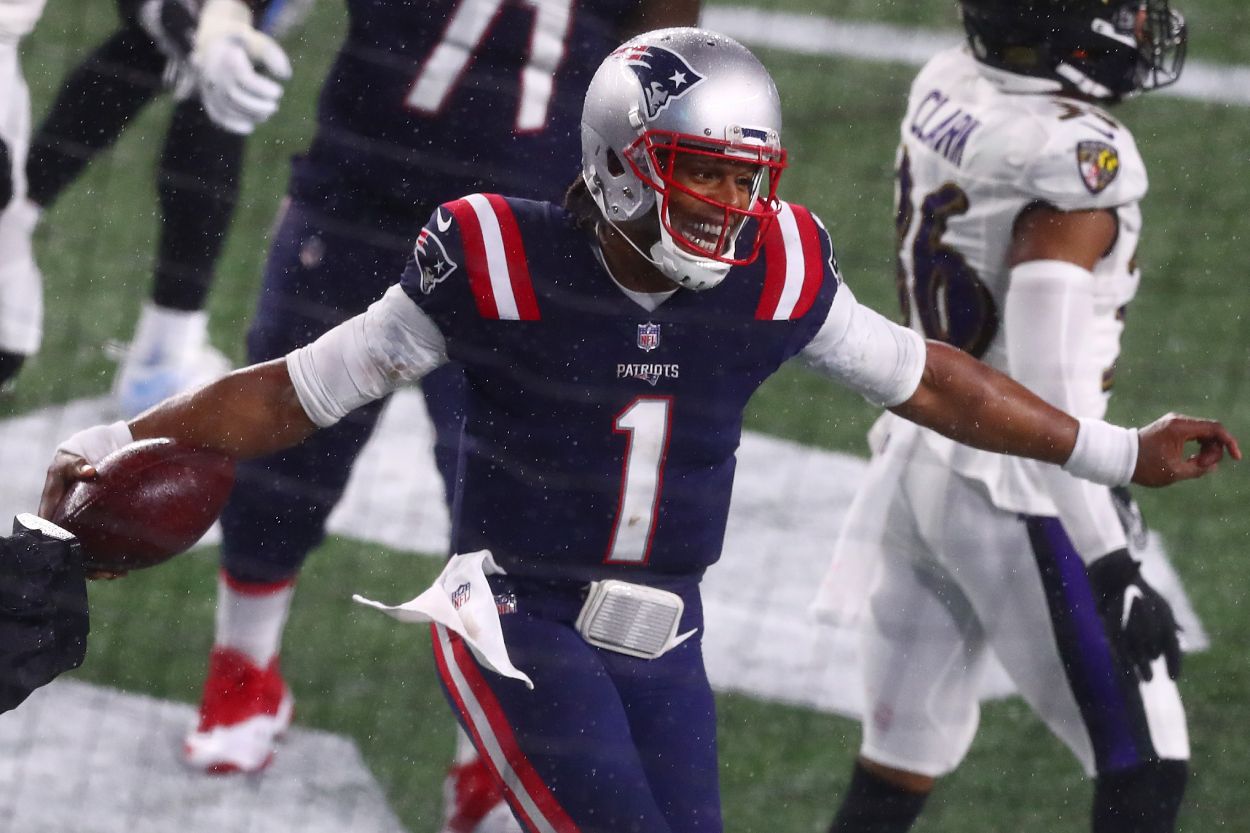 The United States Football League is expected to return, likely without Donald Trump, in the spring of 2022. Fox owns the TV rights, and it will begin play during the NFL offseason.
For the USFL to even field teams, it needs players. And for the league to maintain interest, it needs notable names. Enter Cam Newton, the 2011 No. 1 overall pick who is entering his second year with the New England Patriots. It is at this point where we note there have been zero reports linking Newton to the USFL.
Leagues like the AAF and the rebooted XFL failed in large part because they lacked star power. Had the coronavirus pandemic not ended the XFL's 2020 season early, one has to wonder if the teams featuring undrafted players and former NFL players with a few years of experience would have returned in 2021.
The USFL needs to start targeting players like Newton who have earned a great deal of money in the NFL and could use the spring league as a chance to prove they can still play football. The former NFL MVP has struggled with injuries and inefficiency in recent years, and the Patriots used a first-round pick on Mac Jones in the 2021 NFL draft.
If the idea still sounds ludicrous, think about how many NBA players spent time overseas or in the G League and earned another chance at the sport's highest level. Former BYU star Jimmer Fredette, a first-round pick of the Sacramento Kings in 2011, spent several years in China. He played well enough there that the Phoenix Suns signed him in March 2019, and he played six games for the team.
This version of the USFL is not going to compete for top NFL draft prospects like Spencer Rattler, so why not go to the other side of the spectrum and add older — but still active — players?
These side leagues cannot keep relying on Johnny Manziel and friends
If and when the USFL begins to play, the rosters will likely consist primarily of players with zero to little NFL experience. Maybe Johnny Manziel, fresh from the Fan Controlled Football league, will pop in at some point to help boost TV ratings and talk about how he doesn't think he'll play in the NFL again.
There is certainly value in building the rosters with undrafted players, but that will not get people to watch. Outside of interest on opening weekend, fans in Los Angeles or Houston likely won't want to watch a former quarterback from Central Michigan or an FCS All-American receiver from James Madison University.
Nothing against those players, but these leagues need proven names with some level of recent relevancy. Newton or Todd Gurley can do what former New Orleans Saints quarterback Tommy Stevens or ex-Tampa Bay Buccaneers running back T.J. Logan cannot.
Which other players should the USFL try to sign?
If the USFL listens and doesn't just build rosters with undrafted players or recent NFLers with little experience, it stands a better chance at drawing more eyes.
Take someone like Golden Tate, who recently played for the New York Giants. Tate remained a free agent as of June 8, 2021, and he turns 33 in August. If he doesn't see significant action with an NFL team next season, why not try to make something happen in the USFL?
There will always be those older players, whether they're in their late 20s or early 30s, who want to keep playing. Julian Edelman could try to play for the Tampa Bay franchise to prove he is healthy, and Gurley could do the same on the Chicago team.
Baseball players do it in independent leagues, and basketball players do the same overseas. Embracing the idea of bringing older players like Newton — or even Richard Sherman — into the mix wouldn't diminish the USFL's hopes and dreams of becoming a viable spring football league. On the contrary, it would only enhance them.
Like Sportscasting on Facebook. Follow us on Twitter @sportscasting19.