Cam Newton Is Cut and Mac Jones Is Named the Patriots' Week 1 Starter Two Days After Bill Belichick Said There Were Still 'a lot of decisions' to Be Made
Cam Newton started at quarterback in the New England Patriots preseason finale and finished 2-for-5 for 10 yards with an interception in two series. After the game, when asked about the team's starting quarterback battle between Newton and Alabama rookie Mac Jones, Patriots' Head Coach Bill Belichick was (shockingly) non-commital. Two days later, Belichick cut Newton and installed Jones as the team's Week 1 starter.
Newton was thought to be the front-runner for the position throughout the preseason. Presumably, that's why the former NFL MVP was getting fewer reps than Jones. As it turns out, that wasn't the case.
Belichick drafted Mac Jones to compete with Cam Newton for the Patriots' starting quarterback spot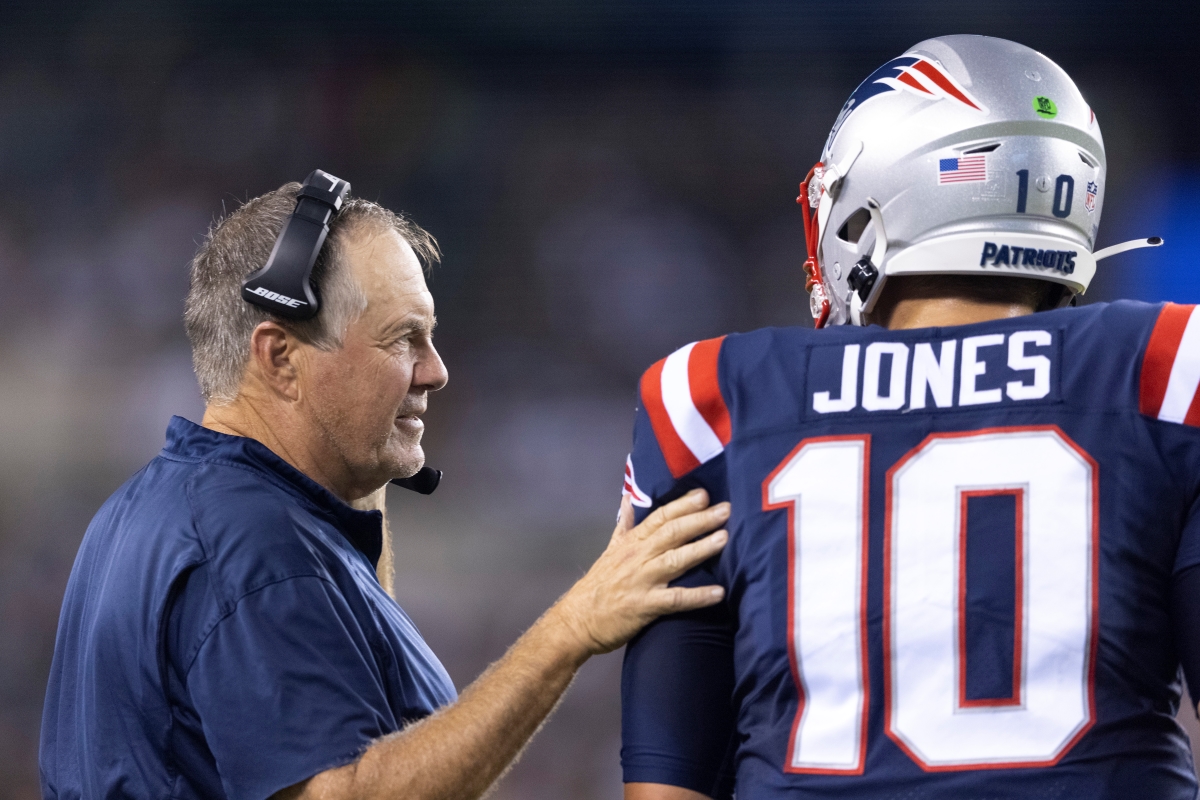 The Hoodie went back to the well and coaching BFF Nick Saban to grab Jones with the 15th overall pick in the 2021 NFL Draft. Jones was a one-year starter for Saban at Alabama, earning praise for staying with the program and not transferring while he waited his turn behind Jalen Hurts and Tua Tagovailoa. When he got his chance, Jones took it. In 2020, the redshirt junior put himself in Heisman contention with a 4,500-yard, 41-touchdown season. Jones only threw four interceptions and completed 77.4% of his passes.
Heading into the draft, the 22-year-old quarterback drew the inevitable Tom Brady comparisons because of his pocket-passer archetype, accuracy, and connections to Belichick.
Newton was brought in as a flier last year after Brady left to join the Tampa Bay Buccanneers. In his 10th season in the league, the former Panthers' QB started 15 games, threw for 2,657 yards, 8 touchdowns, and 10 interceptions. Newton hurt his throwing shoulder twice in Carolina and has never come anywhere close to his MVP form of 2015.
Now, Newton has been released and Jones will be New England's week one starter
In the Patriots' preseason finale against the New York Giants — the same one in which Newton threw for 10 total yards — Jones came on in relief and completed 10 of 14 passes for 156 yards and a score. When asked if he was ready to name a starting quarterback for Week 1 of the regular season, Belichick said, "No, we still have a lot of decisions to make," according to ESPN.
The 69-year-old coach must have made some pretty quick choices because less than 48 hours later, Jones is slated to start, and Newton isn't even on the team anymore.
The former Auburn star and No. 1 overall pick in 2011 did not have a spectacular preseason. In addition to being outplayed by Jones in the stat column, Newton had what was termed a "misunderstanding" regarding COVID protocols. He missed most of practice the week before the Pats game against the Giants.
On the flip side, Jones has been one of the best quarterbacks in the league in the preseason and the best rookie QB, according to PFF. He threw the ball 52 times (12th most in the league in the preseason) and amassed 389 total yards (eighth-most in the preseason). He had zero turnovers. While Newton was missing practice, Jones was balling.
Belichick believes Jones gives the Patriots the best chance to win in 2021
If there's anything Belichick hates more than wearing a suit, it's losing games. In cutting Newton and committing to Jones, he clearly believes the rookie gives New England its best chance to win. Jones will officially now be put under the Brady microscope, but so far, he seems very Belichickian in press conferences (h/t) NFL.com:
"The only thing that matters is today, and then tomorrow I'll focus on tomorrow. But I think the past is the past, and we're kind of moving on to the new season here."

Mac Jones on the New England Patriots' quarterback battle prior to Cam Newton's release
Jones proved himself as a leader at Alabama. Obviously, the rookie has won over the Hoodie as well. Now things get real. Jones will start against the Miami Dolphins and his former Alabama teammate Tagovailoa on Sept. 12.
All NFL statistics courtesy of Pro-Football-Reference and college statistics courtesy of Sports-Reference.