Cam Newton's Desperate Reversal Won't Save His Slim NFL Comeback Chances
Article Highlights:
Former New England Patriots quarterback Cam Newton is now vaccinated
In theory, Newton's new vaccination status should help him earn another NFL opportunity
The 2015 NFL MVP needs to accept that his career might be over
When we last heard from Cam Newton, the 2015 NFL MVP was citing his "aura" as the reason why the New England Patriots cut him earlier this year.
In reality, his unvaccinated status likely helped the Patriots decide to release the former All-Pro quarterback and turn the starting role over to rookie Mac Jones. Whatever the case, not even a surprising reversal will help Newton resume his NFL career.
Cam Newton is now vaccinated after a controversial and turmoil-filled summer
For much of the summer, the football world understandably believed Newton would start against the Miami Dolphins in Week 1. He started 15 games for the Patriots a year ago and, at least publicly, had head coach Bill Belichick's support.
The Patriots surprisingly parted ways with Newton in early September, not long after he missed time in training camp for COVID-19 reasons. Rather than sit out following a positive test or close contact, he instead missed five days of practice following miscommunication involving testing and a doctor's visit.
At the time, Newton was unvaccinated and wore a mask at all times. According to NFL Media, the three-time Pro Bowler is now vaccinated and ready to sign with a team.
Newton, who is immediately eligible to play, has not worked out for any teams since the Patriots cut him. Not that he should expect to hear his phone ringing in the coming weeks.
Newton's vaccination status shouldn't change his comeback chances
Here's the reality that Newton and his fans need to accept. In terms of his overall health, he made the safe and right move to get vaccinated. According to the Centers for Disease Control and Prevention (CDC), "COVID-19 vaccines were evaluated in tens of thousands of participants in clinical trials. The vaccines met the Food and Drug Administration's (FDA) rigorous scientific standards for safety, effectiveness, and manufacturing quality needed to support emergency use authorization (EUA)."
In other words, Newton hurt his job security by not getting a shot that the CDC has endorsed for months. If this was five years ago, his massive contract with the Carolina Panthers and status as one of the NFL's top quarterbacks would have protected him from being cut or at risk of losing his job.
That wasn't the case this summer when Newton cost himself by waiting to get vaccinated. He also certainly didn't help his chances by saying his "aura" would have caused distractions if he served as the Patriots' backup.
Let's pretend we're the Seattle Seahawks for a minute. Geno Smith, of all people, is starting indefinitely because Russell Wilson is on injured reserve with a finger injury. In theory, Newton is a much better option than Smith, but the latter knows the offense. If Seattle wants to stay alive in the playoff hunt, they'd likely rather have Smith starting rather than hoping for a miracle with Newton.
Newton, had he been vaccinated and not spoken about his aura, might have landed somewhere following his release. However, there's a reason why quarterbacks like Colt McCoy and Mike Glennon keep getting opportunities. They're traditional backups who know their job is to sit behind the starter, usually a young quarterback, and do whatever is asked of them.
Newton, conversely, is a mobile quarterback who all but admitted he'd create an uncomfortable environment as a backup. Not even a shot to the arm can change that reality.
Newton needs to accept that the end of his NFL career is likely upon him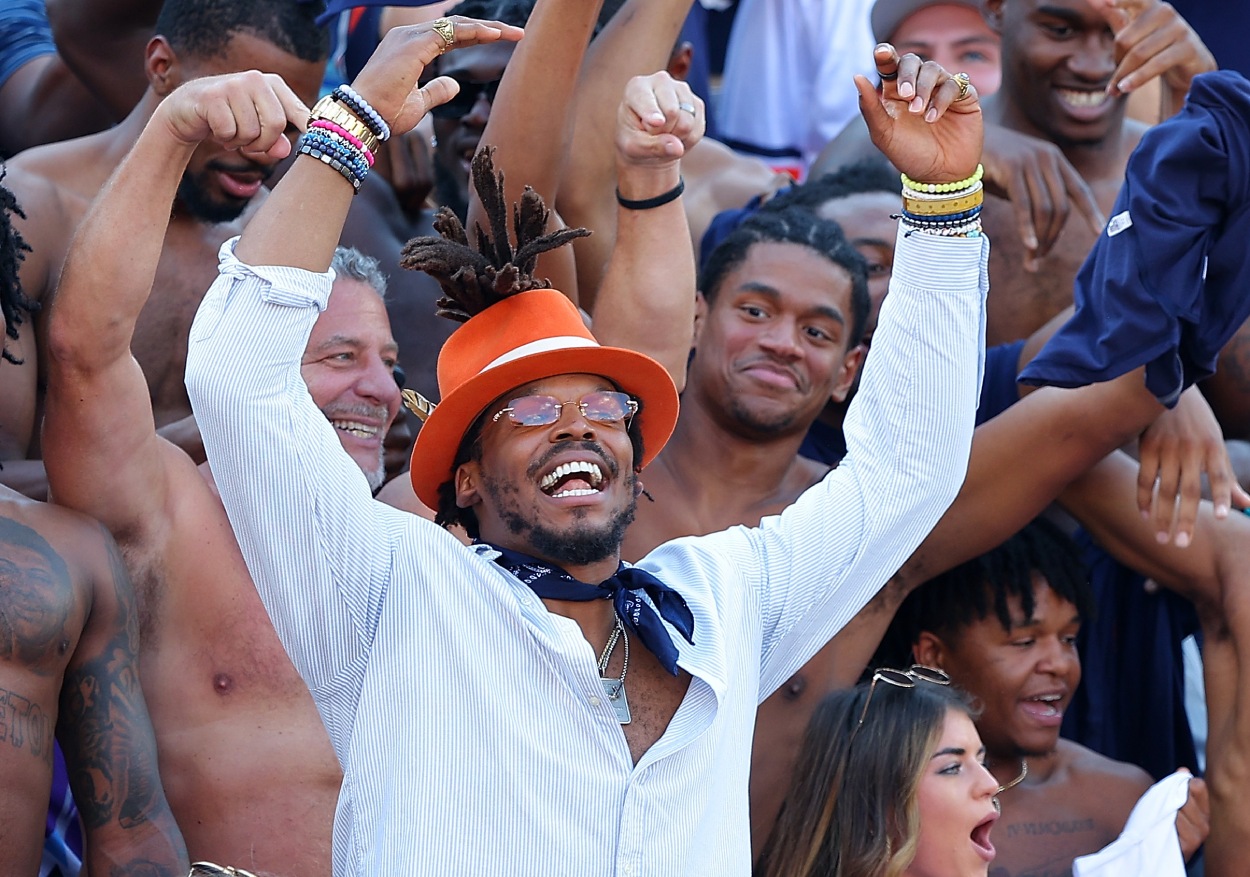 All in all, Newton had a great career. He won an NFL MVP Award, led a team to the Super Bowl, and earned over $129 million in the league. We should all be so lucky.
Until there's reason to believe otherwise, we're going to use the past tense. Newton turned 32 on Oct. 11 and hasn't played at an above-average level since 2018. Although he impressed as a rusher last year, he didn't do enough as a passer — and that's factoring in the Patriots' lack of receiving depth and weapons — to raise optimism about his NFL future.
In the end, Newton effectively ended his own career with stubbornness and outspoken comments. At least he's vaccinated right now.
Newton looked right at home when cameras recently caught him watching an Auburn football game from the stands. Clearly, the Tigers benefited from his "aura" in a way that any team in need of quarterback depth likely can't, or won't, try dealing with anytime soon.
Like Sportscasting on Facebook. Follow us on Twitter @sportscasting19.
RELATED: Panthers Owner David Tepper Promised He'd Bring Cam Newton Home 'Eventually,' and the Time Is Now