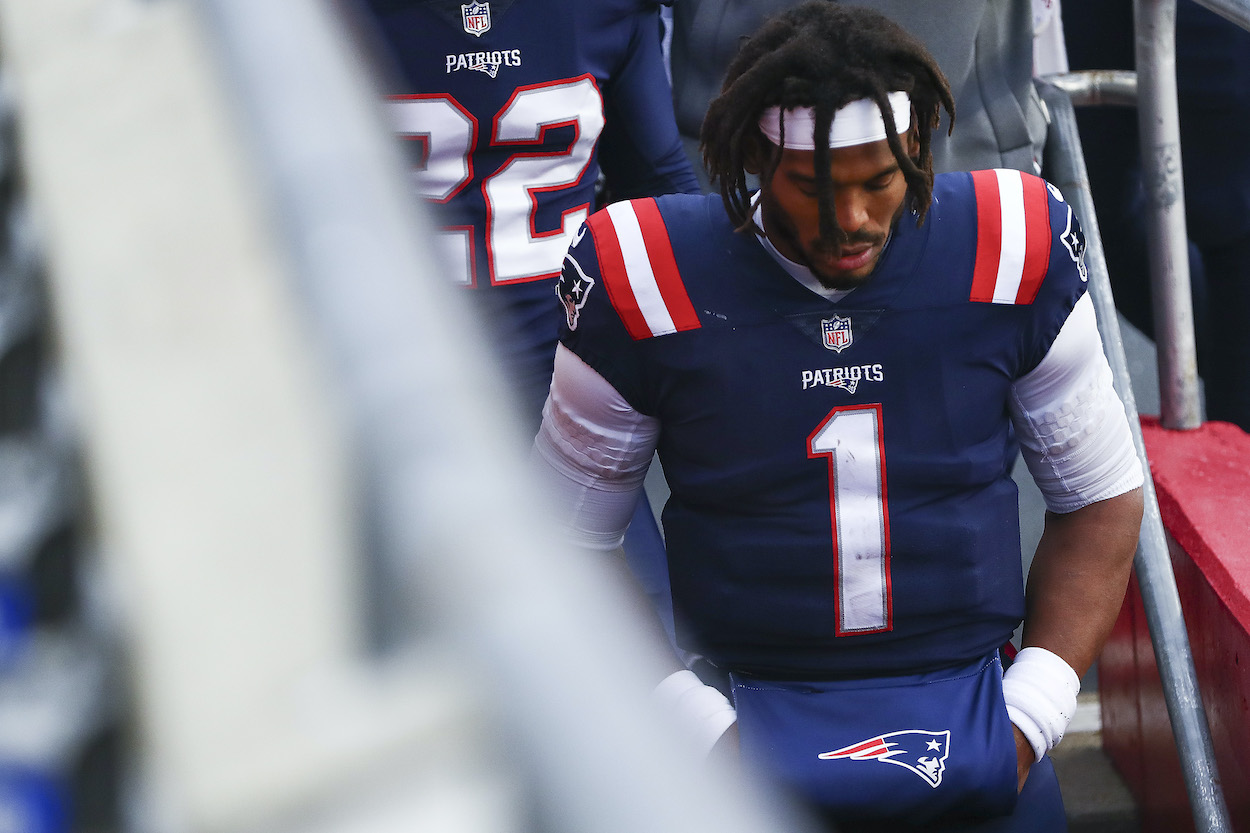 Cam Newton Has Revenge on His Mind as He Sends a Powerful Message About His NFL Future
Cam Newton knows his play didn't cut it last year, and he won't stop until he exacts revenge: "I'm coming for everything 2020 took from me."
Cam Newton failed to live up to expectations in his first and likely last season with the New England Patriots, but the former NFL MVP isn't making any excuses. Newton knows he can return to his old, dominant self, and he's laid out an aggressive list of goals for his revenge tour next season.
Cam Newton struggled in his first season with the Patriots
Patriots fans were thrilled to learn Cam Newton would be replacing Tom Brady in New England's backfield last season. It was just a few years ago when Newton threw 35 touchdowns, led the Carolina Panthers to the Super Bowl, and won the NFL MVP award.
But Newton simply didn't get it done in his first season with the Pats. In 15 starts, the QB threw for just 2,657 yards, eight touchdowns, and 10 interceptions. Newton ranked 30th out of 33 qualifying quarterbacks in QBR (47.0), and he ranked dead last in passing yards per game (177.1).
In his final appearance on The Greg Hill Show on WEEI-FM, Newton admitted it was tough to replace a future Hall of Famer and fan-favorite in New England such as Tom Brady.
"I wasn't just following him," Newton said. "I was following a system that he had the luxury of being in for 20 years. Just imagine that. That's just like as a student, you're given six months to take a final exam, honestly, that took 20 years to prepare, but you only have, in essence, five weeks to prepare for it."
Cam Newton sends a powerful message about his NFL future
Cam Newton doesn't even know if he'll be on an NFL roster in 2021, but the aging quarterback is still confident he can be a starter in the league.
"I know out of 32 guys, I am not the 32nd position rank in that position, so you have to also understand I am a competitor first," Newton said on The Greg Hill Show. "I think the highest of myself first, as any person would and should. I know what my skill set is. I know what my talent is. I understand if given the opportunity, there is nobody better than me. That is how I will always feel."
Later in the interview, Newton outlined the specific goals he's set for the 2021 offseason.
"I have to, obviously, work on my mechanics," Newton said. "I have to, obviously, throw the football sooner rather than the latter part of last year. Those things, I'm going to be focused on as we get geared up for offseason."
Everyone seems to be jumping off the Cam Newton bandwagon and writing him off for the rest of his career. Well, everyone but Newton himself.
Cam Newton announces revenge tour
Newton seems to be tired of the hate and disrespect he's been receiving over the last few months. In a cryptic Instagram post from earlier this month, Newton announced a revenge tour on everything 2020 dealt to him.
"Make no mistake about it," Newton wrote in the post. "I'm coming for everything 2020 took from me. No excuses, no sobbing and definitely no blaming. I need to be better. The revolution has begun."
Doubt Cam Newton at your own risk.
All stats courtesy of Pro Football Reference