Cam Newton Is Losing His Patience and His Chance to Start for the New England Patriots in Week 1
New England Patriots quarterback Cam Newton is trying to approach the impending end of his career with a smile on his face. Unfortunately for the 2015 NFL MVP, he can only stick with the facade for so long.
Newton's attempt at keeping calm amid a quarterback battle with Mac Jones is starting to backfire. At the same time, his chances of starting against the Miami Dolphins in Week 1 are seemingly decreasing by the day, and he knows it.
Cam Newton shared his frustration with reporters for asking him about the quarterback battle
Newton has been in the NFL long enough to know that press conferences can often be uncomfortable, especially when one is fighting to win a starting quarterback job.
If a recent session with reporters is anything to go off, then the three-time Pro Bowl selection is letting the ongoing competition get to him. According to the Boston Herald, Newton said Patriots head coach Bill Belichick still hasn't told him if he'll start against the Dolphins on Sept. 12.
It also became clear that Newton is getting tired of constantly discussing the quarterback battle.
"Y'all sitting up here asking silly questions to me, and I'm looking at y'all with the same thing. I don't know what y'all want me to say. You know, you know that. You know [Belichick hasn't named a starter], so for you to just ask the question, it is what it is."

Cam Newton
Newton, who is no stranger to quotes being taken out of context and going viral, quickly added that he doesn't take the reporters' questions personally.
"I just want you guys to understand, everything y'all know, I know," Newton said.
Bill Belichick still needs to strongly consider starting Newton in Week 1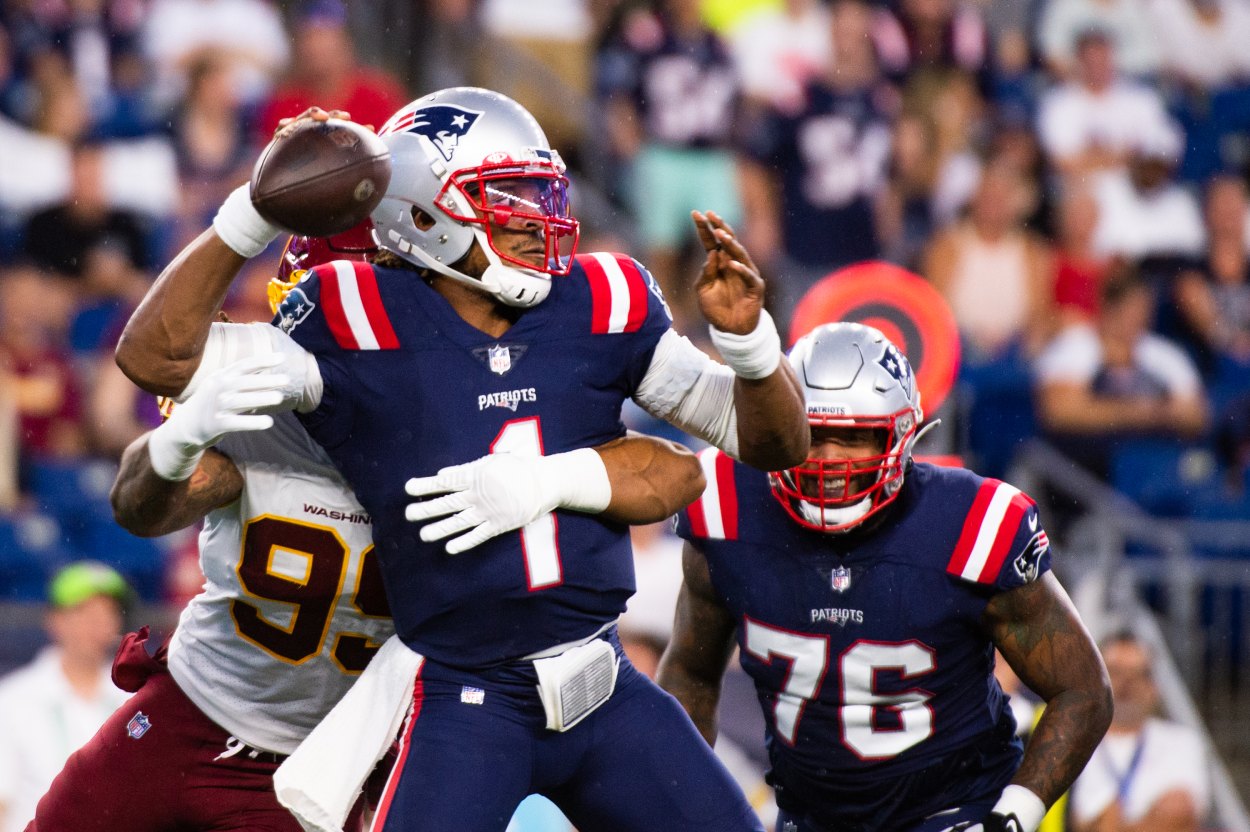 In the weeks and months after the Patriots re-signed Newton to a one-year deal in March, Belichick repeatedly insisted the veteran would be his starting quarterback.
The mood is starting to change, at least externally, as the season rapidly draws closer. Newton started in the Patriots' preseason opener on Thursday, Aug. 12, and completed four of seven passes for 49 yards. Jones, the 15th overall pick from Alabama, took over and went 13-of-19 for 87 yards in the Patriots' 22-13 victory over the Washington Football Team.
The eye test, however, showed a Newton whose throws looked labored across his two drives. Jones may not have hit on an 80-yard touchdown the way that San Francisco 49ers rookie Trey Lance did, but the first-year Patriots quarterback looked sharp in his six drives.
Even with that being the case, Belichick needs to stick with the older quarterback and start Newton in Week 1. The Patriots revamped their entire offensive personnel throughout the offseason, adding the likes of former Los Angeles Chargers tight end Hunter Henry and ex-Las Vegas Raiders receiver Nelson Agholor. They'll go a long way in helping Newton score the points that he couldn't last year when he worked with lesser players.
Jones is the clear heir to Newton, and by extension, Tom Brady. The Patriots stand to lose nothing in the long haul by giving Newton the early starts and re-evaluating as the season goes on. The worst thing the Patriots can do is send Jones out there early and try rushing results in hopes of him instantly becoming the next Brady.
Newton may be realizing that the end could be nearing for his career
Believe it or not, Newton is entering his 11th season in the NFL. He'll play the entire 2021 season at 32 years old and is long removed from being one of the NFL's bright young stars.
This season could very well be Newton's final opportunity to enter the season as a starting quarterback. Teams might not be jumping at the chance to add a 33-year-old quarterback next year with the mileage and injury history that the three-time Pro Bowler has to his name.
Careers can change in an instant, especially for dual-threat quarterbacks. Just ask Robert Griffin III, who recently joined ESPN as a college football and NFL analyst. Traditional pocket-passers like Brian Hoyer and Ryan Fitzpatrick have managed to stick around deeper into their 30s in large part because of their passing skills. If Newton can turn himself into more of a game-manager, he might be able to join that exclusive club.
On the one hand, we sympathize with Newton as he might be seeing the grim reaper come for his career. But lashing out at reporters and stressing over the quarterback battle isn't worth it, especially not for a veteran who's accomplished so much in his career.
Like Sportscasting on Facebook. Follow us on Twitter @sportscasting19.