Cam Newton Mocking Peyton Manning Is Guaranteed to Make You Smile
Cam Newton is often thought of as just a physical presence. But he's so much more than just a brutish athlete. In an interview with Graham Bensinger, the QB showcases his inherent charisma while walking fans through the details of an NFL offense.
Newton's personality can get him into trouble with fans and pundits. But those criticisms will all go away if he returns to his best self on the field. One of the biggest storylines of the upcoming NFL season will be if Newton can revive his career as a New England Patriot.
Cam Newton's narration shows how little fans understand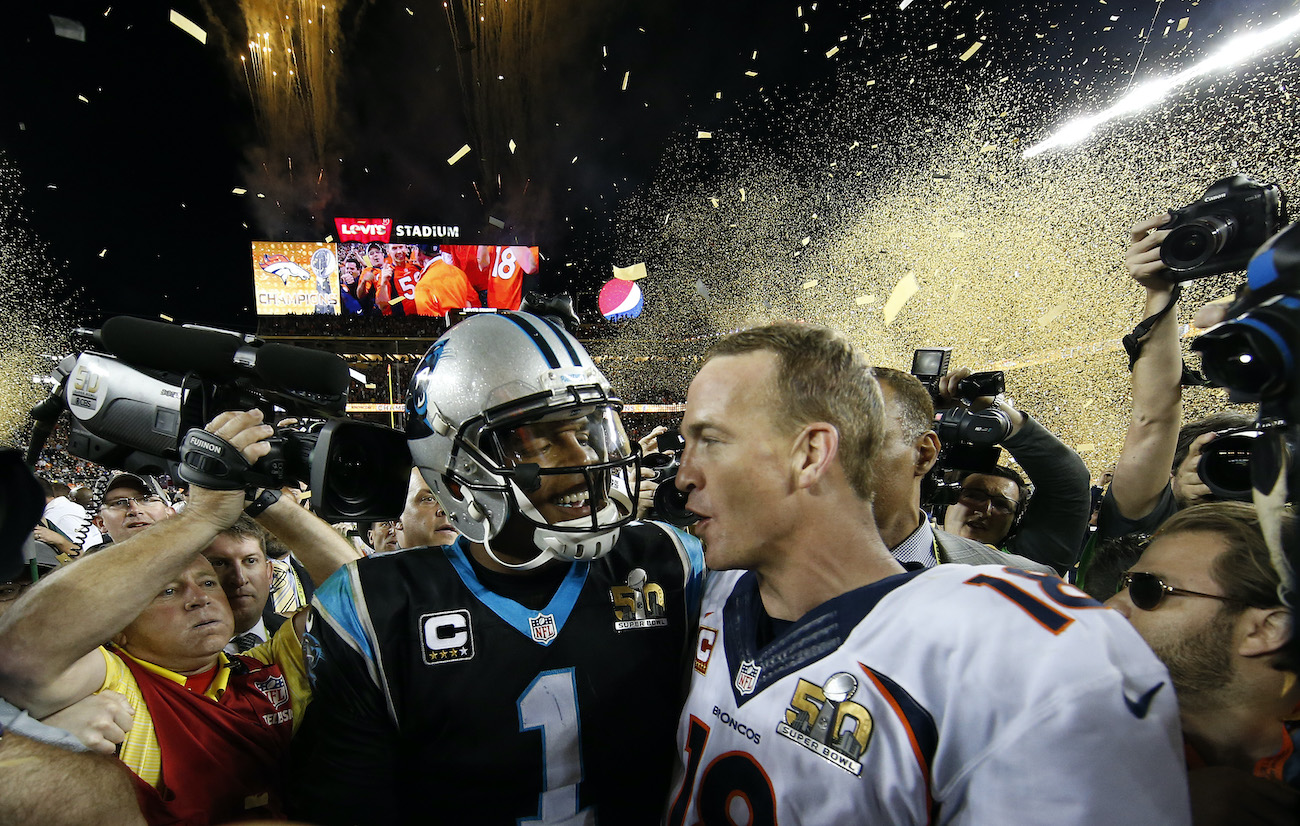 RELATED: Cam Newton Has Already Explained the Real Reason for His Bizarre Instagram Captions
For reasons both understandable and insidious, Newton has never been lauded for his intelligence. But when he talks a captive audience through calling a play, he reminds us that most fans don't have a clue about how football actually works.
In his interview with Graham Bensinger, Newton walks viewers through the procedures for calling plays in the huddle or from the line of scrimmage. As he acts out the routine, it's easy to see why he's such an effective leader. Newton's naturally draws attention to himself. He even jokes about Peyton Manning's "Omaha" yell, the punchline for many football jokes in 2014.
Newton's descriptions of NFL jargon and how scripted hand gestures can change the routes of wide receivers is a glimpse into how technically precise and smart football players must be to compete.
It's funny how he jokes about his struggles to get Kelvin Benjamin on board with the rest of the team. Benjamin was a big bust in Carolina, mostly because he was overweight and couldn't catch the ball. That didn't stop Newton from earning MVP and powering the Panthers to a Super Bowl. But those feats haven't shielded Newton many NFL fans and analysts' scorn.
Some critiques of Newton are justified, but most are over the top
RELATED: Cam Newton Will Continue Doing Something That Made Him Feel Like a Rookie Again
In spite of all he's done, the quarterback has perpetually faced controversy. Newton hasn't always played well. Although injuries or his consistent lack of a supporting cast often mitigate his worst performances. (He deserved to be admonished when he said, "It's funny to hear a female talk about routes," a 2017 press conference.
Newton's off-field shenanigans are less problematic, but no less eye-roll-worthy. His Instagram captions have to be filtered through a decoder to be read by anyone who is not Newton. His dress sense sits somewhere between "the Monopoly man after a bender in New Orleans" and "the world's fanciest grandma".
But many putdowns Newton receives — his arrogance or deceptive personality — are unfounded. The zeal of these criticisms says more about his haters than it does Newton.
It's impossible to separate his perception issues with the fact that he's a black quarterback in a league that tries to ignore racial issues. Newton, for better or worse, refuses to be ignored. He celebrates touchdowns like Superman, and he refuses to temper his personality to placate the media.
Black quarterbacks still exist in a space where their mere existence is still seen as a provocation. As The Charlotte Observer reports, Newton summed it up best in the leadup to Super Bowl 50: "I'm an African-American quarterback that may scare a lot of people because they haven't seen nothing that they can compare me to."
Can Newton be Tom Brady's successor in New England?
All of this sets up a fascinating season for Newton in New England. Assuming Newton can get anywhere close to his former self, the Patriots got a massive upgraded at quarterback. As legendary as Tom Brady is, he was one of the reasons their offense was so mediocre. A healthy Newton would allow them to expand their play-calling and be much more difficult to stop.
Whether the fans take to him the way they did Brady is another question. Boston has an earned reputation for being a tough place for black people (you could say this about every city in America, to be fair) and Newton's shameless ego might not appeal to the fanbase.
But sports fans can overlook a lot of things if a player plays well enough. If Newton backs up his talk and leads the Patriots back to championship contention, then people will learn to love him smile.