Cam Newton Only Started for the Patriots Because the Alternative Would Have Been a "Debacle"
The New England Patriots' quarterback situation is a mess. In 2020, Bill Belichick finally had to adjust to life without the luxury of a quarterback like Tom Brady, and it was a brutal adjustment. Cam Newton had massive shoes to fill last season and didn't do a great job, as the Patriots suffered their first losing season in 20 years. If comments from his teammates are anything to go by, though, Newton was actually the team's best option.
Jarrett Stidham was once the heir apparent
The other option the Patriots had at quarterback was second-year quarterback Jarrett Stidham. New England took Stidham in the fourth round of the 2019 NFL Draft in the hopes that he would one day succeed fill Tom Brady's massive shoes.
Stidham's early performances were encouraging for the Patriots' coaching staff. During the 2019 preseason, he completed 67.8% of his pass attempts and earned a passer rating of 102.6. The next season, Brady left New England for good, which seemingly set the stage for Stidham to step into the spotlight.
Unfortunately, this is when it all unraveled. In August, the Patriots picked up former NFL MVP Cam Newton to compete for the starting quarterback role. That same month, Stidham went to the hospital with a hip injury.
Stidham's star falls to earth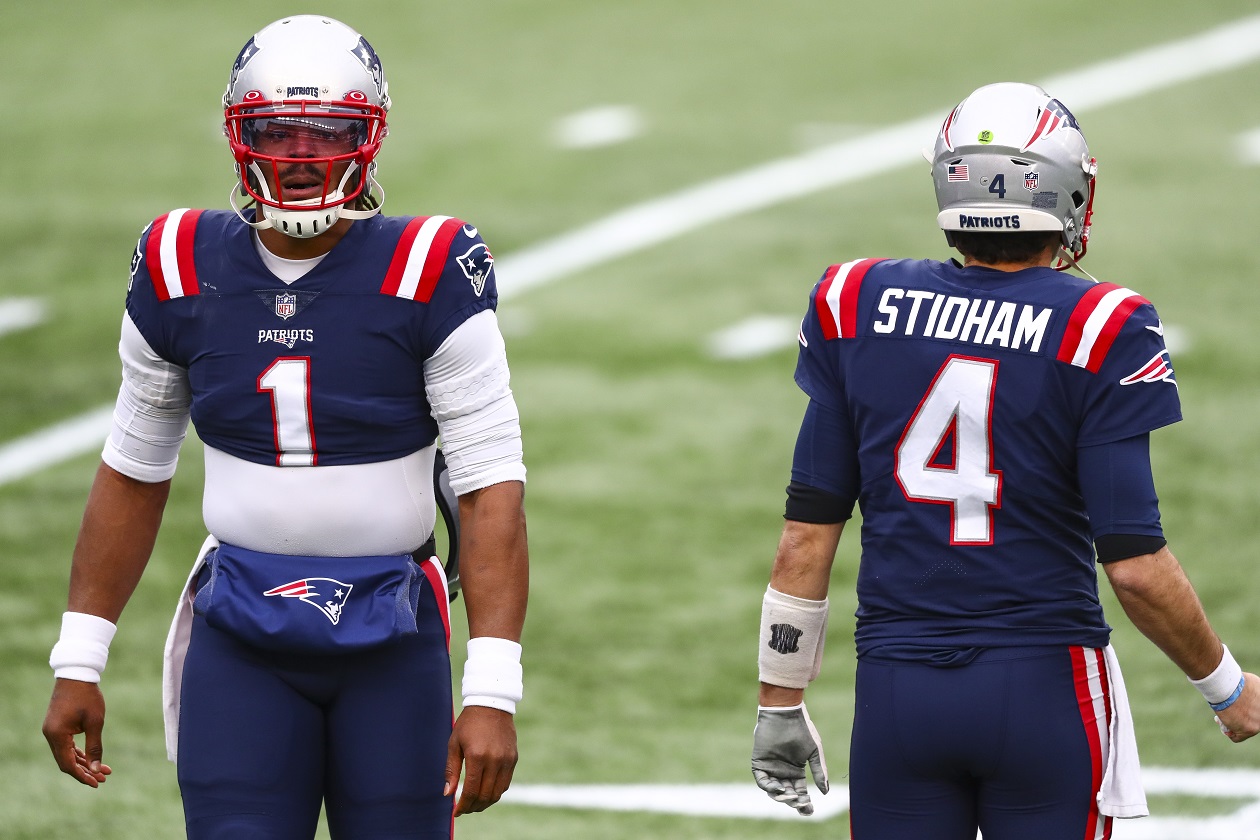 Even before that point, however, Stidham had started to lose favor with both coaches and teammates. Greg Bedard of the Boston Journal explained it thusly: "For whatever reason – and I don't know if it was the training camp injury or the offseason thing or what have you, or the way he just conducts himself – there's not a lot of belief in that building."
Somehow, despite having a grasp of the Patriots' offense, Stidham's play had actually regressed in the past year. According to Bedard, he struggled with accuracy throughout the team's practices in 2020 and never had a grasp on the team's starting job.
There was the feeling within the team that if they turned the keys over to Stidham, that it would become a complete debacle down the stretch and that wouldn't be good for anybody.

Patriots reporter Greg Bedard, The Greg Bedard Patriots Podcast
Even as Cam Newton and the Patriots' offense struggled to begin the 2020 campaign, Belichick gave no thought to making Jarrett Stidham the starter. When Newton ended up on the COVID-19 list for their week four game against Kansas City, the Patriots instead gave the nod to Brian Hoyer. It was a steep fall from grace for Stidham, just over a year after he was seemingly the heir apparent to Tom Brady as the Patriots' starting quarterback of the future.
All told, Stidham appeared in five games in 2020. He threw 22 completions on 44 attempts for two touchdowns and three interceptions.
What next for New England?
Despite how last season went, Cam Newton is still high on himself and believes he can help some NFL team somewhere contend. During a podcast appearance on Monday, Newton shunned any talk of a possible retirement.
"I can't go out like that," said Newton on the I Am Athlete podcast. "I hear all of that talk. My pride won't allow me to do it. There aren't 32 guys better than me."
If he does play next season, it might not be in New England. The Patriots may look elsewhere for their 2021 starting quarterback, as multiple options are available in free agency or through possible trades. The Texans' Deshaun Watson is the most highly-sought after quarterback of the offseason, and the Patriots are one of many teams rumored to be gunning for him.
If that fails, the Patriots could also seek their next quarterback in the upcoming NFL Draft. While Clemson's Trevor Lawrence will probably be off the board before New England will have a shot at him, there will be other options. The best and most likely will be Alabama's national championship star, Mac Jones, who has received positive hype from across the football world, including former Patriots offensive coordinator Charlie Weis.