Cam Newton Has a Strong Internal Reason Why Retirement Isn't an Option After the Worst Season of His NFL Career
Cam Newton is one quarterback who will be looking for work this offseason. He didn't show much in his one season with the New England Patriots, meaning teams won't be lining up to offer him a new contract.
Newton has made it clear that he wants to continue his football career. In fact, the former MVP isn't even thinking about retirement due to his own personal pride.
Cam Newton's pride is preventing him from retiring
Cam Newton has been battered and bruised throughout his 10-year NFL career. He's suffered various injuries, which have all taken their toll on the dual-threat quarterback. After a subpar year in New England, he was asked about possibly retiring on the I Am An Athlete podcast. Newton has no intentions of hanging up his helmet just yet.
"Hell no! I can't go out like that. I hear all of that talk. My pride won't allow me to do it," said Newton per The Boston Herald.
Newton's on-field abilities have come into question in recent years. He even had to deal with a young camper calling him washed at one of his camps recently. The former No. 1 overall pick has been working on changes to his game in hopes of proving he can be a starting quarterback again in the NFL.
Cam Newton's first season in New England came with many obstacles. Given that he was signed late in the offseason, he was already behind in understanding the Patriots' offense. There was another hurdle Newton had to overcome, further complicating his adjustment to Josh McDaniels' offensive scheme. 
Cam Newton details how COVID-19 hampered his learning process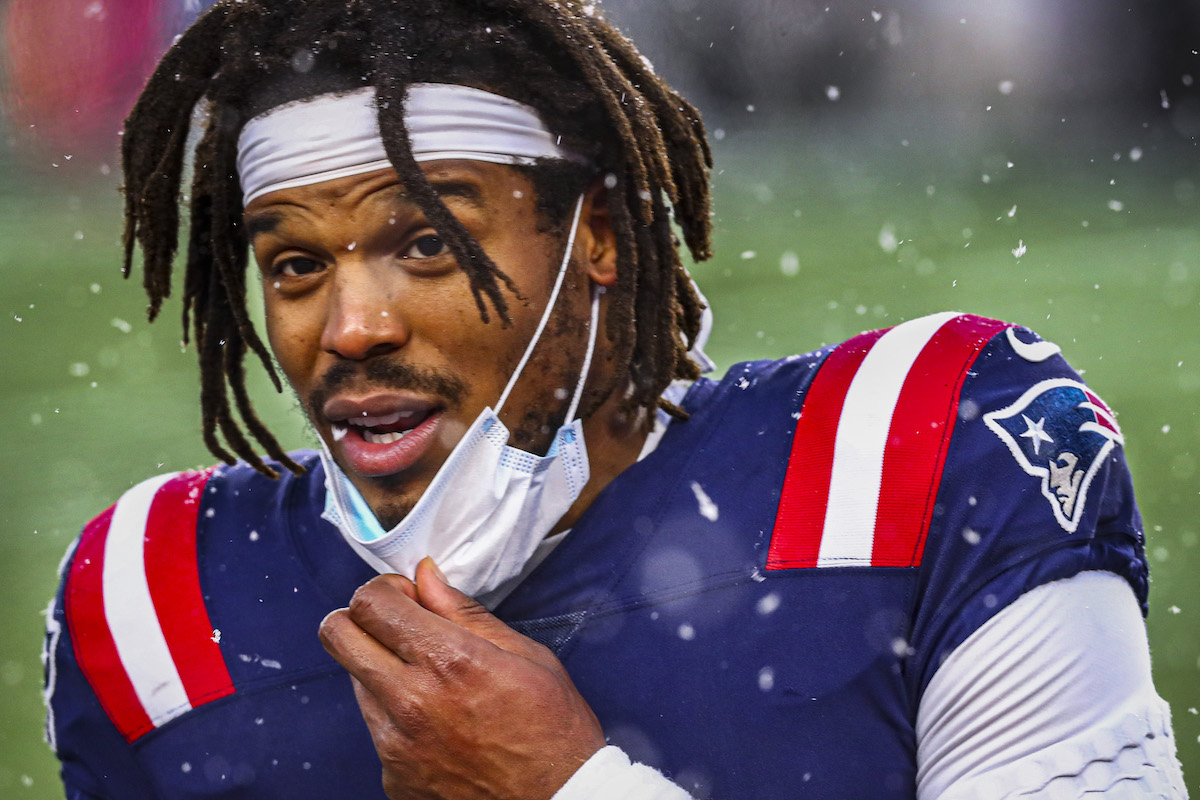 Early in the 2020 season, Cam Newton test positive for the coronavirus during the season. While he only missed one game because of the virus, his diagnosis still had a major impact on his play throughout the year. During his time on the I Am An Athlete podcast, Newton explained that having COVID-19 impacted his ability to learn the Patriots' playbook. 
"I was one of the first football players to catch it, and it happened so fast. When I came back, that's where the lack of an offseason and the lack of time in the system really showed itself. I was behind, and I was thinking too much. The offense kept going, and I was stagnant for two weeks," Newton said.
Newton's struggles after his bout with COVID-19 were obvious, throwing zero touchdowns and five interceptions in his next four games. He played so poorly against the San Francisco 49ers that Bill Belichick benched him. Despite those struggles, Newton didn't shy away from the challenge.
"They threw everything at me, but I wouldn't have wanted it any other way. At the end of the day, you have to go through things in that type of manner to show yourself that you can't skip processes. I'd be the first person to tell you that I needed time," said Newton.
Cam Newton is confident he can still be a starter in the NFL
During the 2020 offseason, Cam Newton signed a one-year, $1.75 million deal, which was a bargain for the Patriots. Newton acknowledged that he didn't have many options outside of New England. 
"Let's keep it honest; what other options did I have? I intimidate a lot of people. I intimidated the franchise I was at. People look at me and assume things about me. But I'm from Atlanta, you put me anywhere, and I'm going to figure it out," Newton said.
Teams' interest in Newton could be even lower than last year. He didn't prove he is a capable passer, throwing eight touchdowns and 10 interceptions last season. His running ability was the best part of his game, rushing for 12 touchdowns. Newton still believes he has what it takes to be a starting quarterback in the NFL despite his lackluster season in New England. 
"There aren't 32 guys better than me," said Newton.
Cam Newton's future in the NFL is uncertain heading into the offseason. He could garner some interest from teams, but it could force the former Heisman winner to accept a similar deal that he took with the Patriots. It's unknown if Newton is willing to accept that kind of offer, but it seems like he'd rather go that route than hang up his cleats.