Cam Newton's Vaccination Status: Bill Belichick Says It Was Not a Factor in QB's Release From New England Patriots
Cam Newton has had a long, illustrious NFL career. Unfortunately for the quarterback, it took a downturn when the New England Patriots cut him right before the season began. Some in the media speculated that Newton's vaccination status may have played a role in his release. But Pats head coach Bill Belichick said it wasn't a factor. 
Let's look at what led to Newton's downfall in New England and the reasons why Belichick dismissed him.
Cam Newton experienced a steep dropoff over the past few seasons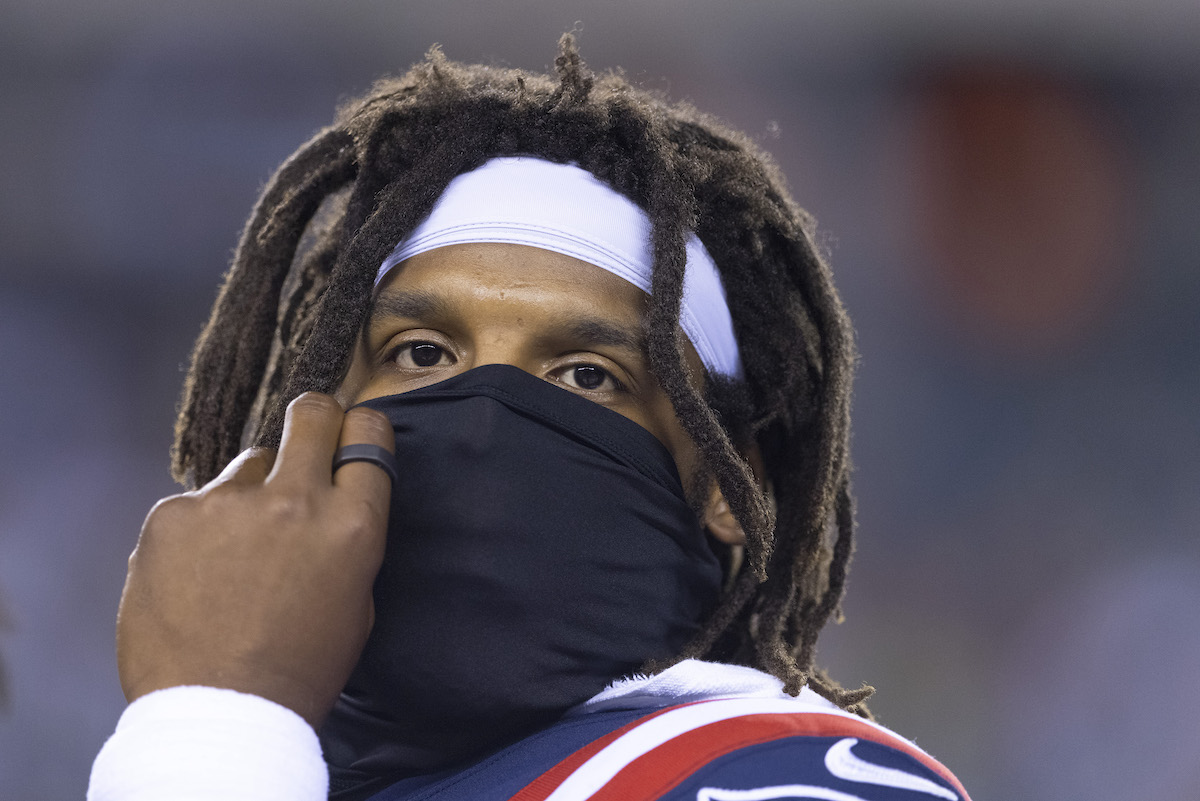 Newton's style of play is brash and unique. In his prime, he threw the ball downfield effectively and efficiently. He could also beat teams with his legs, showing a stunning ability to get out of the pocket and into the open field to run the ball. Newton was also renowned for his size; unlike most quarterbacks, he had the build of a linebacker. This made for a rather bruising experience for defenders trying to tackle him. 
The same attributes that led to Newton's success also contributed to his demise. During his time with the Panthers, the QB got significantly banged up. He may have led the team to a Super Bowl in 2015 while winning the MVP, but eventually, his body caught up to him. The team released him prior to the 2020 season. 
Newton landed in New England after Tom Brady's free agency departure. It seemed like a good fit. New England needed a stop-gap; Newton was a veteran presence joining a team that previously contended. 
The results were short of disastrous, but they weren't good. Newton stayed mostly healthy last year, but he didn't play up to his previous high level. According to Pro Football Reference, he led the Pats to a 7-8 record with only eight passing touchdowns to 10 interceptions and a paltry 2,657 passing yards. He did add 12 rushing TDS — a higher than average total for a quarterback — but the win-loss record told the story. 
Bill Belichick explained his reasoning for cutting Newton
This past offseason, Belichick added a long-term QB replacement in Mac Jones out of Alabama. He spent a first-round pick on him, meaning Jones would get a shot to start at some point. The two had an open competition in training camp. Jones apparently won. 
With player vaccinations a hot-button issue this offseason, Belichick was asked if Newton's vaccination status had any impact on his release. He strongly denied it, reports ESPN, saying, "No. Look, you guys keep talking about that." ("You guys" refers to the assembled press corps.)
Belichick cited the Jones-Newton battle as a "competitive situation." He added, "Both players took pretty close to an equal number of repetitions in total between practice, games, going all the way back to the spring." 
If the coach is to be believed, the 23-year-old rookie beat Newton in camp, and Belichick was giving a veteran player the chance to start somewhere else. 
What's next for Newton? 
Newton seems like a shell of his former self. But he's still decidedly better than many quarterbacks. It's hard to imagine Newton not getting at least an opportunity to play somewhere else. In a league starved for effective quarterback play, he's a vastly overqualified backup and better than many of the league's starters.
One situation that may make sense involves the Houston Texans. They're going with the dependable Tyrod Taylor as their starter, but Newton represents an upgrade over Taylor when he's at full strength. If Houston falters out of the gate — there is every indication that they will do that — the Texans could come calling.