Cam Newton Will Always Have This Accomplishment
Just five years after bursting onto the scene as one of the brightest young quarterbacks in the NFL, his career is now in limbo due to injuries. If Newton's career ended today, however, he wouldn't have anything to be ashamed of. Nobody can take away his seamless transition from college superstar to NFL star, and this one accomplishment shows why.
By winning the MVP award in 2015, Newton joined an exclusive company of football greats who won both Heisman trophies and the NFL's highest individual honor. 
Cam Newton, Heisman winner
Newton's tenure at Florida was mostly forgettable; he only played sporadically and never started a game. By transferring to Auburn, however, he gambled on his ability to go from unknown college backup to starting quarterback. He won that gamble, and a legendary season was born. 
Newton's lone season at Auburn was a Cinderella story. He made the opposing defenses suffer not only with his arm but with his speed. Newton threw for 2,7854 as a junior, getting 30 touchdowns against only seven interceptions. Additionally, he ran for 1,473 yards and 20 touchdowns. 
When the season was over, his quarterback rating was an astronomical 182. He was not only a surefire pick with the Carolina Panthers but the Heisman Trophy winner, too. Newton beat out Andrew Luck, Colin Kaepernick, Andy Dalton, and several other notable quarterbacks.
Newton's welcome to the NFL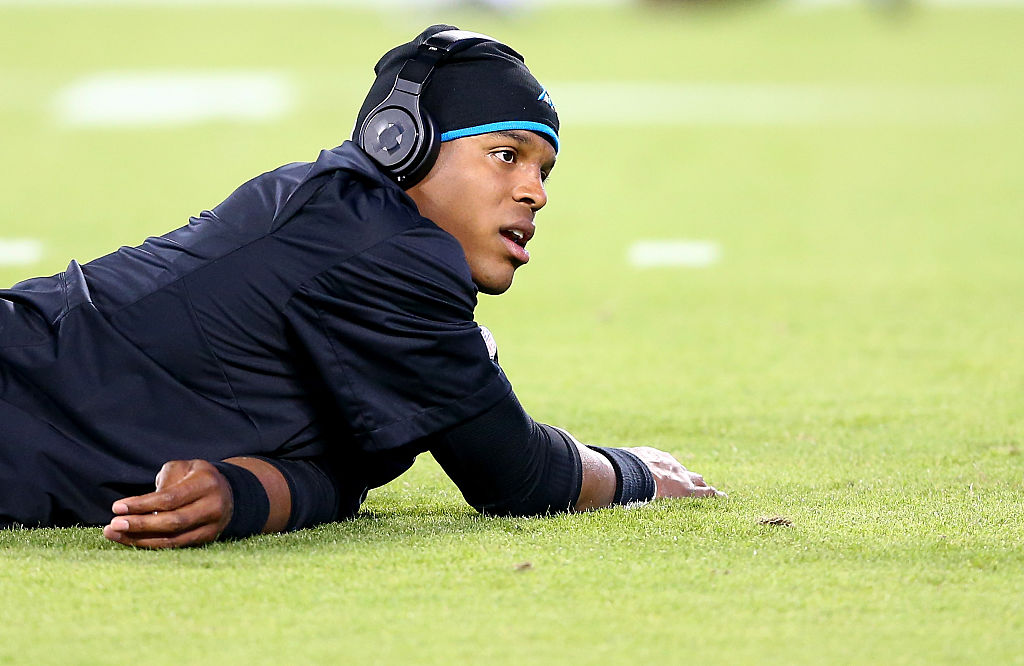 Newton took a little time to get fully acclimated into the NFL, but the promise was there immediately. While he had to work on his penchant for interceptions, his rushing ability and bursts of brilliance showed he could live up to the promise. Newton was a Pro Bowl quarterback on a mediocre team when he came in, but five years later he put the league on notice. 
Newton's MVP year showed he had the tools to be a complete and dominant NFL quarterback. His 35 touchdowns against only 10 interceptions showed he could hit his targets when it mattered. With 3,837 throwing yards, he was getting it down the field. Additionally, his 10 touchdowns and 636 yards rushing showed his balance between passing and running quarterback. 
The Panthers finished the 2015 season with a 15-1 record but eventually lost in the Super Bowl. To date, it is Newton's best season. A slew of injuries that he initially tried to play through turned the once top-tier quarterback into a liability. Still, what he did in these two seasons shows he is still an All-Time great. 
Newton joins the Heisman/MVP club
Just how rare was Newton's feat? Before his 2015 MVP season, the last Heisman-winner to take home the honor was Barry Sanders in 1997, according to 12Up. Marcus Allen earned this honor in 1985, while three players did it in the '70s. (Earl Campbell won the MVP award in 1979, a rare feat for a running back.)
OJ Simpson, whose legendary football career has taken a backseat to scandal, won the MVP in 1973, just a few years removed from his legendary USC career. Roger Staubach entered the NFL at the age of 27 thanks to his duties in the Navy, where he won his Heisman trophy during college. That didn't stop him from winning an MVP award immediately.
A decade earlier, Paul Hornung, whose Heisman and MVP award are both among the more interesting, joined the club in 1961. The first to ever do it, Frank Sinkwich, did so in 1944 — 71 years before Newton. 
Newton's career might not be what everyone hoped, but it doesn't take away from the enormous accomplishments he achieved along the way. If Newton never reaches the heights he did in 2015, he can always hang his hat on the fact that he reached football heights in a way few can relate to.