Cam Newton's 5 Most Stylish Press Conference Outfits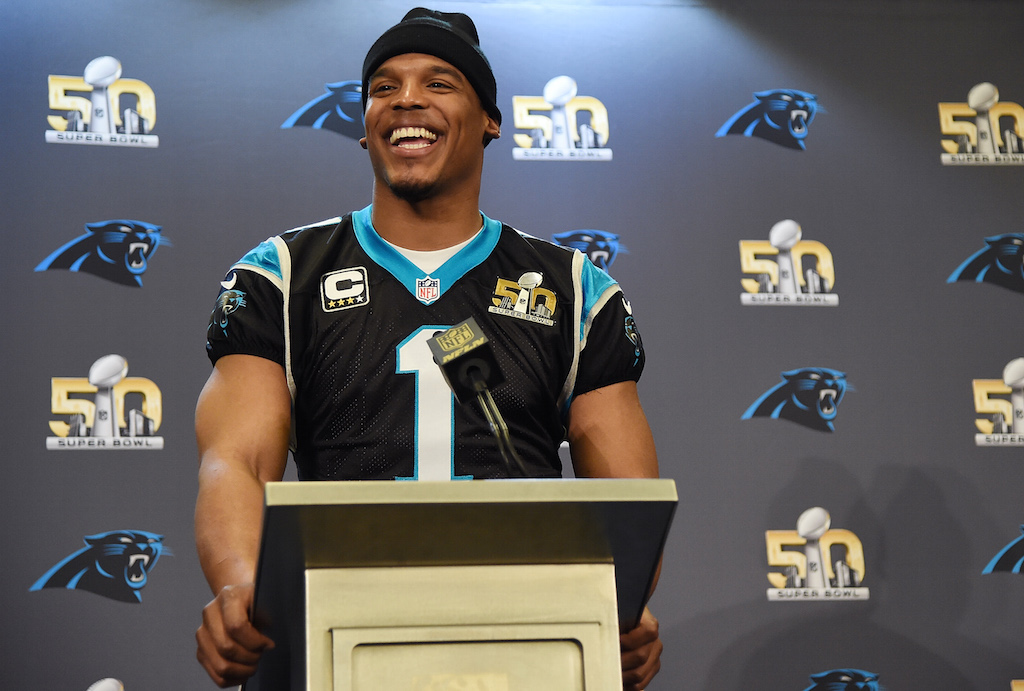 Thanks to his spectacular play during the 2015 NFL season, Carolina Panthers quarterback Cam Newton is destined to win this year's MVP award. Yet, for all his brilliance on the gridiron, what's actually managed to grab the people's attention even more is his unabashed fashion sense. And when we think about how Newton has transformed himself into one of the most stylish athletes on the planet, for us, it all begins with his press conference attire.
It's not enough for Newton to shine on the field, he has to crush it on the podium as well. It doesn't matter what stage we're talking about, our man Cam was born for it. He's charming, playful, confident, and more than willing to push the envelope from a fashion standpoint. And not only do we commend him for his bold choices, but we think it's only fitting that we take the time to acknowledge our favorite of his outfits.
As we prepare to see what Newton can do on the field against the Denver Broncos at Super Bowl 50, here's a look at five occasions when, thanks to his bold outfits, he crushed it off the field at the postgame press conferences.
1. Cam goes bowtie
Cam Newton's bow-tie came strong and has a lotta style of swag. pic.twitter.com/XVr4Uo4zIM

— Matthew Mihaleas (@MatthewMihaleas) October 4, 2015
This is a tough outfit to pull off, but if anyone can, it's Newton. With his light blue jacket, pink bowtie, and colorful pocket square, the Panthers quarterback has the look of an individual who's so comfortable in his own skin that he'll wear whatever he wants. And if we were in Newton's position, we'd feel the exact same way.        
2. Cam goes casual
That Cam Newton postgame sweater game pic.twitter.com/VTgYgE7Bmt — NFL Network (@nflnetwork) December 13, 2015

This sweater is not for everyone. But as we've learned on many occasions, Newton isn't just anyone. He's an absolute rock star. The pattern may be a bit crazy, but he definitely makes it work. Plus, when it's cold outside, sometimes you just want to sport something that's cozy and comfortable. And by the looks of it, this sweater certainly fits the criteria.
3. Cam goes formal
Sharing a little Cam Newton style ahead of Sunday's playoff game! Will be cheering for the Carolina Panthers!!! https://t.co/x5WBIqWkc2 — Courtney E. Mills (@MillsWestCaryRE) January 16, 2016
If you ask us, never before has a postgame press conference felt so formal. But you know what, we dig it. This look is sleek, polished, and 100% refined. Whether Newton is talking to the media or planning to attend a gala afterwards, it really doesn't matter. The superstar QB is ready for any occasion. Like an NFL version of James Bond, Newton is Double-O-Fresh.     
4. Cam channels fall
Block & Tackle grades the many looks of Cam Newton, the NFL's champion of podium style https://t.co/VDFJa7y1ZJ pic.twitter.com/akLMrKyx29 — The AV Club (@TheAVClub) January 24, 2016
We can't find one thing about this look that we don't like. The jacket fits perfectly, and its color is dynamite. The sweater and tie combo works, and the pocket square is a great way to blend everything together. And on top of that, the red boutonniere gives this look just the right amount of "pop." Once again, Newton shows us why he owns the stage
5. Cam goes camo
Camo Cam! Cam Newton dressed to impress today…and to blend in?http://t.co/5tZPgaAPW1 (via @NFL) pic.twitter.com/P2ZYywbVgp

— ESPN (@espn) September 27, 2015

We can't think of anyone else who could pull off this jacket. Seriously, this is camouflage we're talking about. But Newton has been known to use this pattern to perfection (see: his warmups, his cleats, his towels). Honestly, when we see this attire, all we can do is tip our hat and nod with approval. Newton: The podium pioneer.