Cam Newton's Shocking Return to the Panthers Proves the Organization's Brutal Incompetence at Identifying QB Talent
After weeks of laboring through ugly Sam Darnold starts, the Carolina Panthers seemingly found a solution to their problems. They placed Darnold on injured reserve with a partially fractured scapula and inked former starting quarterback Cam Newton to a one-year contract.
Yes, the same Cam Newton who was once viewed as a franchise quarterback in Carolina. Despite winning an MVP and leading the team to a Super Bowl, Newton's divorce with the Panthers was an ugly one. They cut him in 2020 with little fanfare, moving forward with Teddy Bridgewater and eventually Darnold under center.
Now, Newton is back wearing baby blue, which is a testament to the Panthers' incompetence and dysfunction over the past few seasons.
The Panthers are signing Cam Newton out of desperation
While Newton returning to Carolina is a fantastic feel-good story, it's worth pointing out that Newton hasn't been a very good NFL starter over the past few seasons. He struggled mightily during his final two years with the Panthers (2018, 2019) and was barely serviceable during his lone season as the New England Patriots' starter.
Newton's career completion rate sits at a measly 60.1%, and his quarterback rating hasn't climbed past the fifties since 2015. This is not the same Newton who led the Panthers to a Super Bowl and won league MVP.
To put it rather bluntly, signing Newton is a desperate move by the Panthers' front office. The Darnold experiment blew up in their faces quite spectacularly, and former XFL player PJ Walker (current QB2) isn't a realistic option to start half a season.
The Panthers' utter desperation is reflected by the salary Newton was able to command. Despite being a street-free-agent for months, Newton negotiated $4.5 million guaranteed.
The Panthers keep proving their inability to identify QB talent
This Newton experiment may or may not work out for the Panthers. However, becoming increasingly more apparent is that this is an organization with no idea how to assess and identify quarterback talent.
First, they handed Teddy Bridgewater a massive $60 million contract in 2019. Then, they traded multiple valuable draft picks for Sam Darnold. They also passed on promising rookie QBs Mac Jones and Justin Fields during the 2021 Draft, taking CB Jaycee Horn instead.
It's also worth pointing out the Panthers immediately picked up Darnold's $18.8 million fifth-year option upon acquiring him before even watching him throw a pass in Carolina. This is a move they're undoubtedly regretting.
Upon releasing Newton back in early 2020, the Panthers have only gone backward at the QB position. They're no closer to finding a true franchise QB now than they were two years ago with a hobbled and regressing Newton under center.
What next for Cam Newton and Carolina?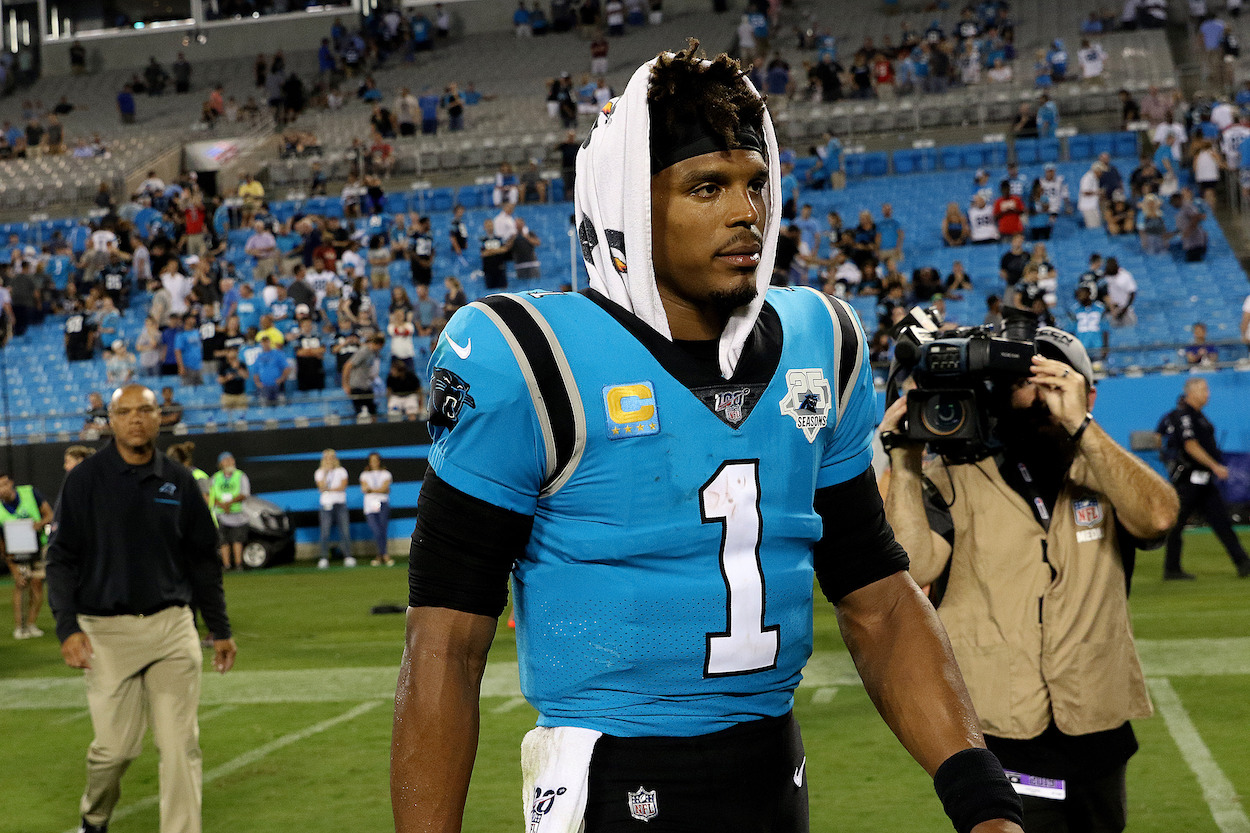 The Panthers paid Newton starter money. The expectation is he will be the team's starting QB for the remainder of the season, essentially closing the door on Darnold coming off the IR and winning the job back.
However, what does that mean for the Panthers in 2022? Will they re-sign Newton? Will they try trading for Deshaun Watson again? Or will they finally turn toward the draft in an attempt to find a new young franchise arm? Darnold also isn't going anywhere due to his fifth-year option, which is an entirely different problem that needs figuring out.
Overall, the Panthers' handling of the QB position has been a complete and utter disaster the past few years. Now, they're right back at square one with an aging Newton under center.
Nostalgia aside, that's not an ideal position to be in
All stats courtesy of Pro Football Reference.