Cam Reddish Trade: The Atlanta Hawks Will Pay a Heavy Price For Gifting the Talented Young Wing To the Knicks
Perhaps the Atlanta Hawks trading Cam Reddish to the New York Knicks is simply a piece of a bigger plan. Maybe general manager Travis Schlenk is greasing the skids for another dip in the Ben Simmons trade pool. Without some broader motive, the notion of the Hawks giving Reddish to the Knicks for next to nothing is nonsensical.
The Hawks have disappointed. They are 17–23 and three games out of a play-in spot a season removed from a stunning run from the fifth seed to the Eastern Conference Finals. But it's not like New York has set the NBA afire. Its win over the Dallas Mavericks on Jan. 12 got them back to .500, tied with the Boston Celtics for the last spot in the Eastern Conference play-in. So what was Schlenk thinking? More to the point, was Schlenk thinking?
The Knicks get needed defensive help in Cam Reddish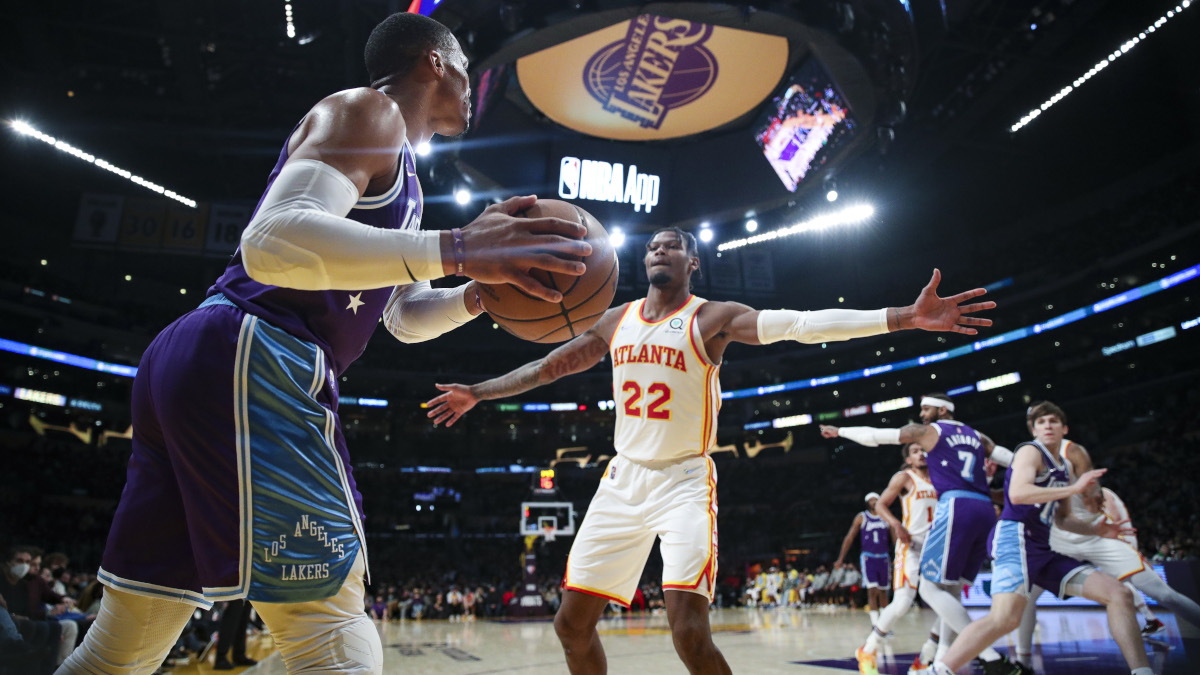 One can find any number of reasons why the Knicks regressed in 2021–22. Julius Randle's inconsistency, Evan Fournier's struggles, Derrick Rose's injury, Kemba Walker's knees, all are on the table.
But more than anything, New York lost its defensive identity. When one thinks of a Tom Thibodeau-coached team, defense (and starters playing too many minutes) is the first thing that comes to mind.
As the Knicks went 41–31 and grabbed a top-four spot in the East last season, they did so with the fourth-best defense in the NBA, allowing 107.8 points per 100 possessions.
Despite a league-wide downturn in scoring, New York stopped getting stops. The Knicks surrender 109.1 points per 100 possessions, 17th in the league.
The Atlanta Hawks are awful defensively, ranked 28th with a rating of 113.1. That's with Cam Reddish to help on the perimeter. Even before the third-year pro began to figure things out on offense, the 6-foot-8 wing with the 7-foot-1 wingspan was a defensive menace.
That immediately makes it a good addition for the Knicks.
The Atlanta Hawks punted on Cam Reddish too soon
Cam Reddish was an enigma in the 2019 NBA Draft. Ranked behind Duke (and new Knicks) teammate RJ Barrett as the second-best recruit in the country in 2018, Reddish struggled in his one season with the Blue Devils. He shot only 39.4% from 2-point range and was a dismal 33.3% marksman from the shorter collegiate 3-point line.
As Zion Williamson's draft stock soared at Duke, Reddish's plummeted. He was still there when the Atlanta Hawks prepared to select 10th overall.
Reddish was a poor shooter as a rookie (42.8% from 2 and 33.2% from 3). He improved inside the arc last season (46.0%) but regressed from deep to 26.2%.
This season, though, he has exceeded league average while hitting 37.9% from long range. His mid-range game doesn't work yet (29.3% on shots from 10 to 16 feet and 23.1% on long 2s), and he settles too often (those shots make up 23.4% of his attempts).
But Reddish wasn't just the best perimeter defender for the Hawks; he was their best defender. Period. He's bouncy and switchable, with arms disrupting passing lanes all over the place. And now he's a Knick.
If Kevin Knox is the answer for the Atlanta Hawks, it's the wrong question
Kevin Knox got massive minutes as a rookie for an awful New York club in 2017–18. He averaged 12.8 points in 28.8 minutes a night, mainly as a starter. But he took 12.2 shots per game, turned the ball over 1.5 times a game to just 1.1 assists, and wasn't a solid rebounder while playing a small-ball 4 role.
But at least he was an awful defender, so he had that going for him.
His minutes dwindled steadily under Thibodeau, to 17.9 in 2019–20 down to 11.0 last season. This season, he's played in just 13 games. He missed five games in December in the NBA health and safety protocols but racked up 23 DNP-Coach's Decisions while averaging 8.5 minutes when he did play.
In exchange for Cam Reddish, veteran Solomon Hill, and Brooklyn's 2025 second-round pick, the Hawks received Knox and a 2022 first-rounder from the Charlotte Hornets, as reported by ESPN.
According to Bobby Marks of ESPN, the pick is top-18 protected this year and top-16 protected in 2023. From there, it is lottery-protected (top-14) in 2024 and 2025. If the choice hasn't been conveyed at that point, it magically transforms into second-round selections in 2026 and 2027.
A heavily protected pick and the expiring rookie deal of Knox for Reddish seems like a meager return. Perhaps it's not placing enough value on the $493,360 in cap savings achieved in the trade. They reached that savings by adding Hill's veteran's minimum cap hit ($1.7 million) to Reddish's $4.7 million salary in return for Knox's $5.8 million number.
There are still four weeks or so before the NBA trade deadline on Feb. 10. Maybe the Atlanta Hawks aren't done dealing. But this is a strange first salvo for a team that ostensibly wants to add talent around star Trae Young.
Statistics courtesy of Basketball Reference and NBA.com. Contract information courtesy of Spotrac.
Like Sportscasting on Facebook. Follow us on Twitter @sportscasting19.