Can Anyone Dethrone Aaron Rodgers in the MVP Race?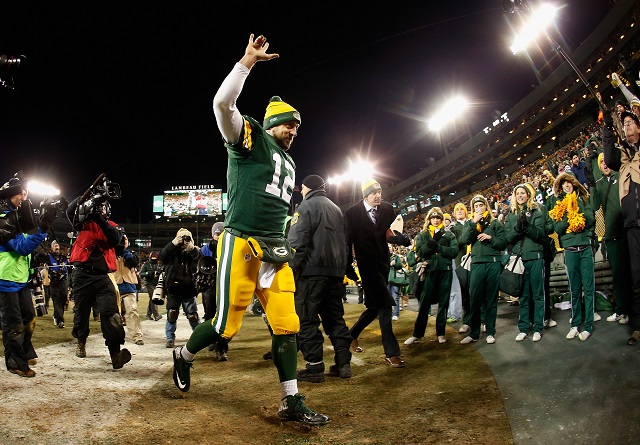 After wrapping up what could have been a Super Bowl preview between the two hottest teams in the NFL, Green Bay's Aaron Rodgers came away looking nearly unstoppable, particularly as far as the MVP race is concerned. Already tilted in favor of the quarterback anyway (and if you doubt that, check out the list of winners), Rodger's performance, fairly pedestrian by his lofty standards — 386 yards and a pair of touchdowns — reinforced just how consistently excellent his level of play usually is. He's as close to a lock as you can get, a fact reiterated by Green Bay's very friendly odds to win the Super Bowl.
Rodgers has been the best passer so far when it counts the most — going deep, throwing no interceptions on passes over 20 yards in length — and he is leading the league in yards per attempt on his throws, so it's not as if he's dinking and dunking his way to points. With 32 touchdowns against just three picks, plus more than 3,000 yards to his credit already, there aren't many metrics that don't declare Rodgers the de facto MVP of the league.
What's his competition looking like, though? This is the league that gave birth to the phrase "any given Sunday," after all, and there are still players out there who are putting together impressive seasons that don't have a well-documented affinity for mustaches. First and foremost, of course, was Rodgers' counterpart on Sunday, the New England Patriots' Tom Brady.
Brady didn't play badly against Green Bay, even if he was clearly the second-best quarterback on the field. The Pats have managed to recover from what looked like a disaster in the making to post an AFC-best 9-3 record; they're tied with the Broncos. The key difference between the two, of course, is that Brady's had a couple of absolutely awful games — Week 1 and Week 4, to be specific — that Rodgers simply hasn't been able to match.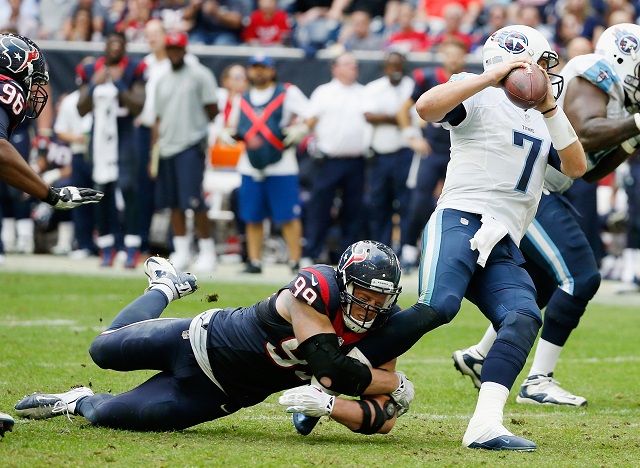 Beyond the quarterback position, the two players who are most likely to challenge the Rodge for the 2014 NFL MVP are JJ Watt of the Houston Texans and DeMarco Murray of the Dallas Cowboys. Between them, Watt's probably got a stronger case for the position, and he's emerged as one of the best defensive linebackers of all time, regardless of the era.
In the words of Danieal Manning, a Texans safety, "You wouldn't find another defensive lineman with five touchdowns; you don't find some tight ends, some offensive players don't have five touchdowns." The fact that Watt is doing something that hasn't been done in 70 years would speak to the unique ability that's on display week in and week out for the league's youngest franchise, but at the end of the day, he's not a quarterback and he's not an offensive player. While he might be the thinking man's decision for the MVP nod, that is unlikely to carry over to the voters, particularly as the Texans are sitting at .500 with no real shot at the playoffs.
As for Murray, he's cooled off a little bit after his blistering start, and even though he's leading the league in rushing yards, he's not doing it in quite as dramatic a fashion as Adrian Peterson did. It's impossible to say now, but we're fairly certain that the estranged Viking wouldn't have received quite as many votes as he did if he wasn't coming back from a blown-out knee. So for now, the award looks to be safe in Rodgers' possession, and it would take a collapse of epic proportions for someone else to wrest it away.