Can Ben Simmons Be the Next Kawhi Leonard?
Ben Simmons and the Philadelphia 76ers are at an impasse. The three-time All-Star wants out of Philadelphia and is threatening to skip training camp later this month. But as with many situations, one team's loss could be another's gain. While Simmons reportedly gave the 76ers a list of preferred destinations, president of basketball operations Daryl Morey isn't obligated to send him to any of them. That presents a rare opportunity for a different class of NBA teams, one last seen in 2018 with unhappy San Antonio Spurs star Kawhi Leonard.
Could Simmons be the next Leonard? The Toronto Raptors rolled the dice on a trade that resulted in the franchise's first championship. But it also wound up being a one-year rental, as Kawhi skipped Canada for the Los Angeles Clippers as a free agent. Simmons, even with his warts and his high price, presents an opportunity for small-market teams that don't come along often.
The Kawhi Leonard effect in Toronto
Big-market clubs have all the advantages when it comes to acquiring talent. Players naturally gravitate to the largest cities, where the endorsement opportunities are more plentiful. The 11 All-Stars that have changed teams since 2019 all ended up in large markets, with half of them winding up in LA or New York.
Star players go to larger markets when they can. Since they gained unrestricted free agency in 1988, this has almost always been the case.
The Raptors took a calculated gamble when acquiring Kawhi Leonard in 2018. Other contenders opted not to surrender assets for a player on an expiring contract. Toronto gave up All-Star DeMar DeRozan, young center Jakob Pöltl and a 2019 first-round pick the Spurs turned into Olympian Keldon Johnson.
That gamble paid off with a Larry O'Brien Trophy. While Ben Simmons isn't in the same class as Leonard as a player, he comes with more value than Kawhi took to Toronto.
Ben Simmons as a small-market target
Per the Philadelphia Inquirer, Ben Simmons said he wants to go to one of three teams based in California (the assumption is that the Sacramento Kings are the odd team out), nothing says the 76ers must give him what he wants. Leverage is on the side of Philadelphia. The No. 1 overall draft pick in 2016 still has four years left on the max extension he signed in 2019.
Getting four years of Simmons is a more attractive prospect for a team not usually in the market for superstars, certainly a more long-term acquisition than the expiring deal of Kawhi Leonard the Raptors got in 2018.
Beyond that, none of the California Big Three are attractive trade partners for Morey.
Because of salary cap concerns, the Lakers must include LeBron James, Anthony Davis, or Russell Westbrook in any potential trade to get Simmons. The Clippers' cache of first-round picks they can trade is down to one (either 2028 or 2029). And the Warriors continue to maintain they have zero interest in the non-shooting point forward.
But there are teams out there with assets to trade. They aren't in California's two major markets. It could be a golden opportunity for one of the oft-forgotten franchises to land a superstar. Teams desperate to turn around losing programs might want to throw their proverbial hats in the ring (looking at you, Minnesota Timberwolves and Cleveland Cavaliers). Michael Jordan's Charlotte Hornets could sniff around, as well.
The significant difference between Ben Simmons now and Kawhi Leonard in 2018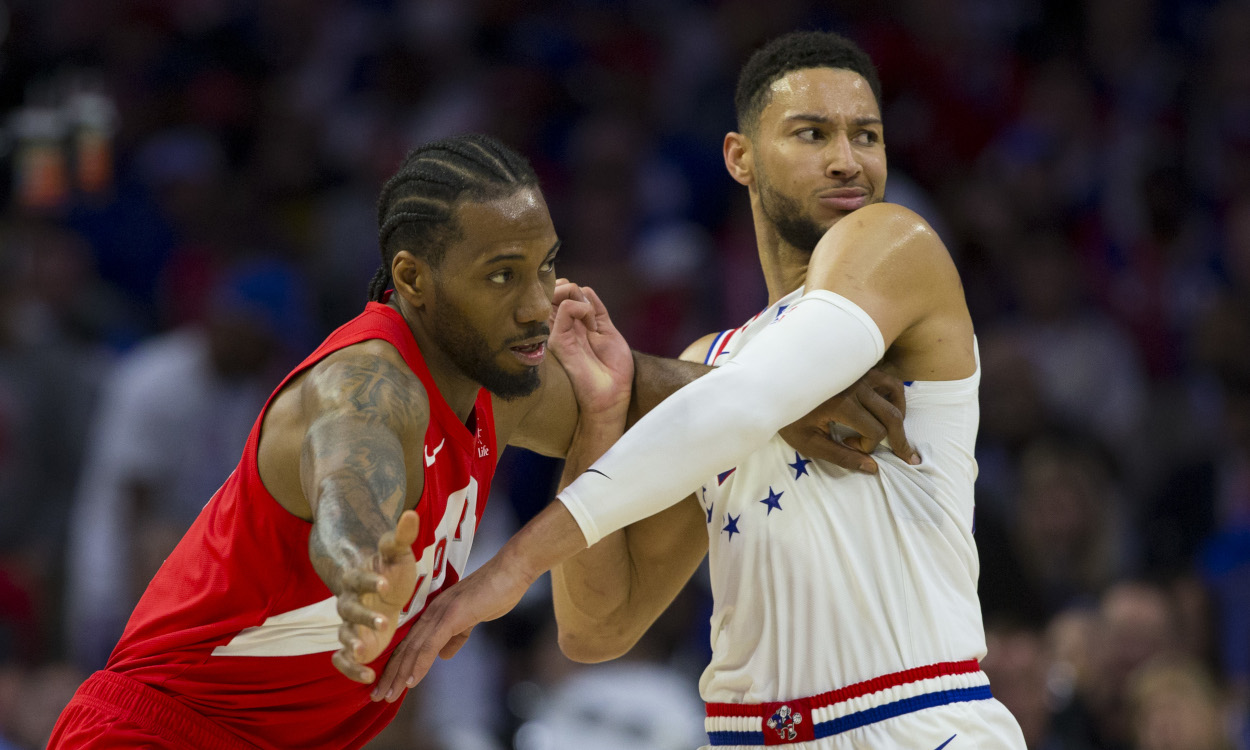 In 2018, Kawhi Leonard was coming off an injury-shortened season. Toronto carefully monitored his workload as a result. But he was also an established star with a championship pedigree, having won an NBA Finals MVP award with San Antonio in 2014.
On the other hand, Ben Simmons isn't dealing with a physical injury. What he is trying to recover from is an extremely bruised psyche. Years of pressure on him to become a more assertive shooter have backfired. In the 76ers' playoff loss to the Atlanta Hawks, Simmons didn't attempt a single fourth-quarter shot over the final four games of the series.
A Philadelphia television station took a brutal shot at Simmons during the city's recent bout with flooding. His confidence is in tatters.
He's a tremendous talent. A 6-foot-10 power forward with point guard skills who is also an elite defender, Simmons could benefit from a change of scenery.
If the 76ers are wise, they'll hold out for the best deal they can get. If it comes from a franchise that isn't ordinarily a destination for superstars, that will be more of a Ben Simmons problem than a Philadelphia concern.
Like Sportscasting on Facebook. Follow us on Twitter @sportscasting19.