Can Isaiah Thomas Return to Form With the Wizards?
Isaiah Thomas' NBA career has been a roller coaster ride. Listed at 5-foot-9, scouts told Thomas on that he was too small to make it in the NBA at all, let alone achieve stardom. As the 60th and final pick in the 2011 NBA draft, his entire career has been spent proving people wrong. In recent years, however, his career has taken a downturn, and a series of injuries have made the one-time MVP candidate a bench-riding role player. With the news that Thomas signed with the Washington Wizards, however, could the former All-Star be headed for a comeback?

Mr. Irrelevant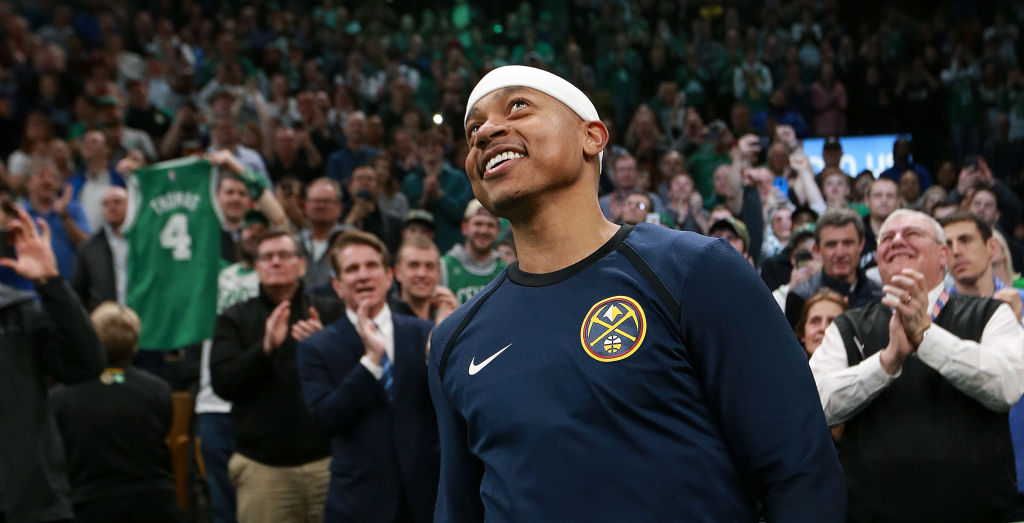 Chosen by the Sacramento Kings the same draft as Jimmer Fredette, many presumed that Isaiah Thomas would be another college name who faded into oblivion, or who made a name for himself overseas. He took that doubt to heart, however, and while Fredette quickly proved that he was not ready for the NBA, Thomas showed that he was not only ready but a budding star.

While Thomas made a name for himself during his three years with the Sacramento Kings, where he averaged more than 20 points per game during his final season, people continued doubting him. They said he was better suited as a role player, not a star. After a brief, disappointing tenure with the Phoenix Suns, the team traded Thomas to the Boston Celtics in the closing moments of the 2015 trade deadline.

All-Star and MVP Candidate
After taking the role as the sixth man during his first partial season with the Celtics, Isaiah Thomas became a full-time starter in his first full season. He morphed into the star of the loaded Celtics team in his second full season.

The 2016-17 season a career year for Thomas, who put up 28 points per game while, along with Al Horford, leading a very young Celtics squad. The result was an All-Star appearance for one of the league's best ballhandlers, and even some MVP votes.

One particularly poignant moment came in the NBA playoffs, when Thomas, who was helping the hobbled Celtics through the playoffs, got word that his sister, Chyna died in a car accident. Thomas was devastated, but he didn't let this affect his on-court focus. During a second-round game against the Washington Wizards, Thomas, who was hobbled by injuries on top of the emotional burden, put up 53 points against the Washington Wizards.

Although his season was cut short in the team's final series with a hip injury, many expected Thomas to be a star for the Celtics for many years. Then, he was traded.

The downfall of Isaiah Thomas
In a surprising move, Thomas went to the rival Cleveland Cavaliers via trade in exchange for superstar point guard Kyrie Irving. Many expected Thomas to take over Irving's role with ease, but after missing the first two months of the season, Thomas failed to play up to his expectations. Cleveland traded him to the Lakers after only 15 games, and after playing only 17 games with the Lakers, Thomas left via free agency. He signed for the veteran minimum with the Denver Nuggets, where he played only 12 games during the 2018-19 season.

Thomas's quick downfall has been a surprise, and his short prime could be compared to Gilbert Arenas, who also fell off quickly after a brief time as a superstar. However, after signing with a team who won't have star point guard John Wall this season, Thomas may be in the perfect place to restart his career. With another All-Star, Bradley Beal, in his backcourt, perhaps he can regain some of his missing mojo.

A resurgence in the capital?
Hip injuries are no joke. The severity even forced the Celtics to add more assets to their trade of Thomas, and many have accused Celtics executive Danny Ainge of forcing Thomas to play when he should not have been on the court. A torn labrum, the injury Thomas suffered through, is notorious for lingering pain and lack of mobility long after the tear.
For less mobile players who have suffered from it, such as LaMarcus Aldridge, the injury is easier to work through, even if the pain lingers. For a smaller player like Isaiah Thomas, who relied on quickness to power his game, the injury can be tough to come back from. Still, if Thomas can play through the pain and adjust his skill set to his body's ability, perhaps he can come back, maybe not as a star, but as a valuable guard in the NBA.