Can Miami's Josh Rosen Save His NFL Career?
Josh Rosen's NFL career is on life support. In less than two years, Rosen has gone from a first-round pick of the Arizona Cardinals to a possible third-string quarterback with the Miami Dolphins. The former UCLA Bruins standout who entered the NFL with high hopes is poised to begin his third NFL season as the forgotten man in Miami's quarterback room.
Can Josh Rosen turn things around and revive what could have been a long and successful stint in the NFL? Let's examine the case.
What has gone wrong with Josh Rosen's NFL career?
Perhaps the better question is what has gone right with Josh Rosen's NFL career. The Arizona Cardinals selected Rosen with the 10th overall pick in the 2018 NFL draft. Rosen's rookie year had more lows than highs — he completed only 55.2% of his passes for 11 touchdowns and 14 interceptions — but he had to play behind a horrific offensive line and deal with a midseason coordinator change.
Had the Cardinals kept Steve Wilkes as coach, perhaps Rosen would have earned another chance in 2019. But when former Texas Tech head coach Kliff Kingsbury replaced Wilkes, it was clear Kingsbury would use the No. 1 overall pick on Oklahoma quarterback Kyler Murray. Arizona traded Rosen to the Miami Dolphins last year and, when Rosen got his chances, he was unimpressive. Rosen was winless in three starts and threw one touchdown to five interceptions.
Rosen's future with the Miami Dolphins is uncertain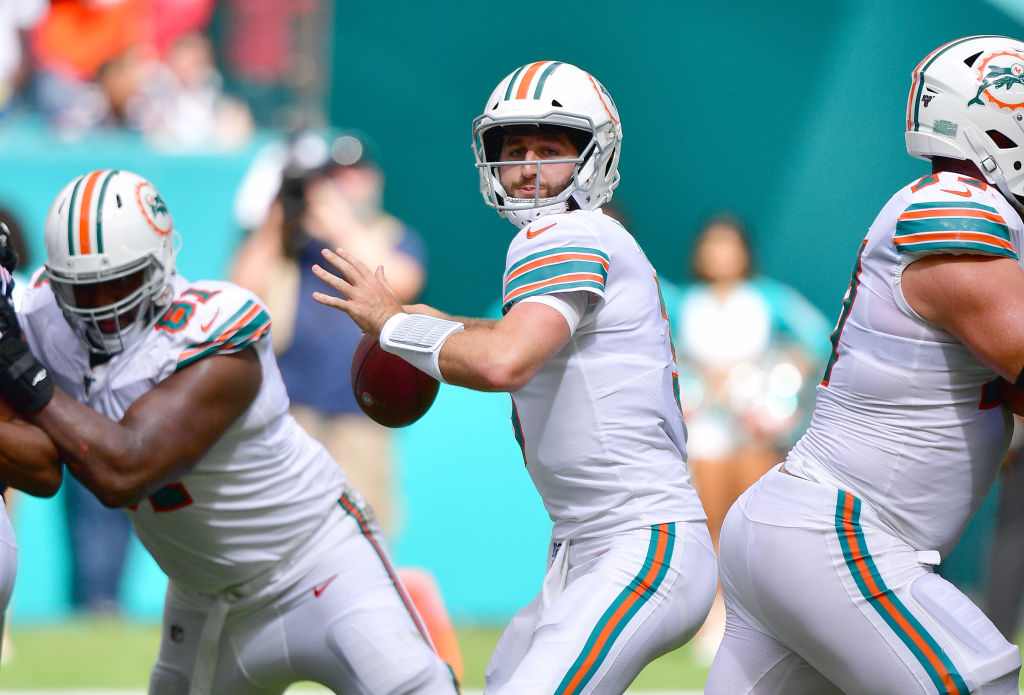 The Miami Dolphins traded for Josh Rosen last year hoping he could turn into a serviceable starting quarterback — and, possibly, the next face of the franchise. Both of those things could still happen, but the odds against them happing with the Dolphins increase every day.
Miami has veteran Ryan Fitzpatrick returning for the 2020 season and the Dolphins are expected to draft at least one quarterback next month. Alabama's Tua Tagovailoa has been linked to the Dolphins for months, although there have been recent internet reports suggesting Miami could trade up for LSU's Joe Burrow.
Because Rosen is still on his rookie contract, he is an affordable third quarterback option in the Dolphins' ideal world. Fitzpatrick could open the year as the starter while the rookie, whether that is Tagovailoa, Oregon's Justin Herbert, or someone else, bides their time from the bench. Miami could also draft two quarterbacks in April — one in the first round and another on Day 3 — and figure out the Rosen situation later.
Which teams could trade for Josh Rosen?
The best thing working in Rosen's favor is his contract. A team wanting to trade for him wouldn't be stuck taking on a large contract for a backup quarterback. Although an inter-division trade has its risk, the New England Patriots work as a possible fit for Rosen if their NFL draft strategy doesn't go as planned. The Patriots have former Auburn quarterback Jarrett Stidham and veteran Brian Hoyer in the quarterback room, but Hoyer has struggled as a starter in recent years and Stidham is still raw.
The Green Bay Packers and Los Angeles Rams each could use a young, talented quarterback to sit behind Aaron Rodgers and Jared Goff, respectively. The Pittsburgh Steelers swung a trade for Dolphins defender Minkah Fitzpatrick last fall and are still looking for Ben Roethlisberger's heir. Whether or not Josh Rosen is a better option than Mason Rudolph is another conversation.
All of this is speculation and Rosen is currently a Dolphin. With the way things are going and how the Dolphins are approaching the future, however, it seems unlikely that Rosen will be in Miami for the entire 2020 season.