Can NASCAR Cup Series Driver Kyle Larson Handle the Championship 4 Pressure?: 'It's Been a Long Time Since I've Truly Raced for a Championship'
NASCAR Cup Series driver Kyle Larson is in a strange place.  
A good place.  
A much better place than he was in 2020, to be certain, but a weird place.  
He likes his new surroundings.  
NASCAR Cup Series driver Kyle Larson facing Championship 4-race pressures for the first time 
Larson was the first to qualify for the Championship 4 showcase event on Nov. 7, dominating the series during his first spin with Hendrick Motorsports. Not including the $1 million all-star event victory, he collected nine wins, 19 top-five finishes, and 25 top-10s.  
Larson enters the Series Cup championship race at Phoenix Raceway as the top-seeded driver. Considering last year, he watched the final four title race from a North Carolina team garage, Larson likes the unusual situation of competing in his first Championship 4. 
The knock against Larson is he's never experienced this kind of title-clinching pressure at the NASCAR Cup Series level. Or, for that matter, most any other level, outside of sprint cars over a decade ago.  
"It's been a long time since I've truly raced for a championship, and I don't really remember how I felt then," Larson told nascar.com. "I won a sprint-car championship in 2010. I won the K&N championship in 2012. So, it's been almost a decade since I've been in this position with a championship.   
"I feel like, though, if I was nervous then, I don't feel nervous now."  
Larson is confident he'll develop pre-race Championship 4 'butterflies'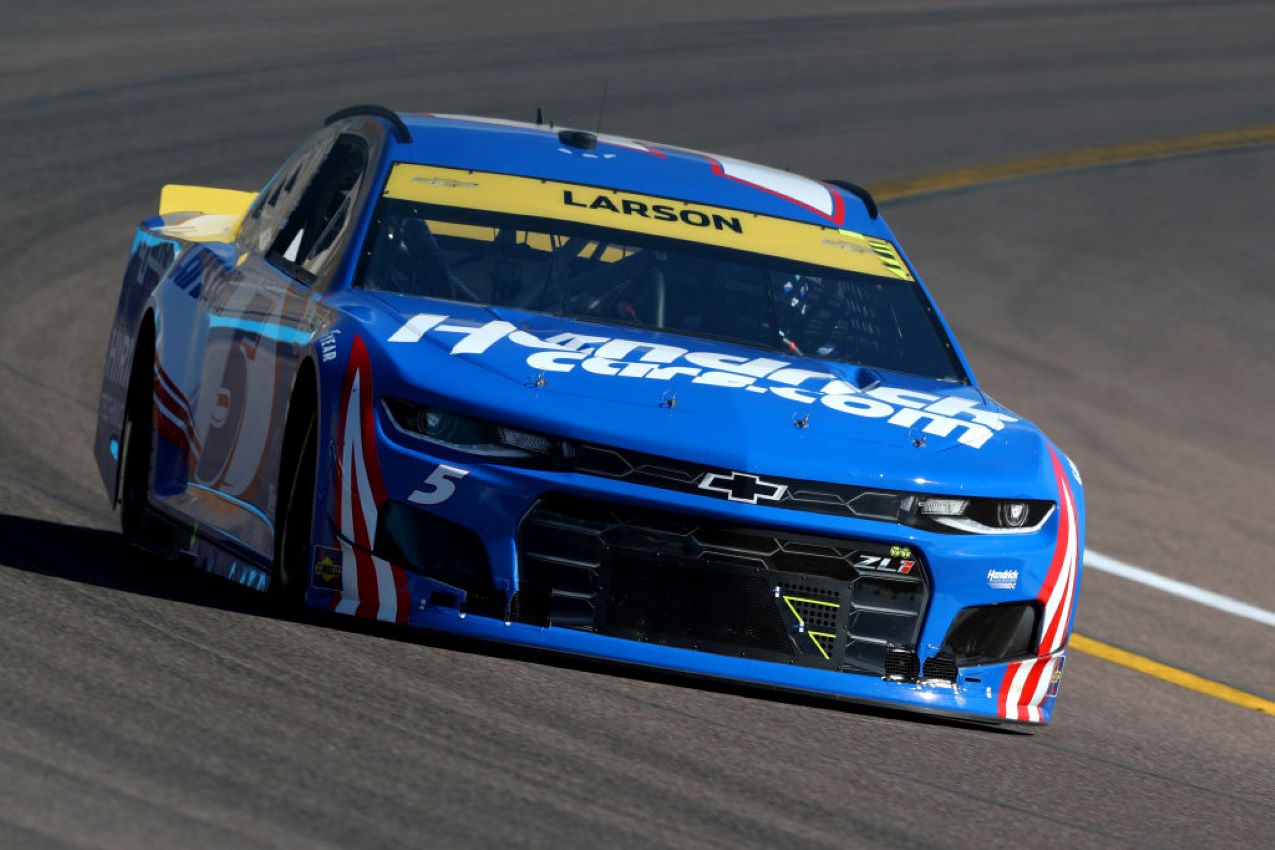 Larson can talk a good game, but he knows better.  
When the field lines up at the 1-mile desert track on Nov. 7, his nerves will be racing.  
"I'm sure once Sunday comes around, I will have butterflies," Larson said. "But right now, I haven't felt them."   
Before joining Hendrick last winter, Larson's best playoff charge developed in 2019 with Chip Ganassi Racing, which is disbanding its Cup Series operations after Phoenix. Larson qualified for the Round of 8, but finished sixth, missing out on the final four.  
In 2017 and '18, Larson ran in the Round of 12 and the Round of 16 in '16.  
Last year, he didn't have a seat following his NASCAR suspension and subsequent firing by Chip Ganassi Racing for using a racial slur during an iRacing streaming event.  
Larson took a moment to reflect on the past few years and where he now finds himself.  
"This is something you always dream about, being in this position to win a championship," Larson said. "I'm just very happy and thankful and lucky to be sitting where I am right now." 
Larson lacks Championship 4 experience, unlike other three drivers
On Nov. 7, Larson will face defending Cup champion and teammate Chase Elliott, 2017 Cup champion Martin Truex Jr. and three-time final four participant Denny Hamlin.  
All three are experienced in handling the strains of driving for a series title. 
Larson, however, has yet to prove he can handle the Championship 4 pressure.