Can Patrick Mahomes and the Kansas Chiefs Dominate Their Way to a 20-0 Season? At Least 1 NFL Analyst Thinks So
Patrick Mahomes and the Kansas City Chiefs are amongst the NFL's elite. Led by future Hall of Fame coach Andy Reid, the organization has experienced great success over the past few seasons.
Mahomes and the Chiefs came up short during last year's Super Bowl against Tom Brady and the Tampa Bay Buccaneers, but that's no reason for panic. The Chiefs aggressively beefed up their offensive line this summer, and Mahomes is arguably the best quarterback in the NFL.
In fact, some are feeling so good about Mahomes and the Chiefs in 2021 that they're predicting a full-on undefeated, 20-0 campaign.
Nick Wright believes Patrick Mahomes and the Kansas City Chiefs can go 20-0
On a recent airing of "First Things First," popular TV host Nick Wright revealed his NFL tiers list heading into the new season. He organized the league into 10 total tiers, ranging from "Expansion 2.0" with the lowly Houston Texans all the way up to "20-0?" with the Chiefs.
A 20-0 campaign sounds impossible at first glance, but this is Mahomes, Reid, and the Chiefs that we're talking about here. If there were a team to bet on accomplishing such a feat in 2021, it would be Kansas City.
The Chiefs had a productive offseason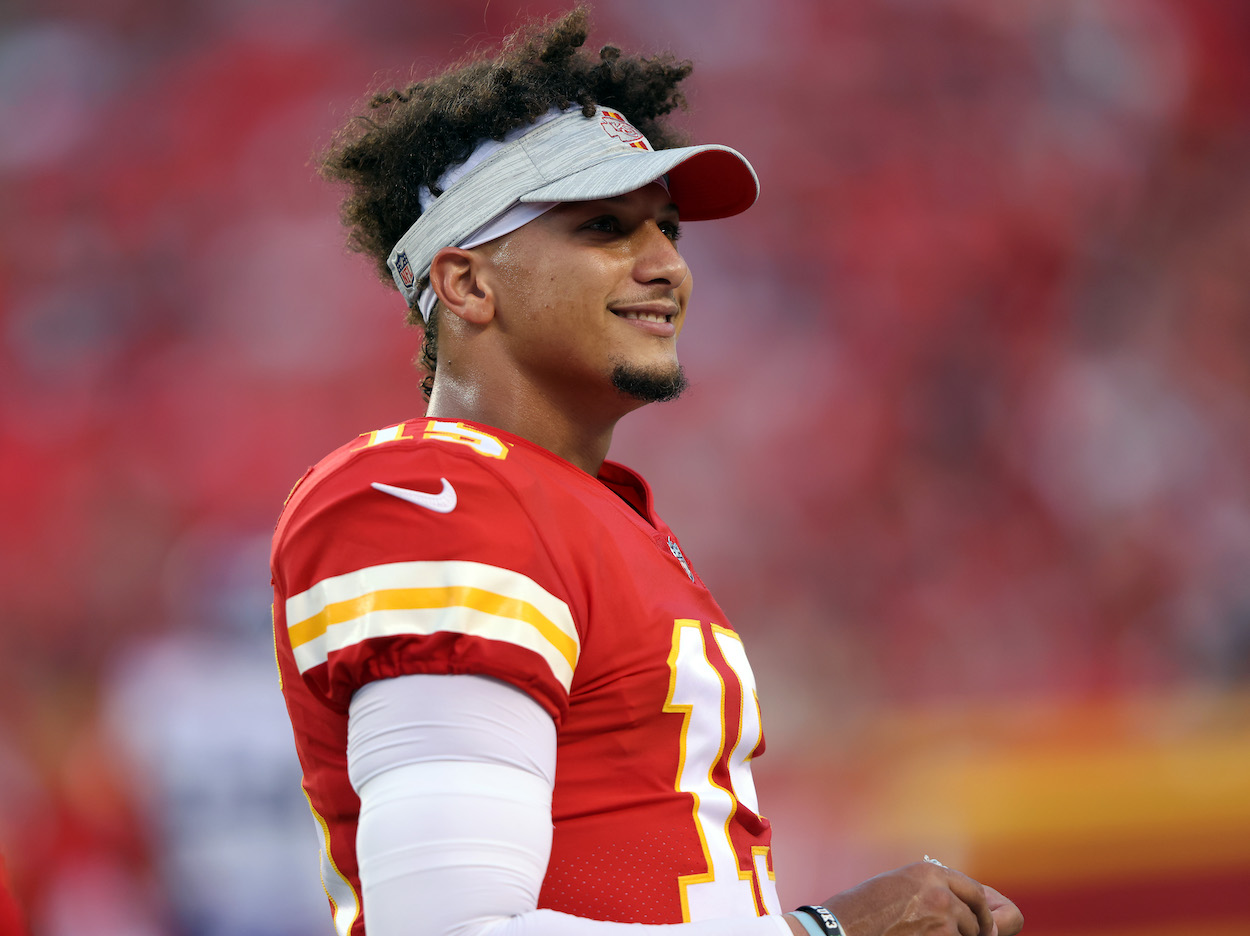 So why exactly are the Chiefs being thrust into an undefeated category by Wright?
For starters, the front office went out and completely overhauled the team's offensive line this past offseason. After watching Mahomes spend most of the Super Bowl running for his life due to poor line play, Chiefs general manager Brett Veach wasted little time overhauling the position group. He signed key veteran free agents Joe Thuney, Kyle Long, and Austin Blythe. Veach also poached standout offensive tackle Orlando Brown Jr. away from the Baltimore Ravens.
The Chiefs were able to make last year's Super Bowl with a relatively average offensive line. Now, they have a borderline elite one.
In addition to their new-look O-Line, the Chiefs are largely returning the same roster that helped them win the AFC the past two seasons. Mahomes is obviously still under center, Tyreek Hill is still the team's WR1, Travis Kelce remains the starting tight end, and running back Clyde Edwards-Helaire is looking to take a massive second-year leap.
On the defensive side of the ball, Tyrann Mathieu and Chris Jones continue to lead the charge. Kansas City has never had an elite defense, but they've been more than serviceable in recent years.
They did lose veteran WR Sammy Watkins via free agency — keep an eye on the Chiefs potentially adding another WR at the trade deadline.
Patrick Mahomes has to win MVP to go 20-0
In conclusion, going 20-0 is a near-impossible feat. The only way for such an outcome is if Mahomes performs like the clear and conclusive MVP.
Mahomes won MVP in 2018 by throwing for 5,097 yards and 50 touchdowns, but even that was only good enough for 12 wins and a premature exit in the postseason. The fifth-year QB will have to find a way to outperform his already ridiculous past seasons if the Chiefs truly want a shot at going undefeated.
All stats courtesy of Pro Football Reference.