Can Russell Westbrook Average a Triple-Double for the Season?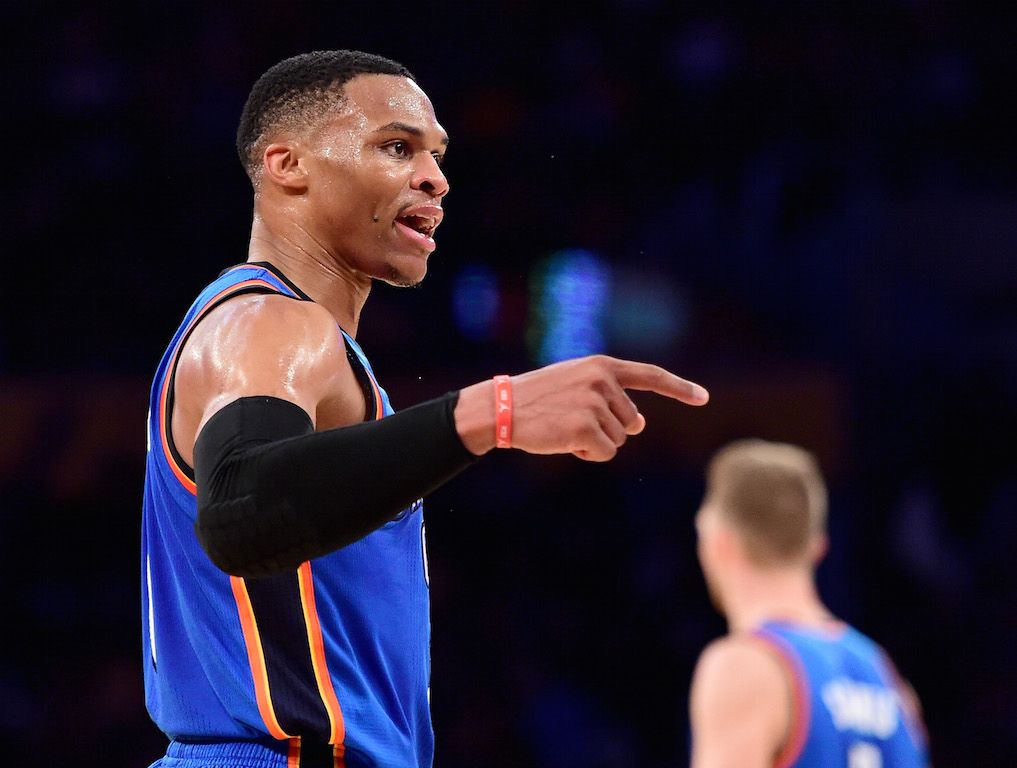 The NBA is chock full of entertaining players. Unless you live under a rock, this is already common knowledge. But, if you ask us, we tend to take things like this for granted. We're so used to watching players perform at such a high level — making it look effortless in the process — we tend to lose sight of the fact that what they do is not easy; it's damn hard. And this fact only highlights just how incredible Russell Westbrook's 2016–17 season has been.
If it feels like the Thunder's All-Star point guard is continuously stuffing the stats sheets this season, we can give a simple explanation: He is. In Oklahoma City's recent 112-103 victory over the New York Knicks back in November, Westbrook finished the contest with 27 points, 18 rebounds, and 14 assists. This was his third straight game with a triple-double and his eighth of the season. It brings his season averages (through the first 19 games of the year) to 30.9 points, 10.3 rebounds and 11.3 assists. That's right, Westbrook isn't just getting triple-doubles, he's averaging them.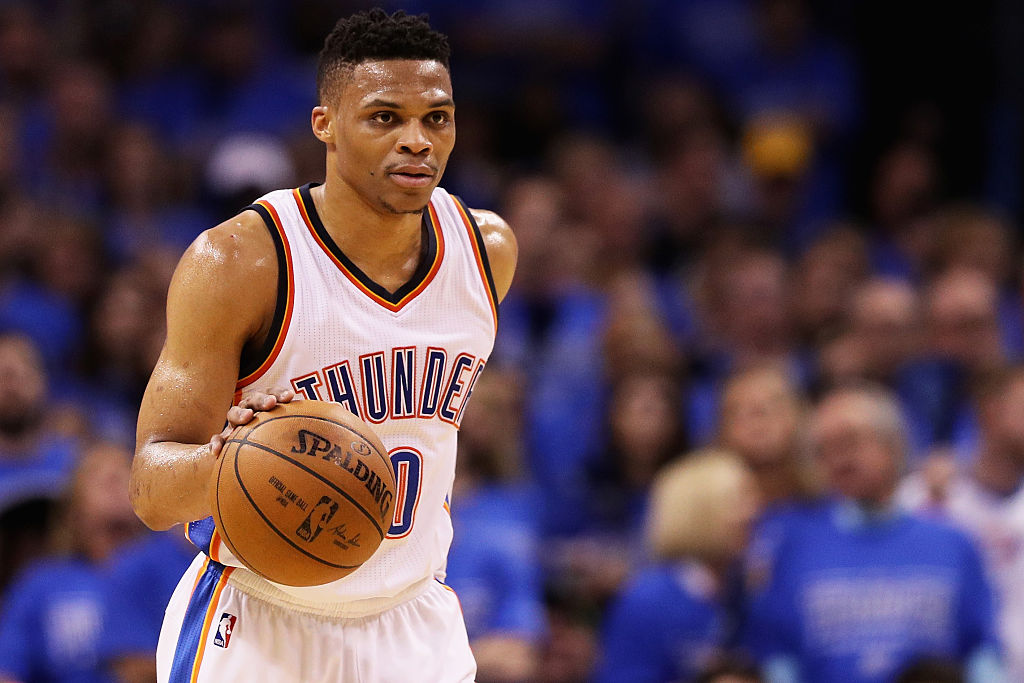 While most players would probably bask in the glow of this sort of individual excellence, "The Brodie" is not most players. Whether or not he maintains these numbers for the rest of the season is inconsequential. For him,  it's all about winning, as he explains: "Winning is sustainable. My job is to go out and find the best way to win games. Right now, we won three straight, and that is the most important to me."
Westbrook might not care about the numbers, but that's not going to stop us from posing the question that everyone's probably thinking: Does he have what it takes to average a triple-double for the year? (Full disclosure: he does and will).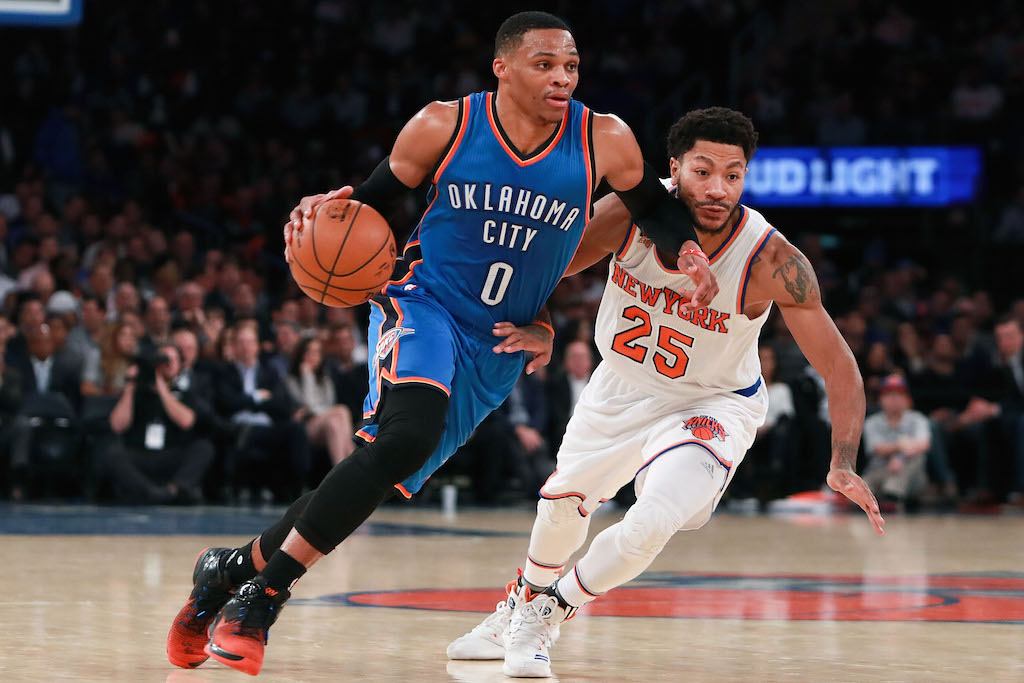 In the history of the National Basketball Association, only one player had ever averaged a triple-double for an entire season. Oscar Robertson did it back in 1961–62, when he averaged 30.8 points, 12.5 rebounds, and 11.4 assists per game. In fact, it was that same year that the "Big O" became the first and only player to average a triple-double entering the month of December. Back in October, when Westbrook was doing everything necessary to add his name to the list, this incredible feat was not lost on Thunder head coach Billy Donovan:
It's amazing what he's doing. There's also a part of it that he's probably the most unique player in the NBA because you've got great scorers, great assist guys, great rebounders. There are a lot of great players in this league. But he kind of touches it all in every facet of the game. He gets those numbers, but there's so much more to him than that to me, as a coach."
It's not uncommon for today's star players to put up massive numbers. Unfortunately, in many of those instances, they wind up being empty stats, as the individual's team falls short of the all-important W. With Westbrook, however, it's the exact opposite.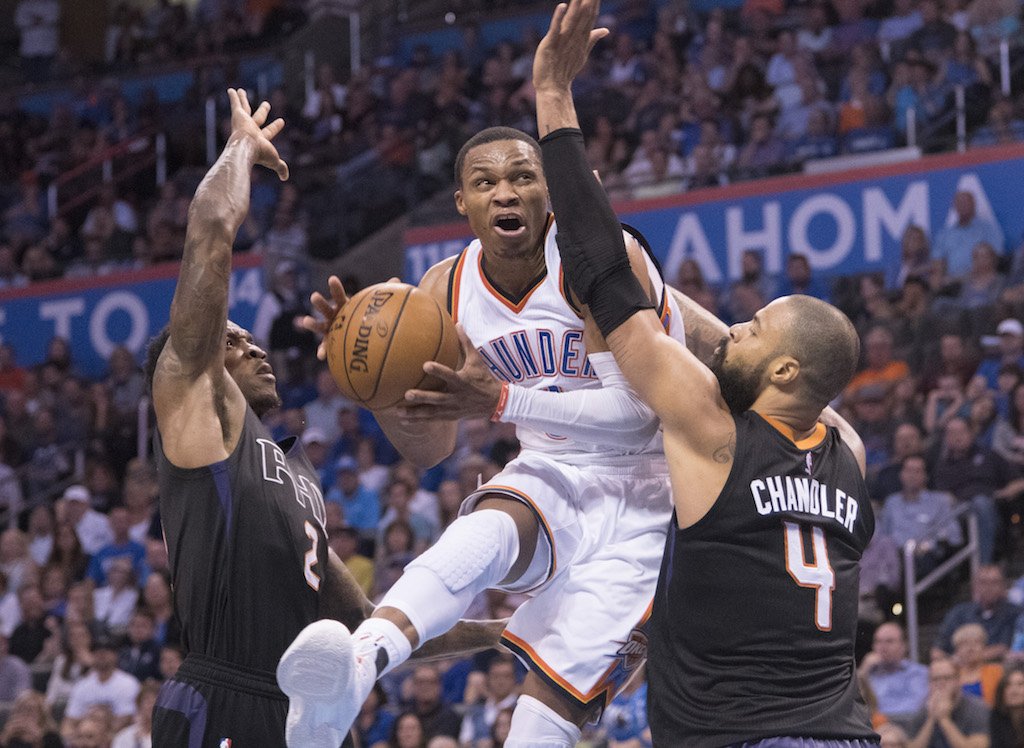 Earlier this season, when Westbrook was busy notching his 45th career triple-double, the Oklahoma City Thunder were also flying high; something they seem to do whenever Russ is filling up the stat sheet. According to ESPN, at the time, Oklahoma City was 39-6 when Westbrook notched a triple-double. Of course, Donovan is well aware that things aren't always going to end up this way:
You can't always expect to get numbers and win. It doesn't work like that. There's more to it than that. The thing I'm encouraged by is when he does what he did tonight and we win. Does what he did against Detroit and we win. There's certain times when [a player] goes off and gets crazy numbers, and his team loses. Winning is the most important thing to Russell. And he knows that his assists, his rebounds and his scoring, being efficient, helps our team win.
Now that OKC no longer boasts the two-man punch of Russ and KD, it's more important than ever for the former to maintain his level of "efficiency."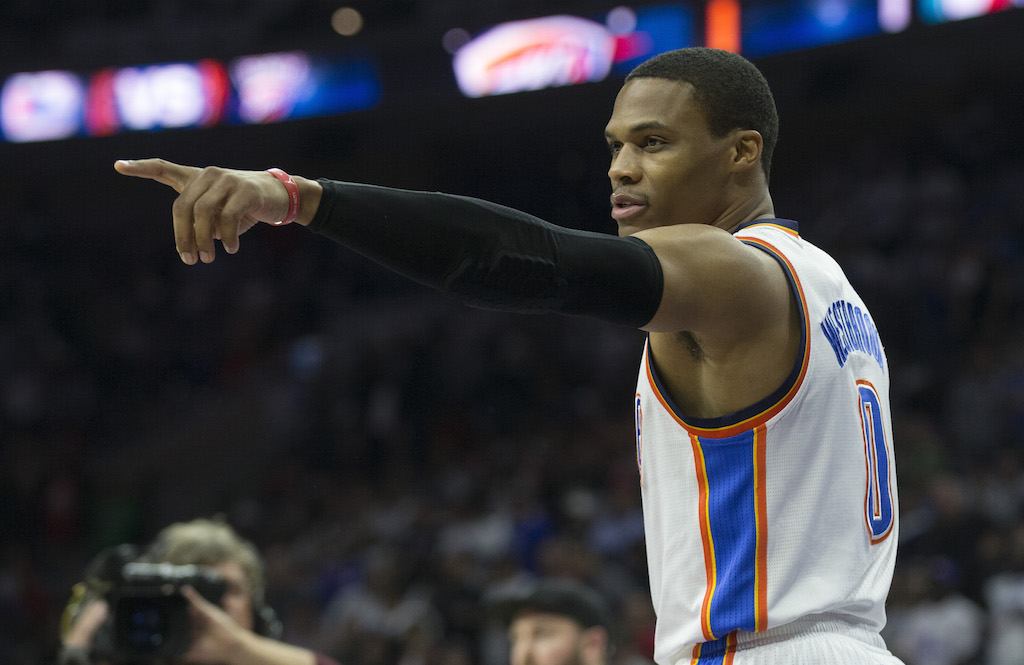 Through the first 19 games of the 2016–17 season, the Oklahoma City Thunder were 11-8 and their superstar point guard had eight triple-doubles and was averaging 30.9 points, 10.3 rebounds, and 11.3 assists per contest. Despite how hard Westbrook attacks the game, it was difficult to imagine him being able to maintain these numbers. Interestingly enough, the man himself didn't really care either way.
According to Westbrook, he's just thankful for the opportunity to play the game:
I don't really care, honestly, man. I just like to win and compete at a high level, play the same way every night. I've been playing the same way since I got in the league, so I just do the same thing, and [I'm] grateful to be blessed and play the game I love.
We're grateful as well; grateful that we get to watch Westbrook play the game, and grateful that he's allowed us to witness history in the making.
That's right, Robertson is no longer the only player in NBA history to average a triple-double for the single. No matter what he does for the rest of the year, Westbrook is guaranteed to join the Big O on that exclusive list. And if that wasn't enough, The Brodie also set a new record for the most triple-doubles in a single season — a mark previously held by Robertson — with 42.
With the 2016–17 regular season winding down, Westbrook is averaging 31.9 points, 10.7 rebounds, and 10.4 assists per game. When it's all said and done, these numbers might fluctuate a bit. However, not enough to change the course of history or unravel one of the greatest individual seasons the NBA has ever seen. That, thanks to the magical year of Westbrook, is already set in stone.
Statistics courtesy of Basketball-Reference, ESPN, and ESPN Stats & Info.