Can Suspended Georgia RB Todd Gurley Still Win the Heisman Trophy?
"The Heisman Memorial Trophy annually recognizes the outstanding college football player whose performance best exhibits the pursuit of excellence" — that sentence, from Heisman.com, sums up what college football's most prized individual award is all about. The phrase has been simplified enough that sports media and fans usually refer to the recipient as being the "most outstanding player in college football." Inside that wording, the question remains, though, whether the outstanding excellence a candidate should display needs to be both on the field and off the field. Or is it enough to rack up touchdowns, yards, and wins on Saturday and do whatever you want the other six days of the week?
That brings us to Georgia running back Todd Gurley, who has spent the first six weeks of his junior season as one of the favorites to win the 2014 Heisman, or maybe even the frontrunner, depending on whom you ask. Gurley has tallied more than his share of the aforementioned touchdowns, yards, and wins: He has 773 rushing yards on 8.2 yards per carry, eight touchdowns, and has really done it all for the 4-1 Bulldogs. Throw a pass? Check. Run a kick back for a 100-yard touchdown? Check. Gain more rushing yards than everyone else on his team put together? Check.
However, Gurley is now making headlines for something besides football. The junior star was suspended indefinitely Thursday "during an ongoing investigation into an alleged violation of NCAA rules," according to the university. Multiple reports indicate that Gurley has been accused of signing memorabilia for money, a no-no in amateur athletics. While the loss of Gurley for any portion of the season would be devastating to No. 13 Georgia's divisional, conference, and national title hopes, the national conversation just as quickly turned from the team ramifications to the individual: Namely, what does this week's news mean for the Heisman race?
And so, we come full circle to the larger question facing Heisman Trophy voters with increasing regularity in recent years: Does an off-field incident or allegation mean a player doesn't deserve to win such a career-defining award? Or only if proven guilty? Perhaps if the player committed a crime, he should be removed from consideration, but simply breaking NCAA rules isn't enough to disqualify him?
What's interesting is that the Heisman Trust seems to have answered that question for us with the words that aren't included in the award's mission statement. Or, to be accurate, the words that aren't included in the award's mission statement anymore.
Imagine this writer's surprise when researching the purpose of the Heisman Trophy to find out that the 2014 website's iteration of the mission is short a couple of important keywords that had always been there previously. See if you can find the difference between the current model (the first sentence in this story) and this older model, quoted below, which is referenced verbatim in stories from November 2013 and December 2013, among others:
"The Heisman Memorial Trophy annually recognizes the outstanding college football player whose performance best exhibits the pursuit of excellence with integrity."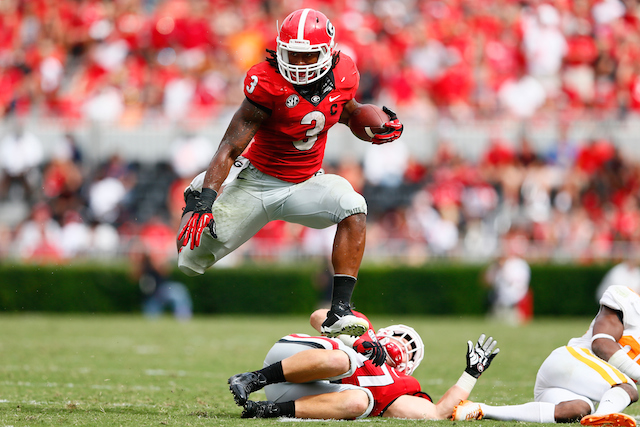 Somehow, without much fuss, and as at least one writer publicly asked for not that long ago, the Heisman website — and we're assuming the trust itself — did away with the so-called "integrity clause." In the modern era of Reggie Bush's returned trophy, someone belatedly decided the integrity part of the equation isn't as important as it used to be. In a day when three of the last four Heisman winners have been dogged by off-field accusations of violations or worse (see: Cam Newton, Johnny Manziel, Jameis Winston), the focus for deciding who's going to win the award appears now to solely be on what happens between the lines each Saturday afternoon. And that's too bad.
Integrity is important. It's important in football. It's important in life. I'm glad an award like the Heisman Trophy used it as a guideline for deciding who deserves such an important honor. I'm saddened and disappointed that it isn't anymore. Maybe it's just too hard for voters to sort out what's fact and what's fiction. Maybe that shouldn't be a sportswriter's job. Or maybe it should.
The bottom line here is that Gurley's suspension could have — and some might argue, should have — cost him a Heisman Trophy in a different season. Even if you believe an athlete deserves to make money off his/her likeness or signature, the NCAA rules are the NCAA rules. But instead, if Gurley loses out on the Heisman Trophy, it won't be because of any off-field noise alone. It will only be because he didn't get to play in enough games to put up the touchdowns, yards, and wins that are so near and dear (above all else) to modern football fans and writers. Again, that's too bad.