Can the Chicago Bulls Weather This Latest Storm?
Tom Thibodeau doesn't like to think about what could have been, and he most certainly doesn't have time to dwell on the past. For him, it's more important to focus on the present; that's all he can control. And right now, the Chicago Bulls are going to need their head coach's full attention, because at this moment in time, their situation is not pretty.
It was one thing when the Chicago Bulls only had to deal with the absence of star Derrick Rose, sidelined after undergoing a meniscectomy in his right knee, but now they'll have to potentially play the rest of the regular season without All-Star Jimmy Butler, who injured his left elbow in Sunday's loss to the Los Angeles Clippers.
We now know that the injury has been diagnosed as a sprained ligament, and while Butler won't require surgery, he is expected to be out three to six weeks. This is another unlucky break for the Chicago Bulls. Unfortunately, that's how it goes sometimes.
"Obviously you want luck, you want a lot of things to go your way," said Thibodeau. "There are times when things do go your way. I think the measure of a man is what do you do when it's not going your way. As I said yesterday, no one's going to feel sorry for us, so it's up to us to make good."
The Bulls will do what they always do when adversity strikes — they'll continue to push forward. However, this is clearly the greatest amount of obstacles they've had to deal with at one time, so who knows how they'll respond. This is a tough and gritty team, but do they have what it takes to weather this latest storm?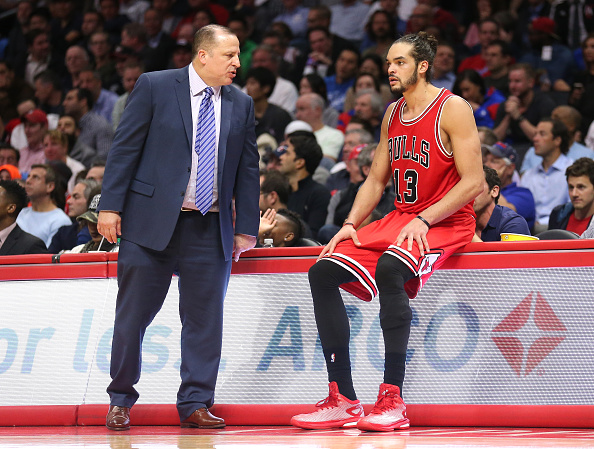 Butler has become the driving force for the Chicago Bulls this season. Not only is he their leading scorer at 20.2 points per game, but he's also averaging the most minutes per game out of anyone else on the team. His 38.9 minutes a game is a little over four minutes more than the next closest Bull (34-year-old Pau Gasol).
But it won't just be his scoring that the Bull miss; it will be what he brings to the defensive end, as well. His skills as a perimeter defender will be extremely difficult to replace, and losing him for an extended period of time is going to pose a major challenge. Fortunately, the Bulls are not without other talented players, and these pieces have what it takes to step up.
Gasol has found a resurgence in his game since signing with the Chicago Bulls this past summer. He's played in 56 games on the season and is averaging 18.2 points and 12.1 rebounds per game. Not only that, Gasol has worked hard to shed that "soft" label that his followed him around for much of his career.
His addition to an already formidable interior presence, which includes reigning Defensive Player of the Year Joakim Noah and rising rookie Nikola Mirotic, means that the Bulls have what it takes to control the paint. If they're going to win ball games without their two biggest scorers, then they need to continue to be dominant on the glass. On top of that, they're going to have to get more production from the rest of the supporting cast. It will be difficult, but it's certainly not impossible.
The Chicago Bulls have a difficult March schedule ahead of them, and they face a major uphill climb without their two leading scorers in the lineup. But we can't forget that the Bulls currently have a 37-23 record and sit in the third spot in the Eastern Conference standings. Barring a complete and utter meltdown, the Chicago Bulls will make the playoffs.
And when that happens, hopefully they'll be at full strength and ready to make a run at a title. The only way they could really be in trouble is if they far fall enough in the standings to not only get an unfavorable matchup but lose home court advantage in the process. But that's getting a little ahead of the proceedings, and that's not how they do things in Chicago.
In Chicago, they grit their teeth, play hard, and take on whatever obstacles stand before them. This upcoming stretch will not be easy, but if anyone is capable of weathering the storm, it's the Chicago Bulls.
All statistics are courtesy of Basketball-Reference.com and ESPN.com.