Can You Guess John Calipari's All-Time Starting Lineup at Kentucky?
The best coaches in college basketball earn their lofty paychecks. They recruit top high school prospects; they install a winning culture that allows their teams to regularly compete for national championships; and most importantly — especially in today's landscape — they have a track record of getting players to the NBA. While there are plenty of great college basketball coaches out there, few are able to achieve the above three things (particularly the last one) quite like Kentucky's John Calipari.
Since taking his talents to Lexington in 2009–10, Calipari has returned the Wildcats to glory. He's amassed a 238-52 record (.821 winning percentage), been to four Final Fours, and won a national championship in 2011–12. This man makes Kentucky the premier destination for players who aspire to compete at the next level. But the thing is, Coach Cal doesn't just send players to the NBA; he sends superstars.
In an interview with Reid Forgrave, for Bleacher Report, Calipari discussed this topic by talking about what he likes to call "Coaching Extreme Talent." At one point during the discussion, Forgrave asked him if he believed a team consisting of his ex-Kentucky players could win an NBA championship. As we're sure you already guessed, if we discuss a hypothetical situation where the salary cap wasn't an issue, then Calipari absolutely believes they could win a title. The remaining question: Which players would make the starting lineup?
Fortunately for us, Calipari had an answer to this question as well. See for yourself.
1. Then: John Wall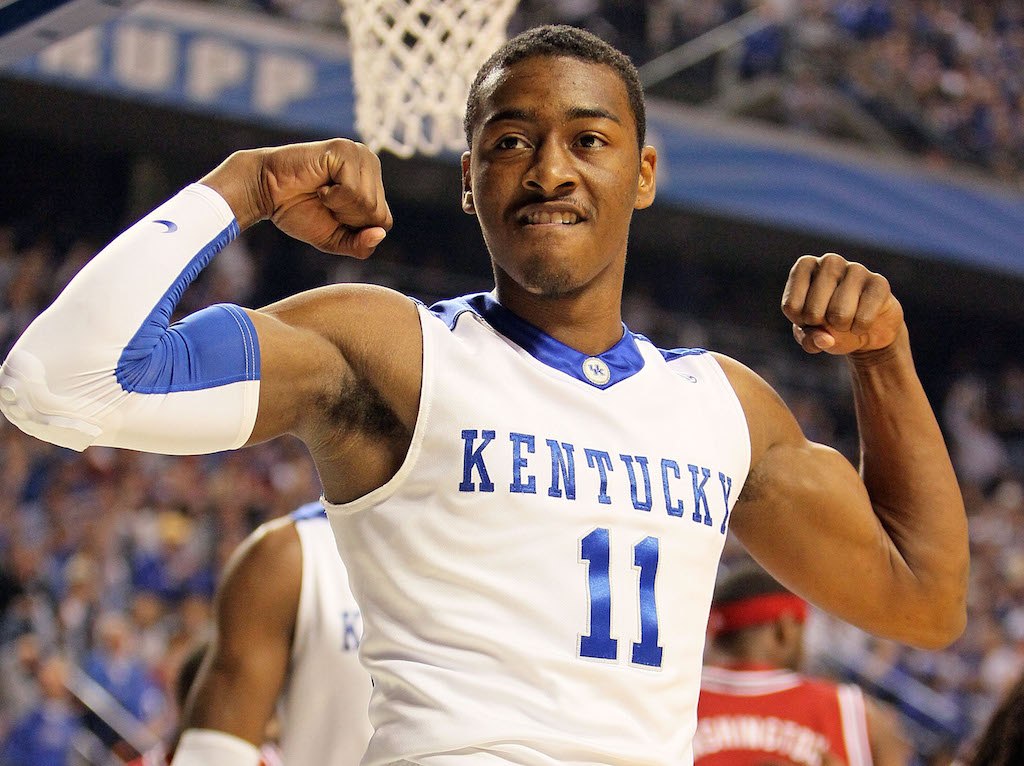 Although he failed to win a title during his lone season (2009–10) at Kentucky, John Wall proved he had the makings of a future superstar. In just under 35 minutes per game, Wall averaged a team-high 16.6 points and 6.5 assists while shooting 46.1% from the field and 32.5% from three-point range. For his outstanding play on the season, Wall would be named SEC Player of the Year and earn First-Team All-American honors.  To no ones surprise, the Washington Wizards selected the Kentucky superstar with the No. 1 overall pick in the 2010 draft.
Now: John Wall
With the NBA being such guard-heavy league, it oftentimes feels as if Wall doesn't get the credit he deserves. Still, that doesn't make him any less of a bona fide superstar. Since entering the league, Wall has career averages of 18.5 points, 4.5 rebounds, and 9.1 assists per game, has been a member of both the All-Rookie (first) and All-Defensive (second) teams, and has been selected to the All-Star Game four times. Optimus Dime is the obvious choice to run point for a team made up of ex-Calipari players.
2. Then: Devin Booker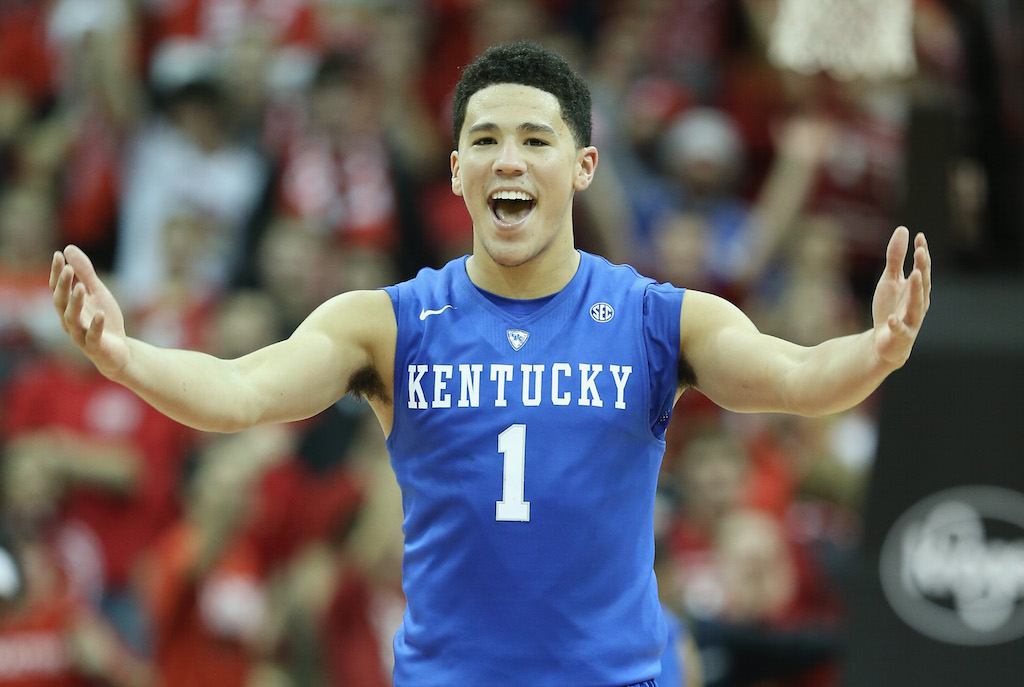 Devin Booker wasn't a standout on the 2014–15 Wildcats team, but he was definitely the squad's best pure shooter. In fact, despite playing just one season at Kentucky, where he averaged 10.0 points per game, many pundits actually believed he was the top shooter in the entirety of that year's draft class. Considering he knocked down 47.0% of his shots and connected on 41.1% from beyond the three-point arc as a freshman, it's hard to argue with them. Booker's star power has only risen since coming into the league.
Now: Devin Booker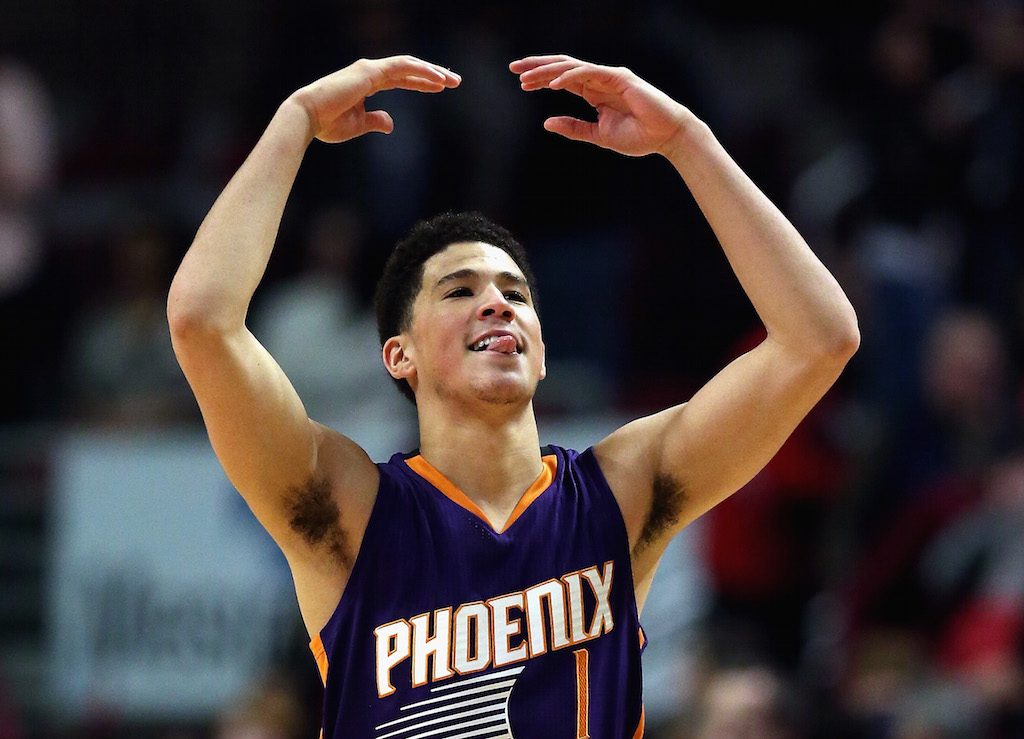 The Phoenix Suns nabbed Booker with the 13th overall pick in the 2015 draft, and it's safe to say they have no regrets about the decision. The 20-year-old shooting guard was a First-Team All-Rookie in 2015–16, and in less than two full seasons, already has the look of a perennial All-Star. This year, Booker is averaging 21.1 points per game, shooting 42.5% of the field, and draining 36.7% of his triples. It's no wonder Calipari named him his starter at the two.
3. Then: Anthony Davis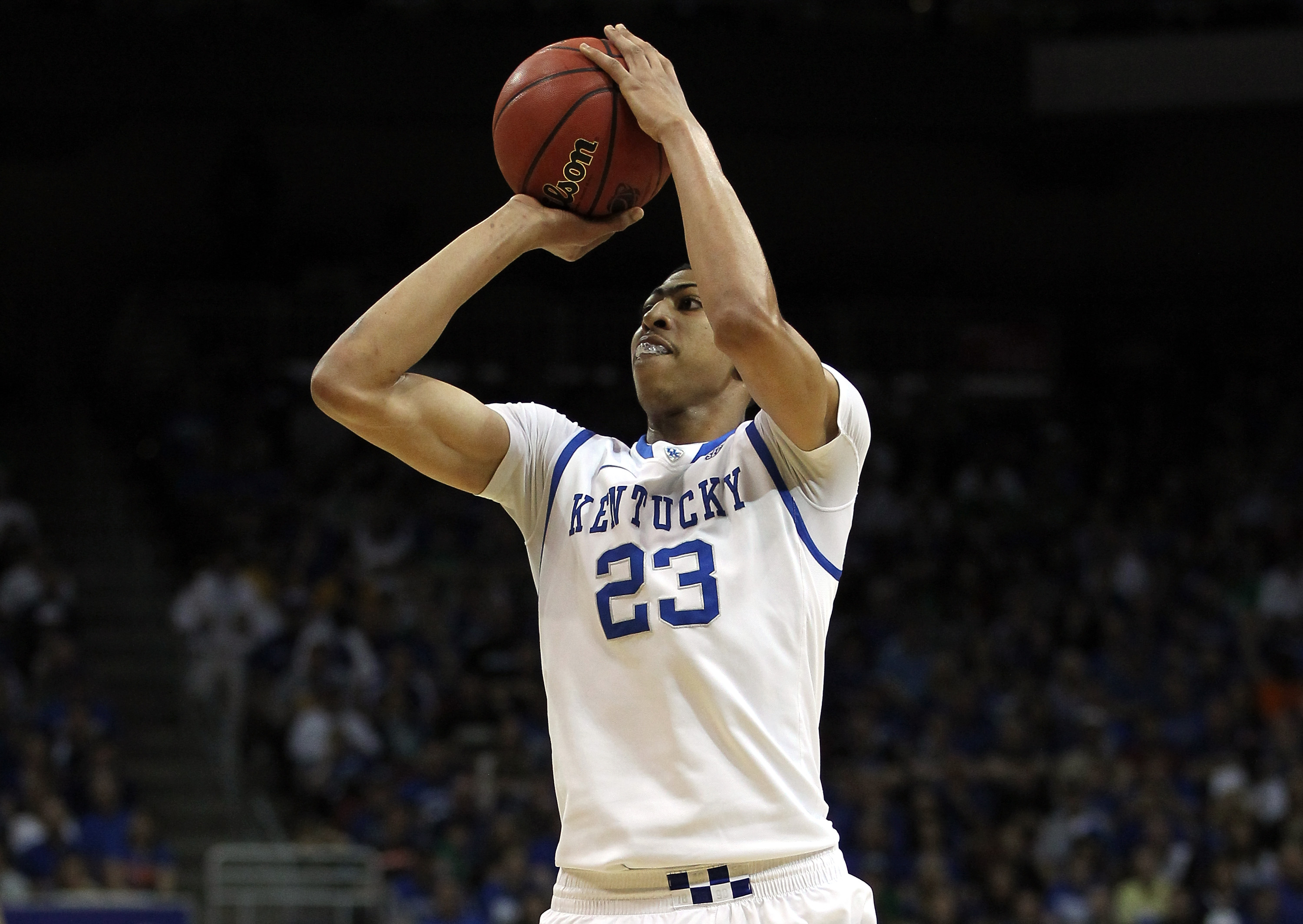 Anthony Davis is a once-in-a-generation talent; something he consistently showcased in his lone season (2011–12) at Kentucky. That year, the Brow proved to be a difference maker on both ends of the floor, averaging 14.2 points, 10.4 rebounds, 1.3 assists, 1.4 steals, and 4.7 blocks a contest. The Consensus All-American cleaned up in end-of-the-year awards, winning the Wooden Award, the Rupp Trophy, the Naismith Award, and the AP Player of the Year award.
Now: Anthony Davis
The New Orleans Pelicans — then the Hornets — hit the jackpot in 2012, earning the right to select Davis with the first overall pick in the draft. While the organization has failed to surround him with adequate talent, The Brow has still managed to thrive from an individual standpoint. Now in his fifth NBA season, Davis has career averages of 21.9 points, 10.1 rebounds, and 2.4 blocks per game, has earned All-Defensive and All-NBA team honors, and has been selected to four All-Star Games. If only he played for a better team — like an All-NBA squad made up of ex-Kentucky superstars.
4. Then: Karl-Anthony Towns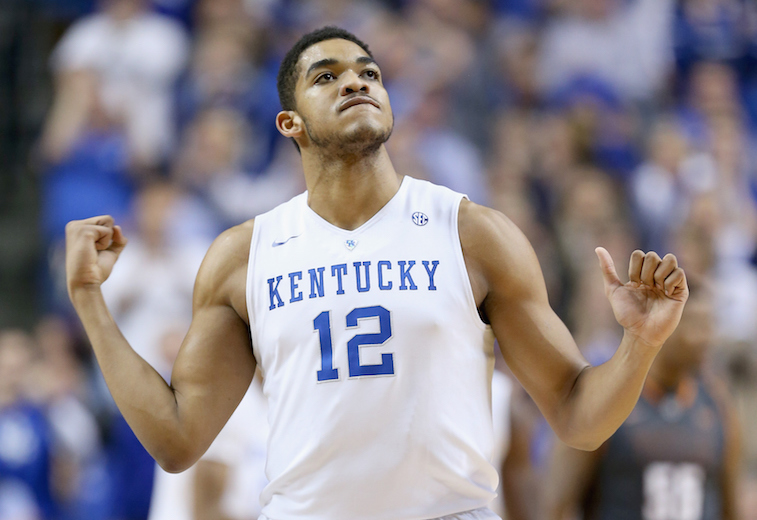 Before eventually being selected by the Timberwolves with the first overall pick in the 2015 draft, Karl-Anthony Towns flashed plenty of brilliance in his only season in Lexington. The two-way stud, who would be named a Second-Team All-American, averaged 10.3 points, 6.7 rebounds, 1.1 assists, and 2.3 blocks per game, and torched the opposition with his 56.6% field goal percentage. What's even scarier is the fact that we haven't even scratched the surface of what Towns can become.
Now: Karl-Anthony Towns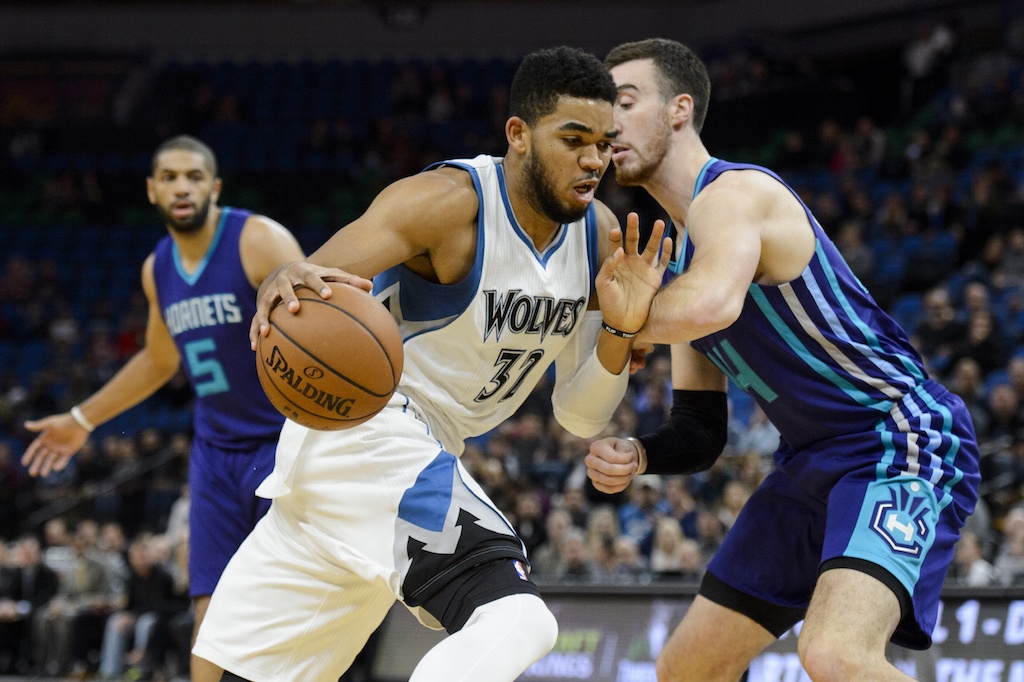 In just his second NBA season, Towns is already one of the top players in the game. That might sound crazy, but it's true. The 7-footer is a force of nature on both ends of the floor. He can handle the rock, hit step-back jumpers and has range from beyond the three-point line, and currently holds career averages of 20.5 points, 11.0 rebounds, and 1.6 blocks per game. If you ask us, it's only a matter of before Towns becomes the best player in the league. That's one special KAT.
5. Then: DeMarcus Cousins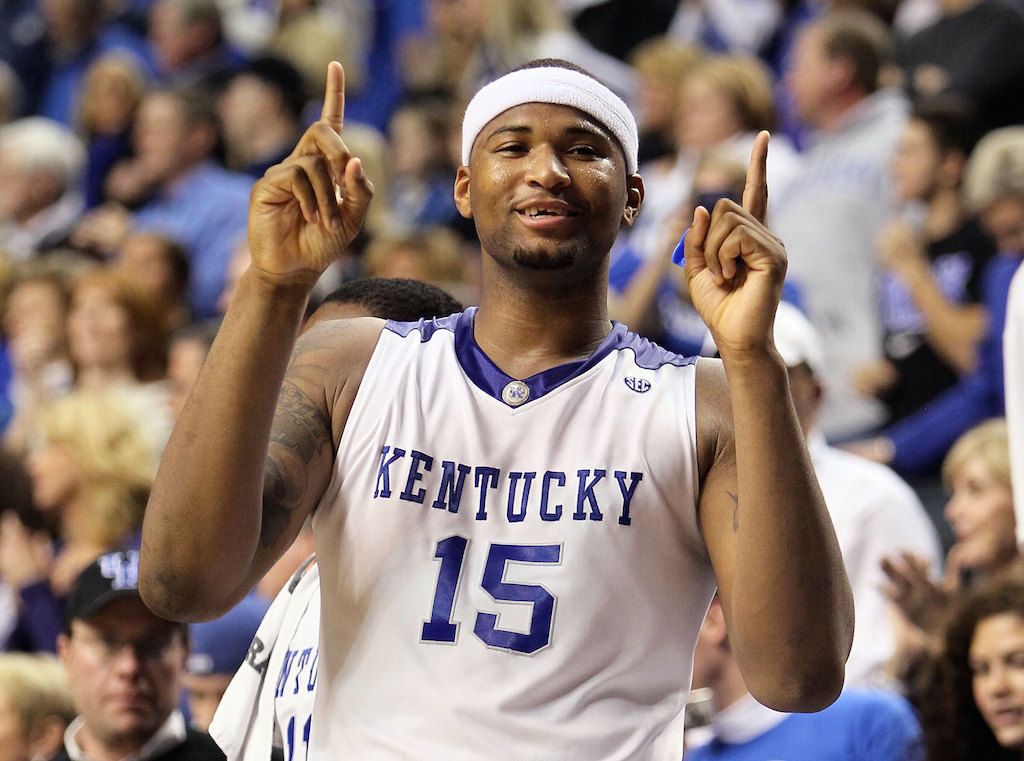 DeMarcus Cousins was pretty much unstoppable during the 2009–10 college basketball season. In that lone year at Kentucky, DMC put up 15.1 points per game, pulled down 9.8 rebounds a night, and helped lead the Wildcats to an impressive 35-3 record. And it's clear that his undeniable talent has definitely translated to the National Basketball Association
Now: DeMarcus Cousins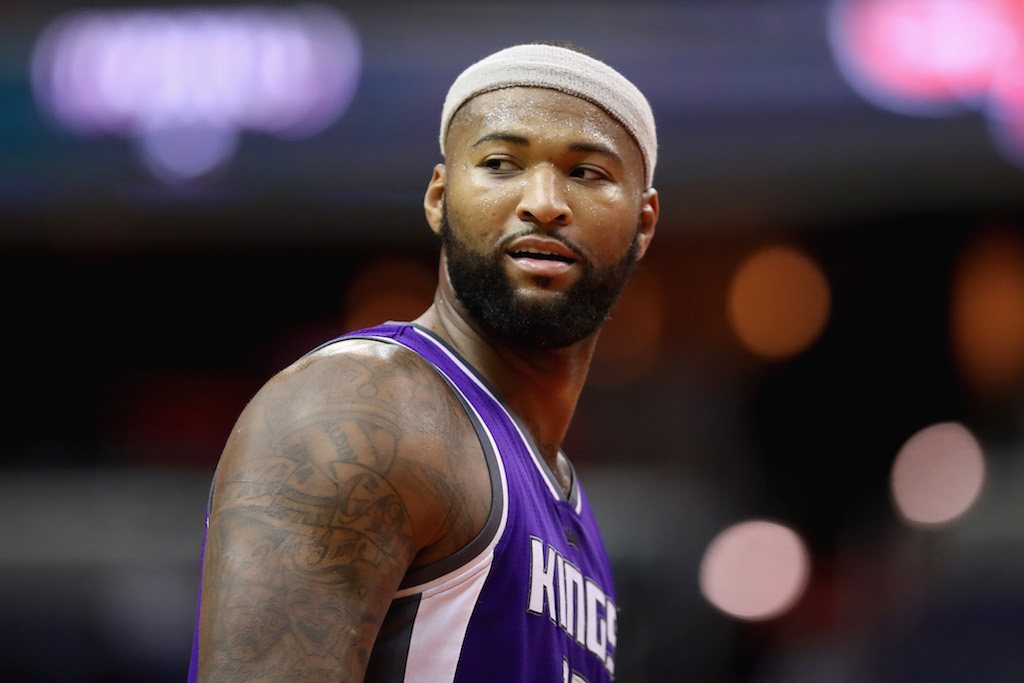 While it's true Cousins' temper can get him into trouble, he's still one of the top centers in the game. Ever since the Kings selected him with the fifth overall pick in the 2010 draft, Boogie has made three All-Star teams, earned two All-NBA honors, and averaged 21.1 points and 10.8 rebounds per game. A team that has Cousins on the roster runs the risk of having to endure one headache after the other. However, considering his skills on the floor, it's probably worth it.
Stats and info courtesy of Sports-Reference and Bleacher Report.